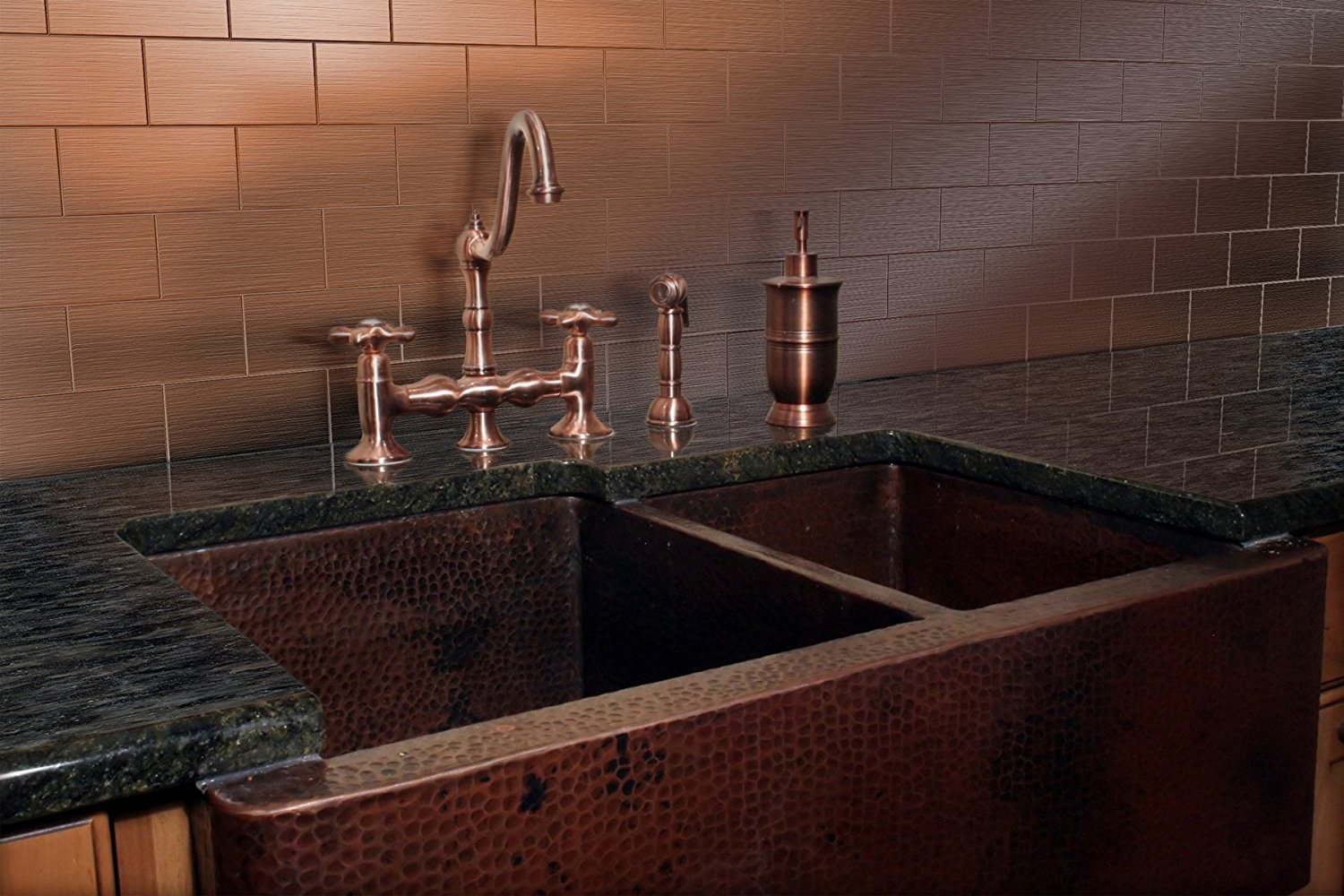 Adding a warm glow to your home can only be done with a handful of tile options. Well-known for their ability to work in just about every room of the house and also create a vintage feel, copper tiles are a splendid choice. Here are the basics of this metal option that will always be a conversation piece.
Today's Options
What are advertised as copper tiles today can be made from real copper but are many times a ceramic tile body covered with a copper veneer. They can also be made from materials like aluminum or stainless steel with a copper-colored coating or finish. (In fact stainless steel is often a great choice for kitchens since it is naturally resistant to bacteria.)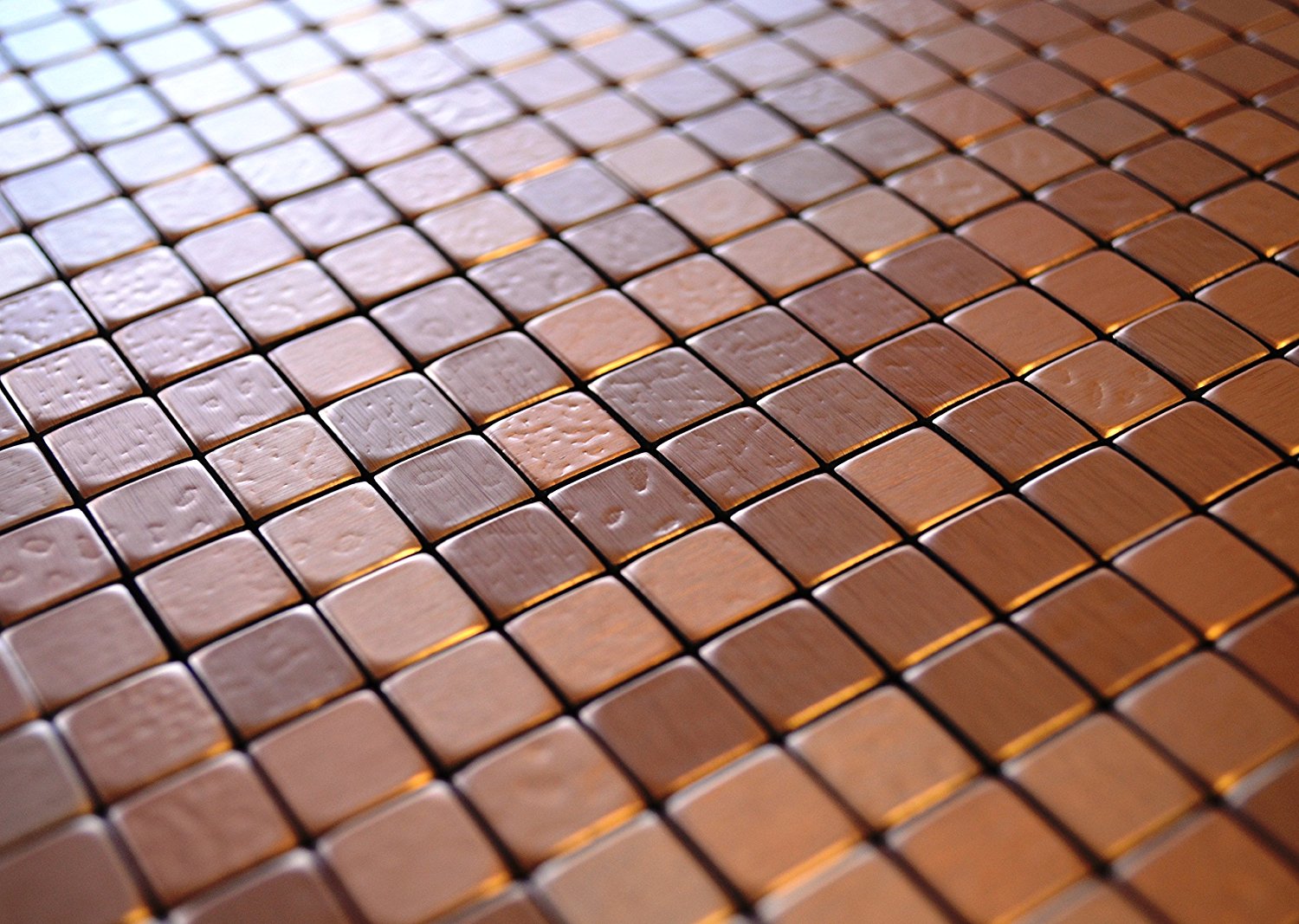 While some will require adhesive to install others may be peel and stick. There are also options like faux tile backsplashes that are not actually real tile but instead a sheet of vinyl or PVC that are designed to look like they are made up of many individual tiles.
Because copper tiles often only have a copper surface they are usually used on walls or other areas where they function for decoration. You therefore won't normally see copper floor tiles. Copper options come in all shapes and sizes from the standard square or rectangular (subway tile) to round penny tile.
For those who like smaller sized options mosaic tiles that have many tiny sized tiles attached to a mesh backing are a natural choice. Since copper can work well with quite a few other materials some mosaics will include copper, glass, and certain types of stone together.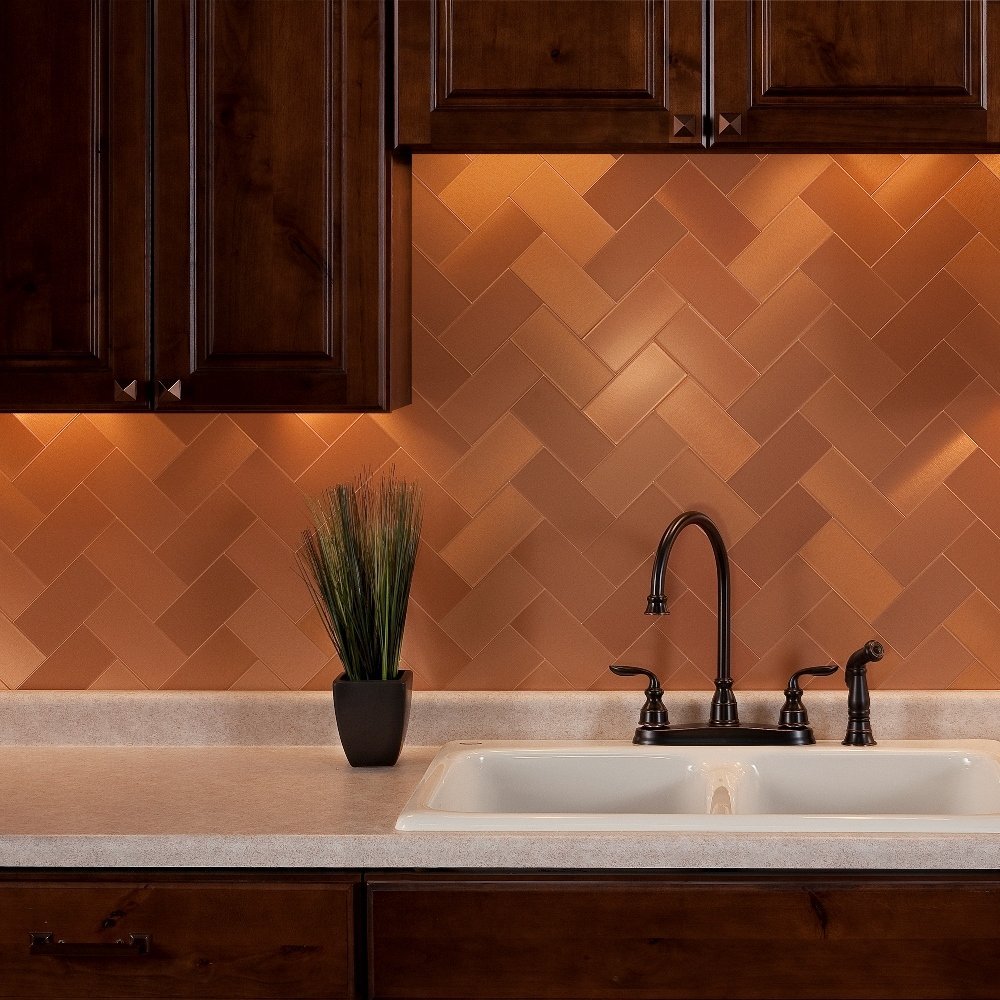 Finishes, Textures, And Designs
Similar to other metal tiles those made from copper may have a finish that is polished and shiny or one that is more dull, known as a brushed finished. Copper tiles can also have an oiled bronze finish that will make them appear a little darker and portray more of an antique or aged look.
As far as texture goes tiles can be smooth or if you want to add the feeling of depth there are also what are called hammered copper tiles that have had their surface hand-hammered by an artisan. Tiles that have raised reliefs or etched designs are another choice too.
Favorite Places And Ways To Use Copper
Since copper works very well in small areas it is a fabulous choice for a backsplash in either the kitchen or bathroom. Copper backsplash tiles can give you a vintage look that will be sure to match copper fixtures such as sinks.
They also tend to blend very well with countertops made from natural stone. Copper wall tiles can be used to create first-rate feature walls in either of these rooms that will be sure to grab anyone's attention.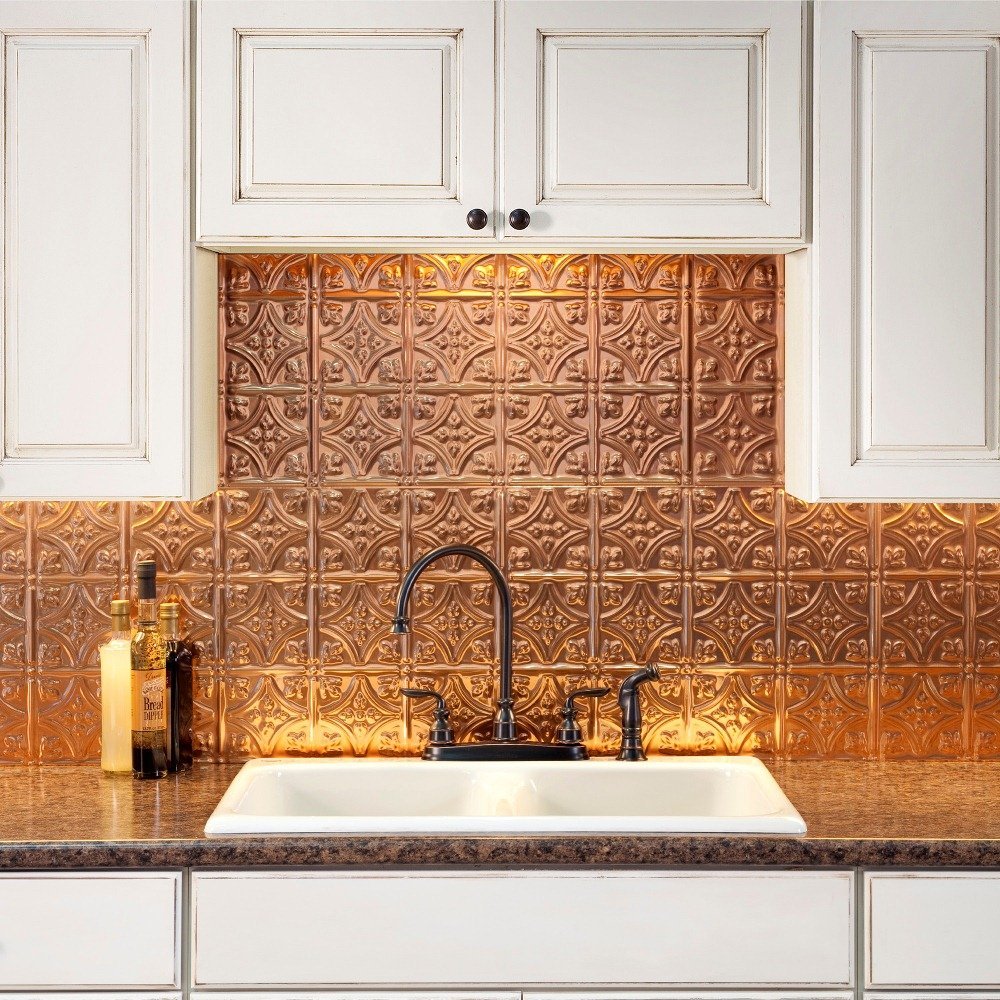 Of course you don't have to use all copper tile. You could just add a few and use them as accents. Tiles that have designs are especially popular for this. Choosing a design that works with the theme or style of your home is an easy choice or you could simply go with something that has some significance to you personally.
Copper border tiles can be used to highlight your existing backsplash or walls too, particularly if they use glass tile as this pairing always looks fantastic together. You may want to incorporate tiles with designs or reliefs into the mix in borders as well.
Stair risers are another spot you can use copper that will really make an impact. This is one area most people actually tend to overlook but that can really add a lot visually to your home.
Adding Some Copper Extras Can Make A Big Difference
After installing copper bathroom tiles you may want to consider adding a few things to go with them such as a copper vase for flowers, shower head, or drawer handles for an added effect. In the kitchen copper drawer and cabinet handles work too.
You can also find outlet covers and toe kicks that will add that little extra bit and can go a long way. Many homeowners will also purchase copper cookware so they will match when preparing food. Adding a range hood above your stove made from copper can also be a smart way to tie everything in with your copper kitchen tiles.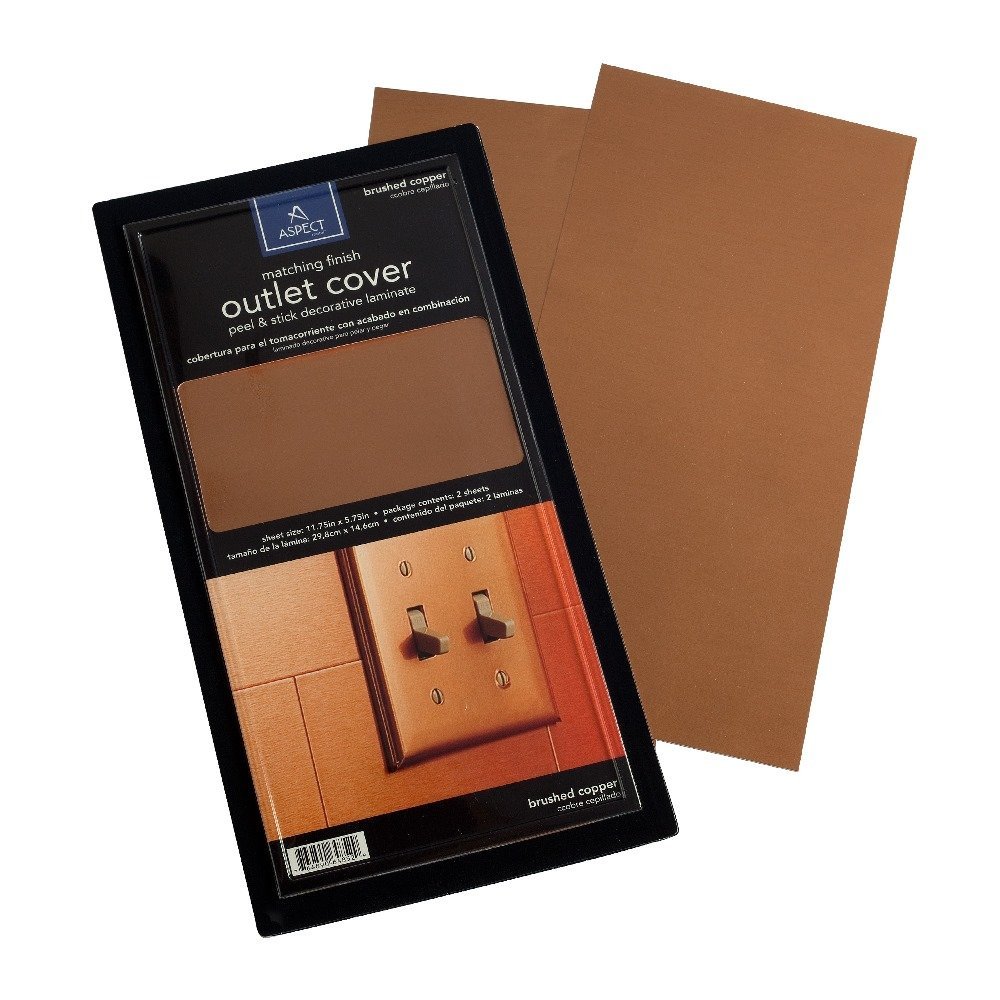 Copper-Colored Options
If you happen to fall in love with the color of copper but not the material itself you're in luck as there are many other choices you can pick from. Copper-colored glass, porcelain, and even cement tiles are all popular alternatives to copper wall tiles. If you like natural stone you can often find slate and onyx tile that have copper colored tones too.
Don't Forget The Roof And Ceiling
While the main focus of this article is wall tiles, there are also a few other types as well. Copper roof tiles are an option that many homeowners don't know about but that happen to be very good looking. They also are highly resistant to corrosion, lightweight, and can handle high winds and heavy snow loads. The fact that they can actually last a lifetime or longer and don't require any maintenance or cleaning also adds to their appeal.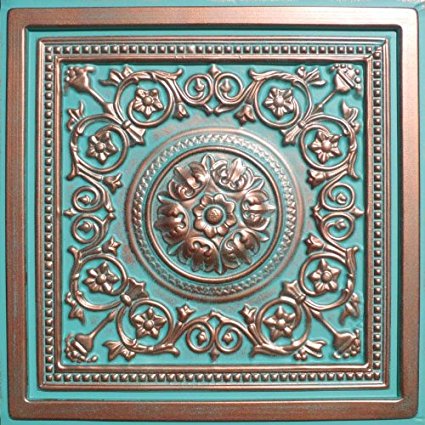 Indoors, solid copper ceiling tiles can be used to transform the look of whatever room they are installed. They often have classic designs and can even be custom-made if you'd like specific designs or images that are more personal. For those who prefer the look of copper that already has a patina, you can may want to think about choosing aged copper ceiling tiles which already have one instead of waiting for it to develop with time.
Faux copper ceiling tiles are a less expensive way to go which often uses materials like aluminum, PVC, Styrofoam and faux tin. While some are sold as individual tiles, they may come in panels. If you like DIY projects panels can be very easy to install and even be cut and used on backsplashes, walls, headboards, cabinets, and more.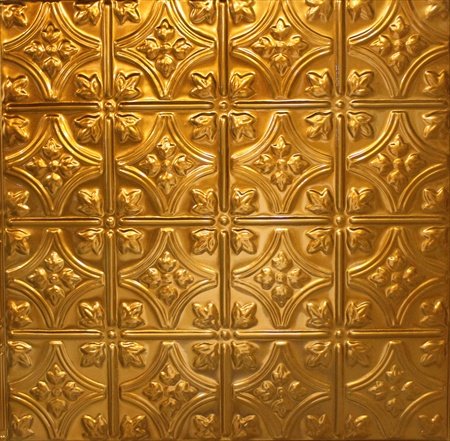 It's plain to see copper tiles have a lot to offer. From the wall to the ceiling and even the roof they have a look that's all their own. And of course it's one that you can use to easily bring the look of your home to the next level.
Click Here Now to start shopping for Copper Tiles!