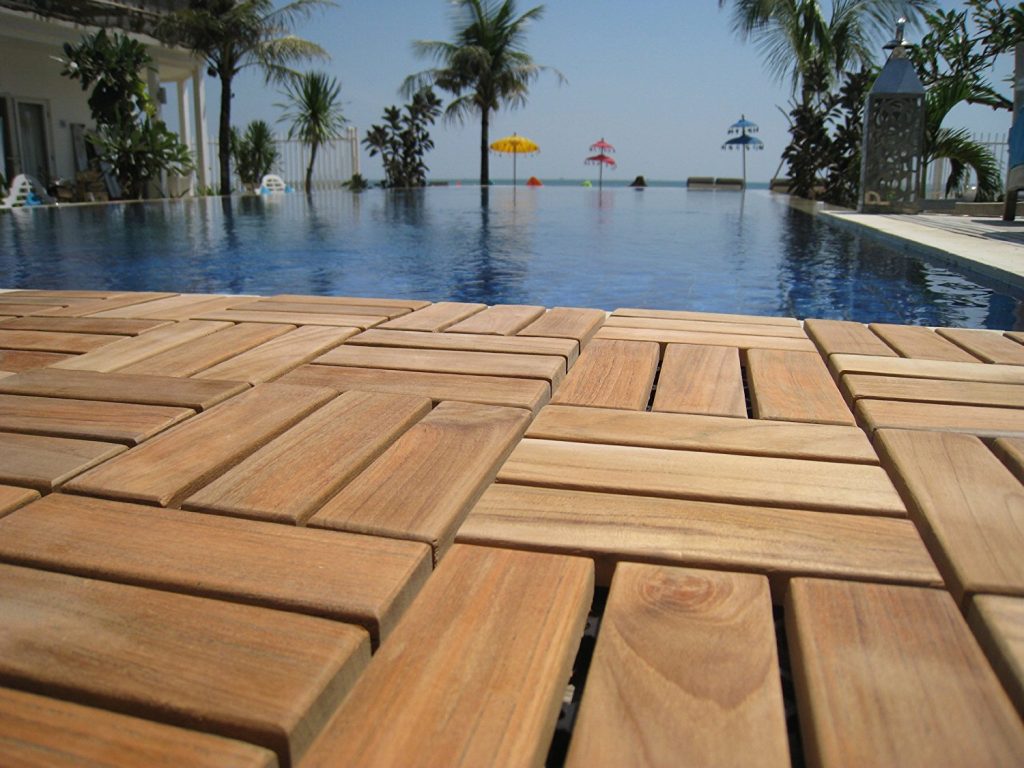 A new deck or patio can be not only be a very time consuming project but also an expensive one as well. A much more convenient and inexpensive option are deck tiles. Made from a variety of great looking materials these tiles are an easy way to give your existing patio or deck a new face lift or can be used to create a new outdoor or indoor surface without any hard work or effort required.
While not what typically comes to mind of when talking about tiles, deck tiles are unique. They are large square or sometimes rectangular tiles which are usually: 12"x 12", 12"x 24", 16"x 16" or 24"x 24" in size and about 7/8" to 1" thick. They are made from  a range of materials, normally wood, and as their name implies are a great way to provide deck-like flooring.
Deck tiles are sold in packs which tell you not only the size of each individual tile but also the total combined area of all the tiles when laid out. They have some really outstanding features which make them ideal for anyone who loves DIY projects or is just looking to improve the look and function of their home, such as being: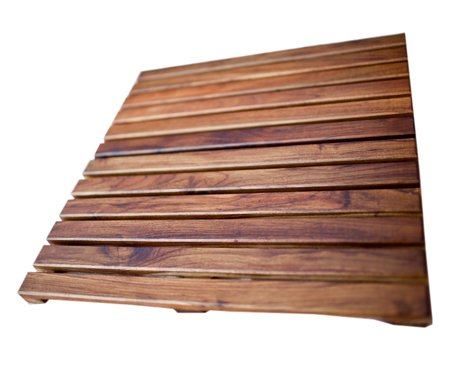 A Cinch To Install
While laying a cement patio or building your own wooden deck does takes some serious DIY skills, flooring made of these tiles requires none. Anyone can make a gorgeous deck tile floor by themselves and with no hard work needed. There are three reasons why.
The first is that deck tiles don't require any surface preparation to be installed. They simply can be placed down on any semi-level surface, even right on top of your lawn. The second is that unlike with other projects you won't need any tile adhesive or any adhesive whatsoever for that matter, they are ready to be laid down right out of the box!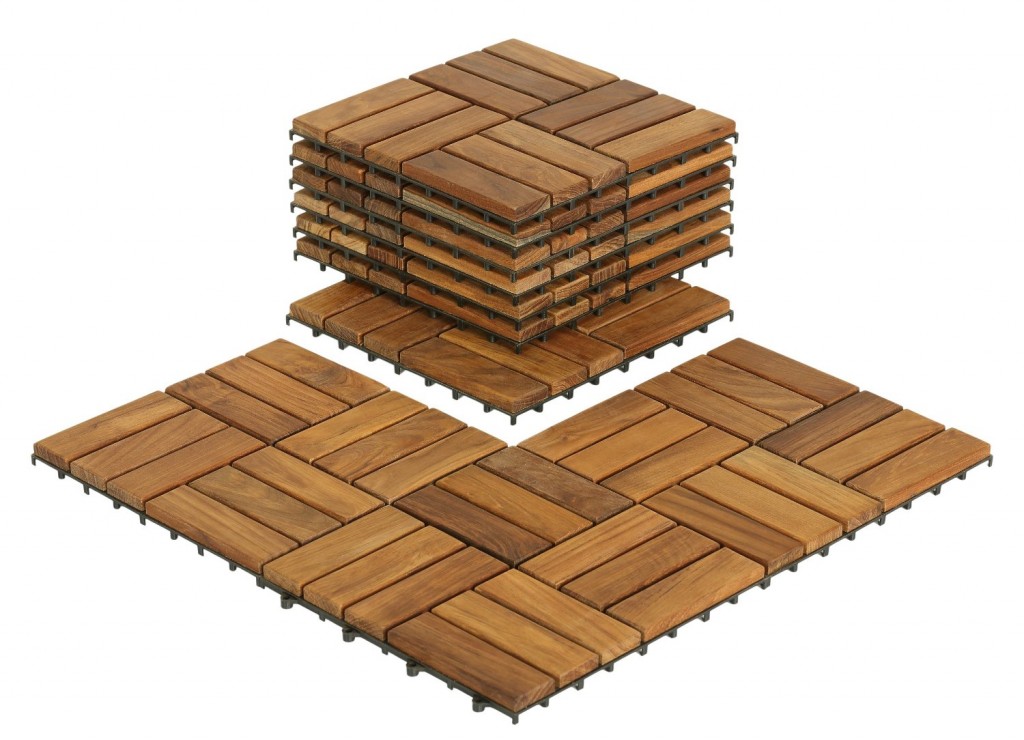 The third is the fact that they are interlocking. This means that there is no messy grout to deal with. Simply either snap or lock them together, depending on the brand, and your almost finished.
All that you have to do next is attach the end pieces to the tiles which are on the perimeter giving them a smooth edge and you're all done. A brand new floor in minutes, and no installation fees, tools, or wasted time!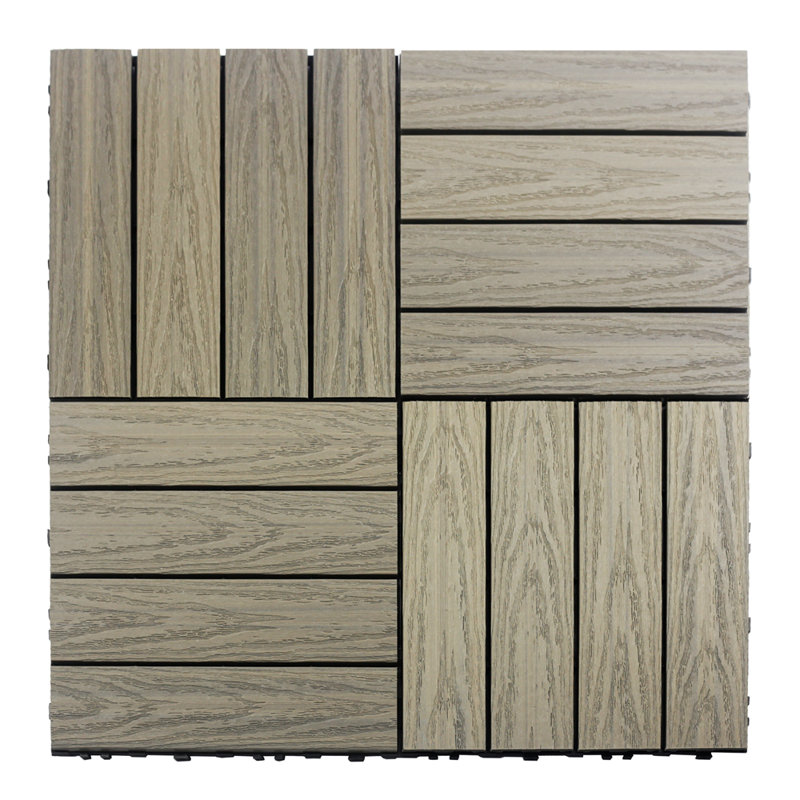 A Low Cost Project
If you are looking for a home project that is inexpensive deck tiles are it. Because you don't need to pay a professional to install them you save a huge chunk of money up front.
And since they can be placed down on top of your existing surface, you won't have to take apart your deck demolish your patio which equals even more cash saved and of course time as well.
Great Looking
Many people are amazed at how attractive these tiles can be. With a number of handsome looking woods and composite options to choose from even the pickiest of consumers will be able to find something they love. Deck tiles also can be used to create a gorgeous windmill pattern.
While many tile patterns require real skills, with deck tiles you have two simple options if you like this pattern. One is to simply place the tiles down in alternating positions, so that if the wooden planks on the first tile are in a vertical position the next one would have them facing horizontally and so on.
The other option is to just purchase tiles which have this pattern already. There are many that actually have the pattern on each individual tile making it even easier. And of course you could always just install them with the planks lining up which looks splendid too!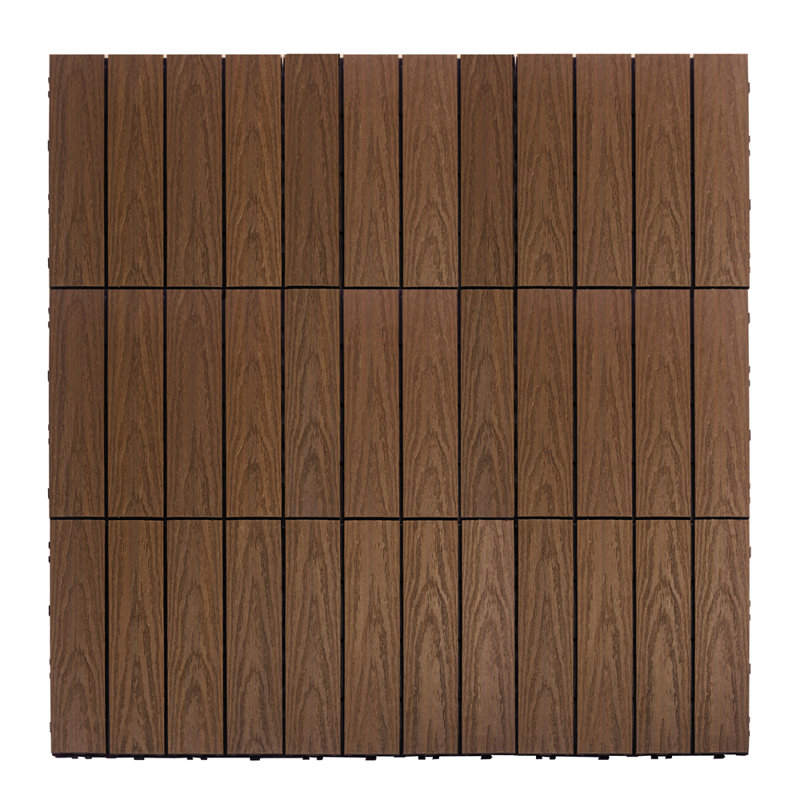 Easy To Maintain
While some specific types of wood deck tiles might need to be oiled or sealed they are all easy to maintain.  They usually can be cleaned just by hosing them down with water. Dish soap and warm water makes an easy a low cost cleaner that is not harsh enough to damage your tiles.
A light detergent will work well too. And in the unlikely event that a tile did become damaged all you have to do is unlock or unsnap it and replace it with a new one, problem solved!
Safety And Protection
Deck tiles are an excellent way to provide a surface that is not only good looking but safe and non-slip as well. Because they use slats of wood instead of one solid piece, water will naturally drain through them unlike many other types of tiles where it pools on top creating a very slippery and dangerous situation.
This makes deck tiles a very popular and safe option around pools and hot tubs. And because you can place them right on top of your existing flooring, deck, or patio, they will also serve as a protective layer keeping your original surface in good condition.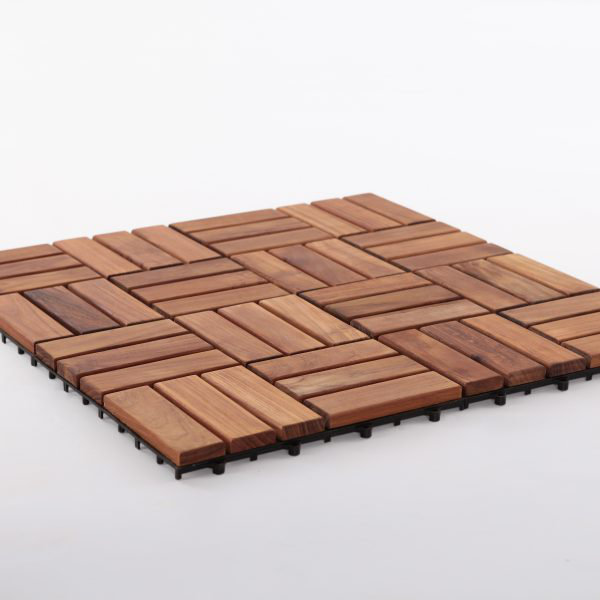 Popular Deck Tile Materials
Another great feature of deck tiles is that they are available in so many different materials. No matter what your own personal taste, there is something for everyone. The two main types are wood and composite deck tiles.
The largest group of tiles available are made from a large variety of real woods each with their own unique traits and color. The most popular are:
Teak Deck Tiles: Teak is known world-wide for its strength and durability. While more expensive than other types of wood you really do get what you pay for with this handsome honey-brown colored wood. They are naturally insect and water proof because of the oils it produces. These are the most sought after.
Eucalyptus Deck Tiles: Eucalyptus is a very popular choice because like teak its natural oils make it resistant to pests, fungi, rot, and decay. Because of its high availability it is usually cheaper than tiles made from teak wood.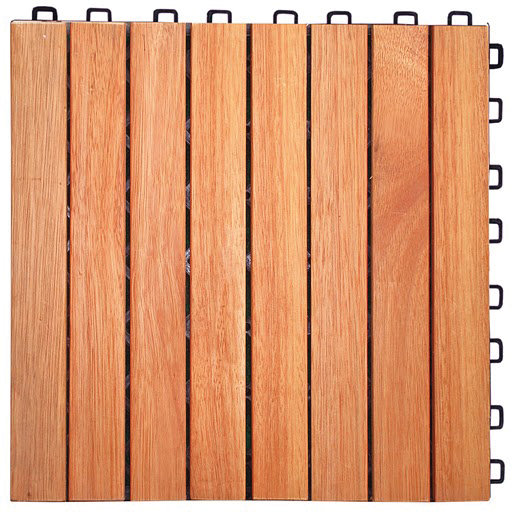 Acacia Deck Tiles: Acacia has similar advantages to other woods used for deck tiles in that it is naturally pest and moisture resistant. For this reason it is a favorite of of outdoor furniture makers. It can range from light gold in color to almost a dark mahogany and because it is so tough is also sometimes referred to as Ironwood.
Western Red Cedar Deck Tiles: With a natural preservative that protects it from insects as well as rot, Western Red Cedar deck tiles make a great choice. Many people love the way they get naturally lighter as they age, and for this reason choose to purchase these unfinished as opposed to already having a protective coating.
Ipe Deck Tiles: Another option is Ipe. This Brazilian wood is known for being extremely tough and scratch resistant. It is also very weather proof and will last for years.
Composite Deck Tiles: These are typically a mixture of different types of recycled wood mixed with resin or polyethylene of varying percentages. This is done to create tiles which look like they are 100% real wood but are not prone to cracking, swelling, or peeling, like many types of wood as well as to make them even more water-resistant. Another option worth looking into if you aren't looking for ones made from solid wood are rubber tiles.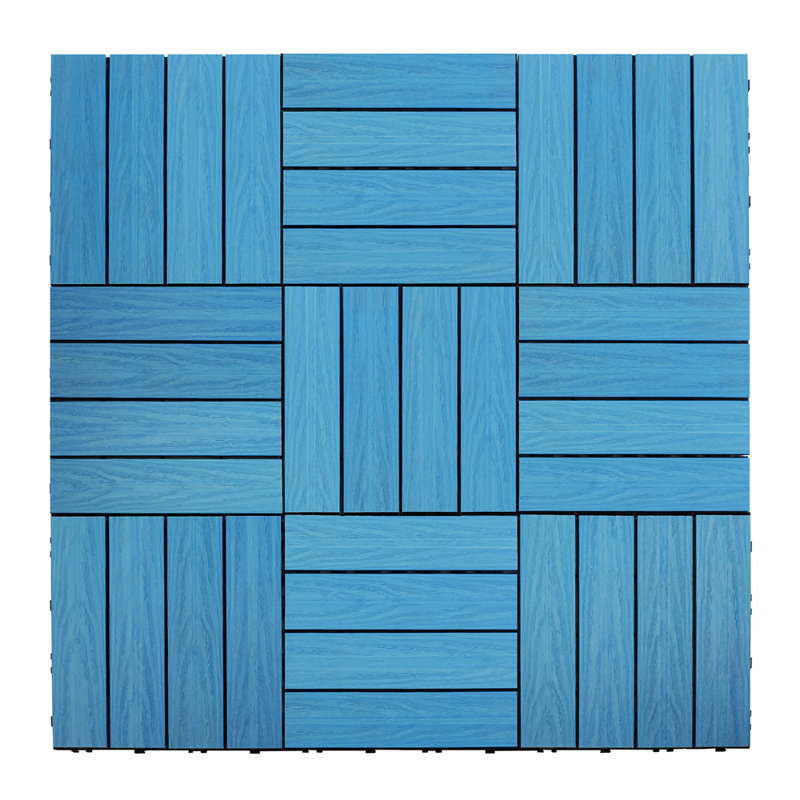 Popular Places To Use Them
Deck tiles can be used almost anywhere imaginable indoors or out. While they are most often used on top of patios or decks they can also be used in many other places. Many homeowners choose to put the tiles together two or three wide to form an attractive garden pathway. Providing grip and beauty they work extremely well around your hot tub or swimming pool.
They also great for apartment renters who want a floor or balcony upgrade but don't want to pay out a lot of money to increase the value of someone else's property. Deck tiles are even used on rooftops or right on top of the lawn to create a new patio.
They are very popular with boat owners as well for their grip, water resistance, easy installation, and good looks. Saunas and laundry rooms also make ideal spots. And of course you can put a few together to form a door mat as well. Really your own creativity is the only limit!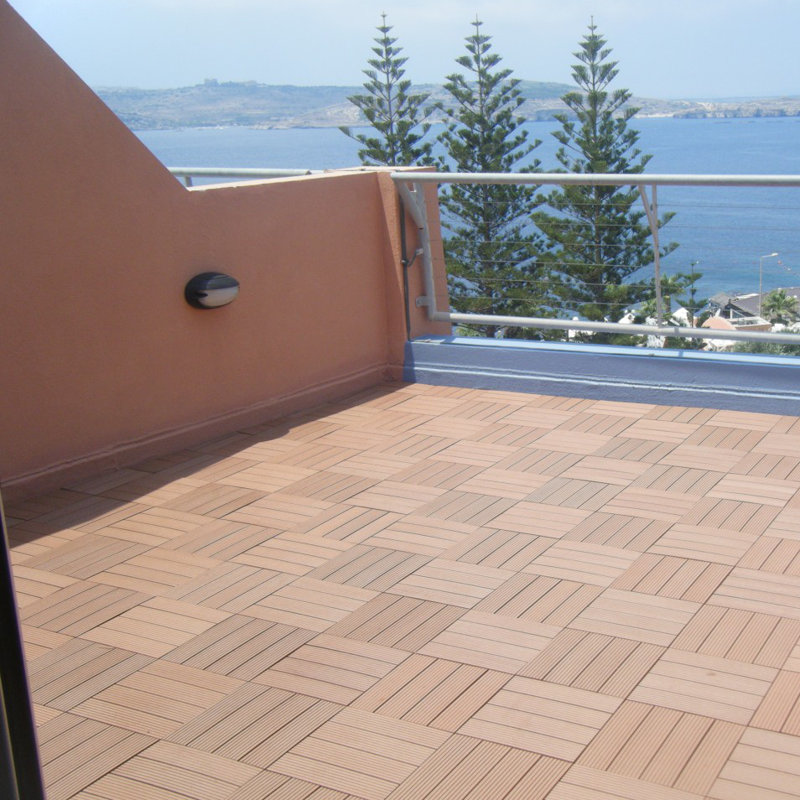 If you're looking for a great looking yet inexpensive flooring option that works just about anywhere you could imagine deck tiles might be right for your next project. With a huge variety that's ready to install right out of the box without any tools or mess they make a fantastic choice especially if you're looking to save a few bucks. When it comes to DIY home improvement ideas deck tiles are at the top of the list.
Click Here Now to start shopping for Deck Tiles!