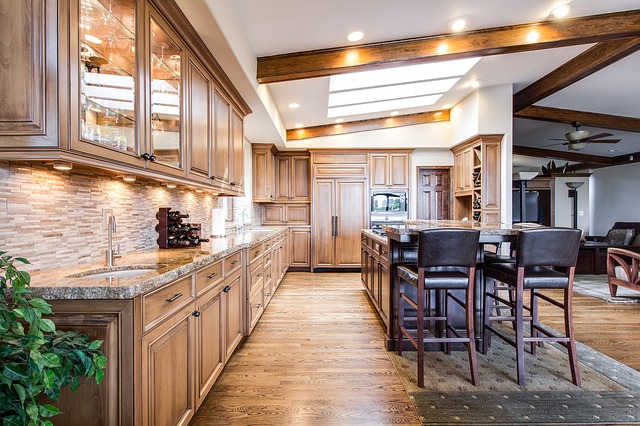 By starting off on the right foot you can help to make sure your flooring project goes smoothly. So here are a handful of simple things you'll want to make sure you do before you begin to help to ensure your success.
Calculate Your Square Footage
Before you do anything you'll need to know how much space you are actually working with. Take your time and accurately measure the entire floor space that you are planning on upgrading.
It's important to move any appliances and furniture out of the way so that you can calculate the total square footage accurately. And don't forget to measure any floor areas in your closet spaces as well.
Make A Plan  
Once you have measured, you'll want to sketch a plan. Typically graph paper is the best choice since it makes it easier to draw your floor plan to scale. You can also add furniture to your sketch in various locations to help you decide what the best layout for them will be.
Estimate Preparation Materials And Supplies
You'll want to estimate the amount of materials and supplies you will need to complete your project. This will include everything from underlayment sheets to things like grout, adhesive, and screws.
Of course what type of flooring you will be installing will influence what materials and supplies you need. If you're unsure on the amount you can always check the product labels or the manufacturer's website to help you make an accurate estimate.
What Tools Do You Need?
Decide exactly which tools you will need to complete the job at hand and write them down. You will also need to decide if you will be renting or purchasing them, and where you will do so.
Amount Of Flooring Material
Based on how many square feet your project is, you will need to estimate the amount of flooring material that you need whether that means tile, carpeting, wood flooring, etc. Purchasing ten to fifteen percent more than is required to cover your floor is usually is a safe bet.
(For tile you can always use a tile calculator for easy estimates.) Any extra should be kept for future repairs. Once you know the amount you need, you can shop around for the best prices and deals.
Nowadays shopping online is usually the cheapest way to go. Many sites offer actually offer free shipping which can be a big help since materials can end up being very heavy.
Total It Up
Be sure to add up all of your totals. Keep in mind that you may need to add in the cost of a local debris removal company to haul away your waste as well when the project is finished.
By completing these easy tasks you can save yourself a lot of time, money, and effort in the long run. So come back to this list before getting started!
Click Here Now to start shopping for Flooring!