 The look of aged and weathered metal can be very chic. And it's one of the key elements for creating an industrial style space. However, installing actual pieces of metal isn't a realistic solution. Metal look porcelain tile on the other hand is.
While they might be highly attractive, adding real metal to your space particularly pieces which are worn and even rusting they would be impossible to maintain. They also would most likely be incredibly heavy and possibly even dangerous to use on your floors and walls.
There are metal tiles such as those made from aluminum, copper, and stainless steel. However, they're typically designed only to be used on walls and backsplashes not for floor use. Even though they can be incredibly attractive they are won't give you the look of worn metal.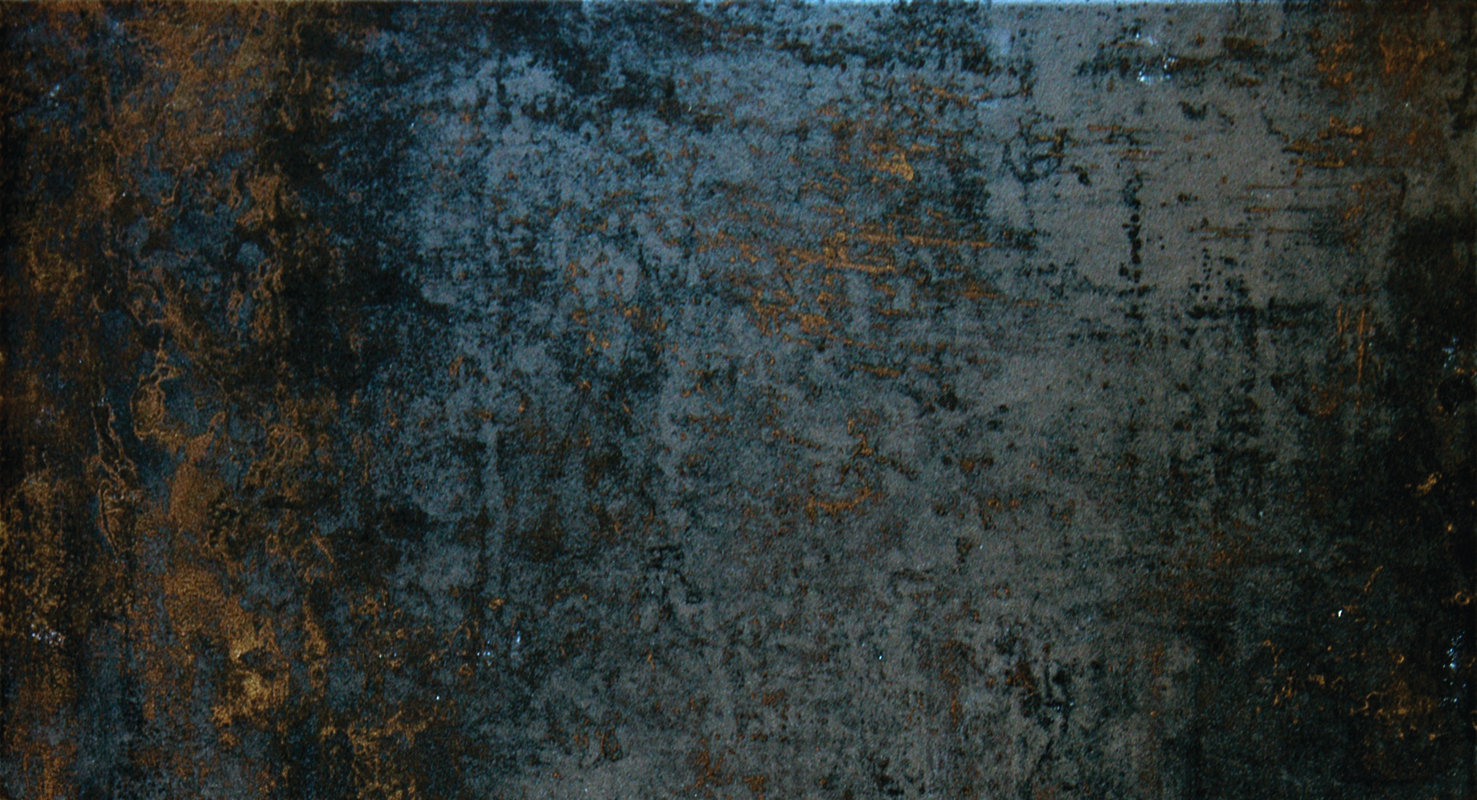 Porcelain Provides The Solution
For most people the easiest way to enjoy all the benefits of metal without any of the drawbacks is actually with porcelain. Metal look porcelain tile gives you that industrial look without requiring a tetanus shot.
Porcelain tile is tough enough to be used on floors in high traffic areas and even outdoors. It's a long lasting material and an installation can be used and admired for decades.
Porcelain is well-known for being very low-maintenance and extremely easy to clean. And unlike real metal it can be used in wet areas. These advantages allow you bring look of raw metal into your kitchen, bathroom, or even shower, places where you'd never be able to otherwise.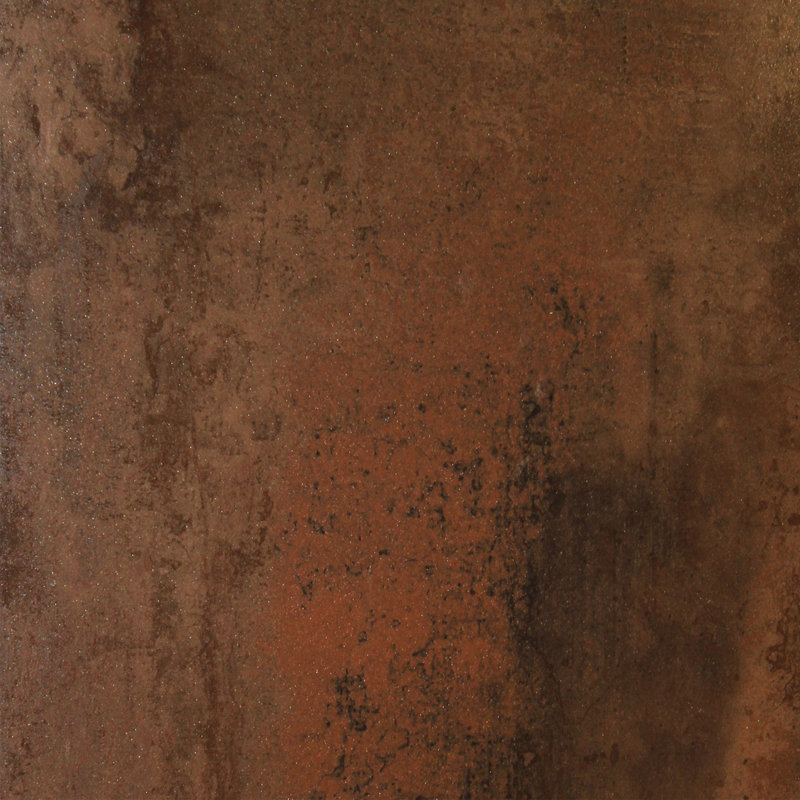 A Presentation With All The Details    
With ultra realistic HD images printed onto the face of the tile, it can be just about impossible to tell apart from real metal. There is also variation between the tiles so you have the look of many difference pieces of metal. These can be highly detailed down to the smallest flecks and markings.
Porcelain is actually known for being able to mimic the look of many other authentic looking materials. It's used to create everything from the appearance of natural stones like marble to fabric look tile that has the subtle tones and patterning of textiles.
Metal look porcelain tile can often be found in a range of options that mimic the appearance of specific metals such as bronze, copper, silver, and pewter. There's even tile that looks like steel. Other choices may have more of a generic metal look instead.
The surface of the tile will often look like it has been salvaged or repurposed after years of heavy use and come complete with the appearance of rust or a patina. It's often made to remind you of things like metal that you'd see on a factory floor or even old and well-traveled ship.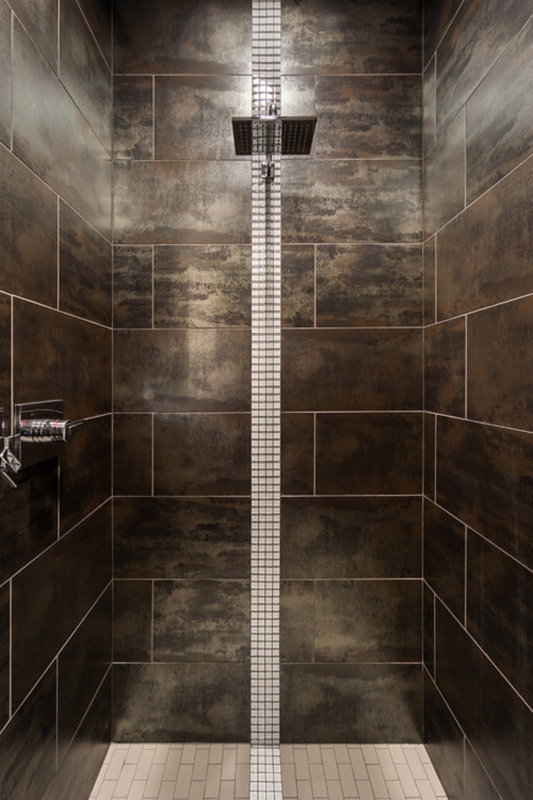 Industrial To Modern
The aged appearance of tile that looks like metal makes it an ideal choice for those who'd like to create an industrial style space. This style uses neutral tones along with materials like metal, wood, and concrete.
That helps to make for a space that's both modern but with elements that look are reminiscent of industrial areas like warehouses and factories. Both concrete look tile and graffiti tiles are often used in these types of spaces as well.
Porcelain metal look tiles are very versatile and can really be used with any style from vintage to modern. Regardless whether they are made to seem like they are rusting or are smooth and polished they offer an upscale presentation.
Other Uses
Tiles are often used to add interest and texture to walls and floors. And some consumers like to choose tiles that have a reflective finish. This makes sure that the tiles offer a different presentation depending on the angle, distance and lighting that you're looking at them from.
Porcelain metal look tile is also an excellent option when you are looking for fireplace tile for your hearth, surround, or both. It's more budget-friendly than installing metal panels and can transform your fireplace into the focal point of the room.
While large tile is usually more popular don't overlook smaller mosaic tile choices either, especially for bathroom floors where they can help to add grip. And when you don't need a material that's as durable as porcelain and would like to spend a little less, ceramic metal look tile is an option too.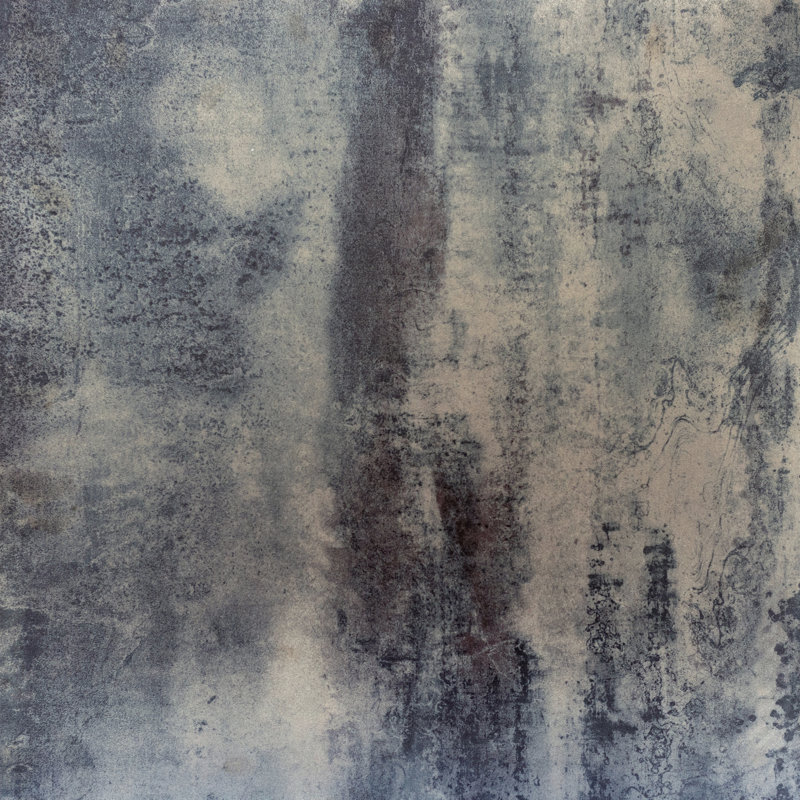 That's it you now know the basics of porcelain metal look tile. Upscale yet industrial it's a choice that can transform any space where it's installed.
Click Here Now to start shopping for Porcelain Metal Look Tile!