Ice hockey like all sports requires practice. However, it's not always easy to get rink time or you may not even have a local rink in the first place. So how do you practice so that you can increase your skills when you don't have access to the ice? The answer is simple, with hockey tiles.
The Texture Of Real Ice 
Usually made from high density plastic that is extra durable these are not your typical tiles, in fact far from it. Sometimes also called hockey shooting tiles or hockey training tiles they are designed to provide you with a surface that is as close as possible to real ice. They are made to be slick so that the puck slides the same way it does on the ice during a game.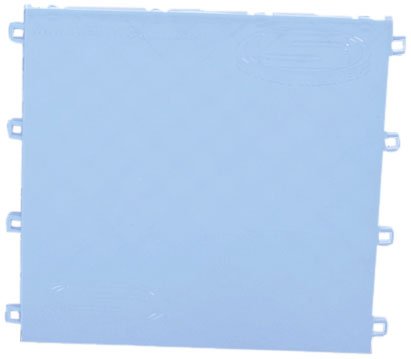 This will get you the most out of your practice sessions allowing you to work on stick handling, passing, and shooting in the most realistic conditions possible. And of course using them is a huge step up from practicing on concrete or on standard flooring since you can use an actual puck instead of a ball.
They are also made to be large in size usually at least 12" x 12" so that there are as few seams as possible. Although keep in mind they aren't designed for use with hockey skates.
Any Flat Surface Will Do
Similar to rubber tiles and deck tiles, these are interlocking so you can easily install them yourself with zero skill. Typically the only tool required is a rubber mallet to tap them into place. Because they can be used right over any flat surface hockey floor tiles are often used in basements and garages.
Some are so tough that you can actually park your on them without any problems which is really convenient when used in the garages that don't have too much extra space.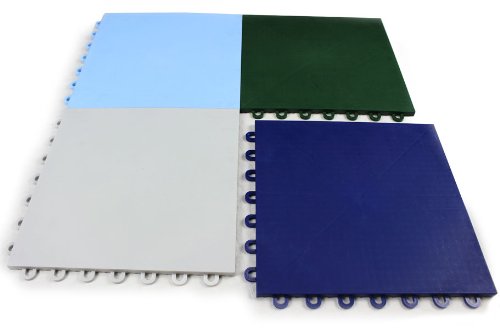 Tiles can also be used outdoors on decks, patios, and driveways. You can put them together to create any size space or shape you need. Many players will actually start off purchasing a few boxes of tiles and then add more as they need them. The number of tiles in a box will however depend on the brand you choose.
Colors To Help You Create 
To help make your flooring realistic, tiles comes in white to make them look just like the ice in a rink. Some are even translucent for more of an effect. "Ice blue," is also a popular choice as well. And to help create lines on your practice area there are also red and blue tiles made just for this job.
Stick With Trusted Brands
Like all sporting equipment, it's always best to stick to top quality brands to ensure that they are as tough as possible. Without a doubt the most trusted are the Dryland hockey tiles made by Sweet Hockey. The Sweet Hockey tiles are well-known in the industry for both their strength and smoothness.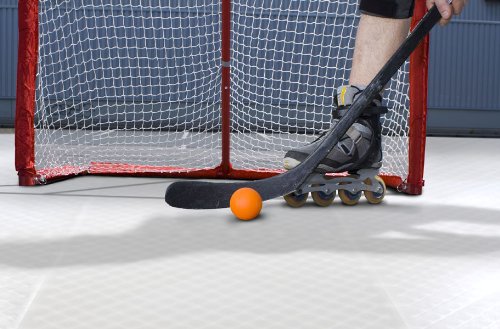 Tiles For Roller Hockey
For those looking to create an area that they can use their rollerblades on, roller hockey tiles are what you'll need. These are also advertised as inline hockey floor tiles and can be used to create your very own inline hockey rink for practice or games. This variety is similar in size, and how they are installed, but often can be found in a wider variety of colors.
They aren't made to be slick like ice so instead of using an ice hockey puck  a ball or street hockey puck is what most people use them with. Because they are very tough, roller hockey tiles can also be used for as flooring for a wide array of other sports as well.
You don't need ice or even a rink to improve your game. With hockey tiles you can practice like a pro in the convenience of your home or yard. Just decide whether you want something for ice or roller hockey, pick a flat spot and get practicing.
Click Here Now to start shopping for all types of hockey tiles!