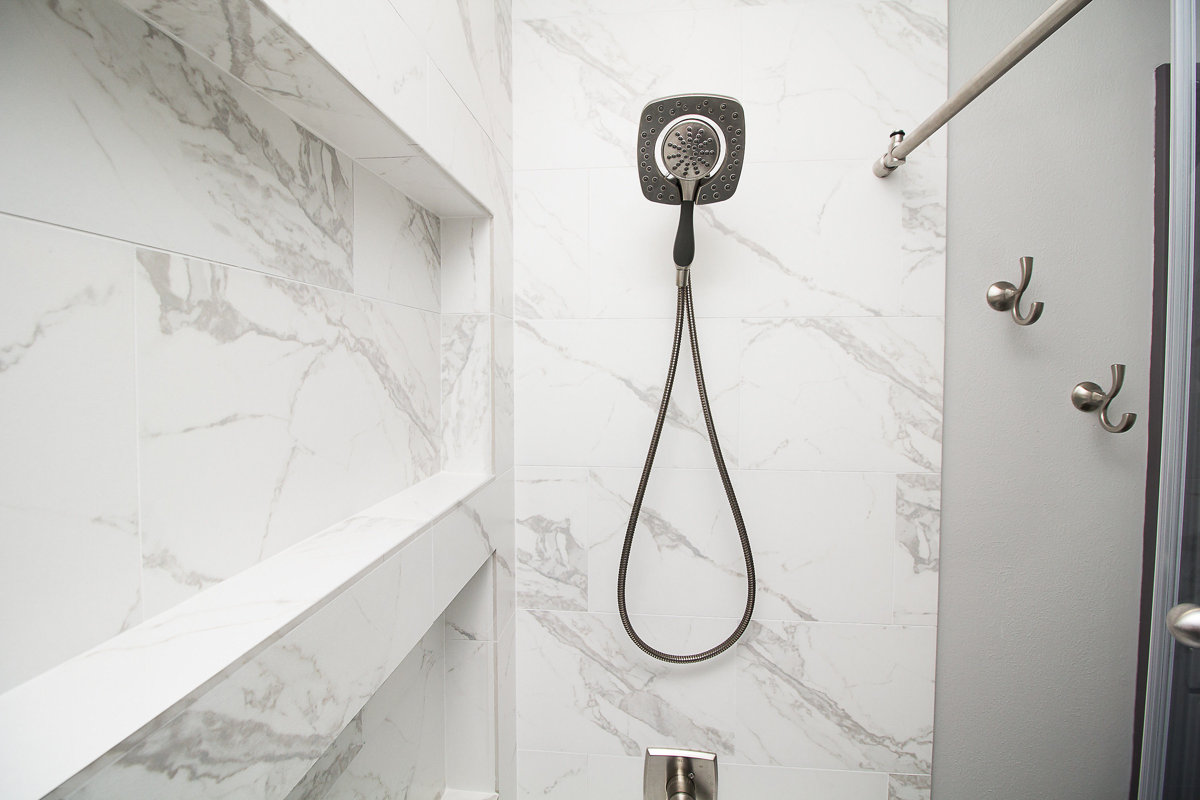 Striking images of tile showers are hard to come by. So we've compiled some of the best we could find to help inspire you. Regardless of what style you prefer, you'll be sure to find a shower, or many of them, that could in your space.
Travertine And Pebble
A fabulous pairing of natural materials is used for both this tub and walk in shower. The large rectangular tiles are made from travertine and set in the running bond pattern. The accent that runs through both spaces is pebble tile.
With smooth polished pebbles that are multi-color and random in size this accent adds texture and visual interest to the wall while sticking with the natural stone theme.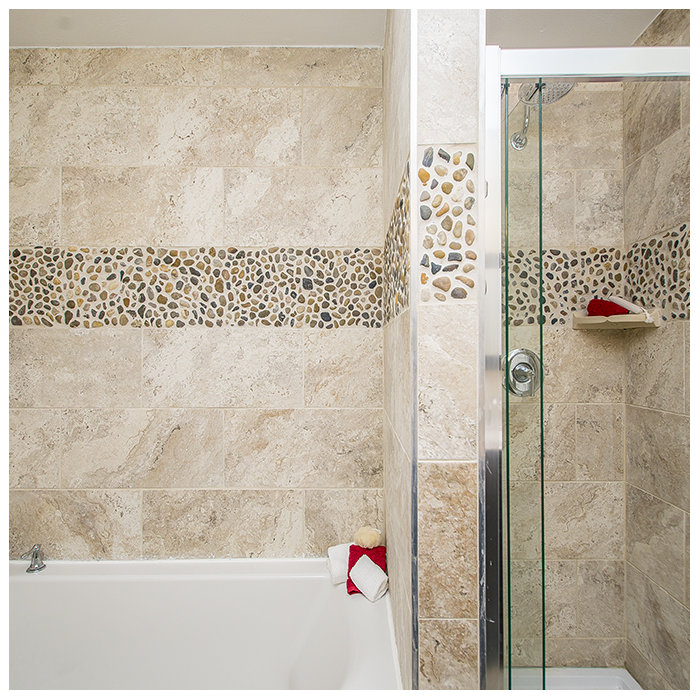 Bold Accents
This is a classic white subway tile shower with a twist. It features two rows of bold vintage style accent tiles. While they may look just like expensive cement tiles they are actually budget-friendly ceramic.
The black, gray, and white colors used in each individual tile offers a lot of contrast but it also makes them stand out against the white background of the subway tiles making a very big impact.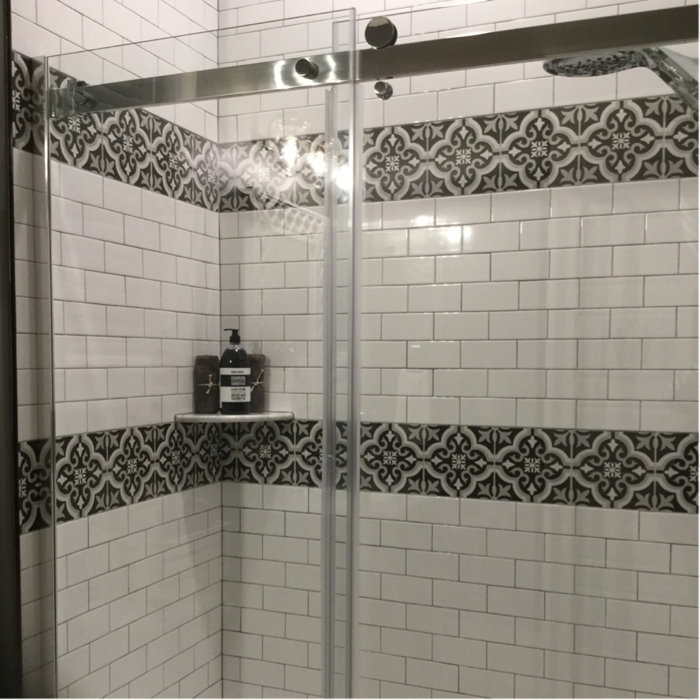 Vertical Linear Tile
Most tiled showers that use rectangular tiles have them installed horizontally. You can see here that adding them vertically can make a big difference in the appearance of a space.
These are actually linear tiles, which feature long narrow rectangles in various sizes. Made from white glass with a glossy finish they offer a bright, clean, and translucent look.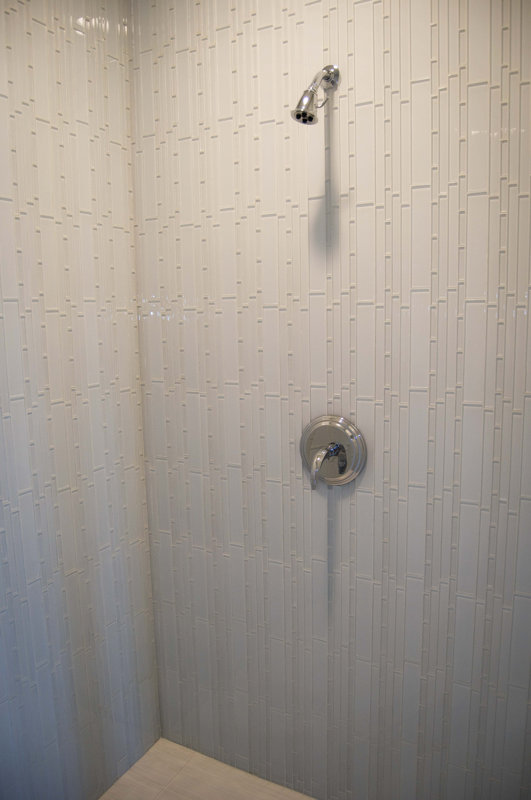 Faux Antique
You may notice when looking at photos of tiled showers that vintage tiles are one of the hottest trends in recent years. And this shower and tub surround are a great example why. These contrasting black and white tiles don't just grab attention but actually look like they are authentic antiques.
If you look closely you can see that the image on each ceramic tile makes it seem as if they have signs of wear and tear from many generations of use. The large format hexagon floor tiles used on the bathroom floor are an attractive touch as well.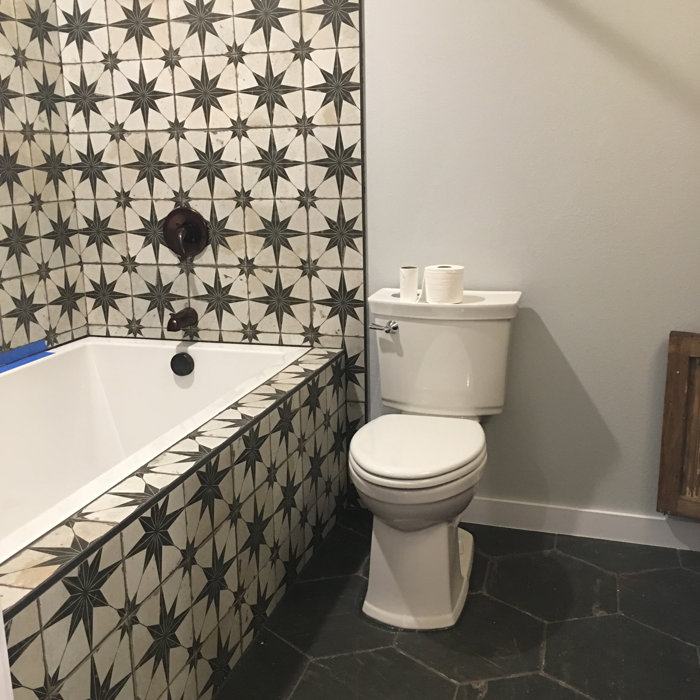 Natural Stone Delight
Using natural stone is a great way to add elegance to tiled showers and this one uses two of the most popular: travertine and slate. The travertine subway tiles are honed and filled. And the striking slate mosaic tiles used on the wall have a tumbled finish.
They are framed with a travertine trim just like a piece of art. Although unlike the man-made variety, this work of art was created by nature. It's also an excellent example of the natural variation in color and texture that slate has to offer.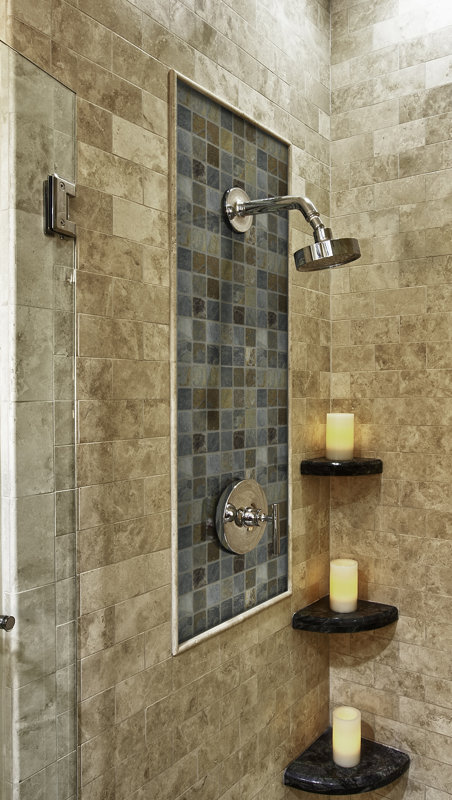 A Classic Duo
An effective way to change things up a bit visually in tiled showers is to use tiles of more than one shape. You can also use different colors for eye-catching results as well. This shower uses both.
These marine colored penny tiles are highlighted against the white rectangular subway tiles. Both of them are excellent choices for creating retro style spaces as you can clearly see.
Subtle Strands
You won't find too many pics of tile showers that feature tiles like these. And that's because they aren't very well-known yet. They are called fabric look tiles. Their subtle strands of color were originally inspired by the textile industry.
And you can see gorgeous interwoven strands in these 12"x 24" porcelain tiles. Of course the glass and stone mosaic tiles used to create an accents on the wall and in the tile niches also help to make for a stunning shower space.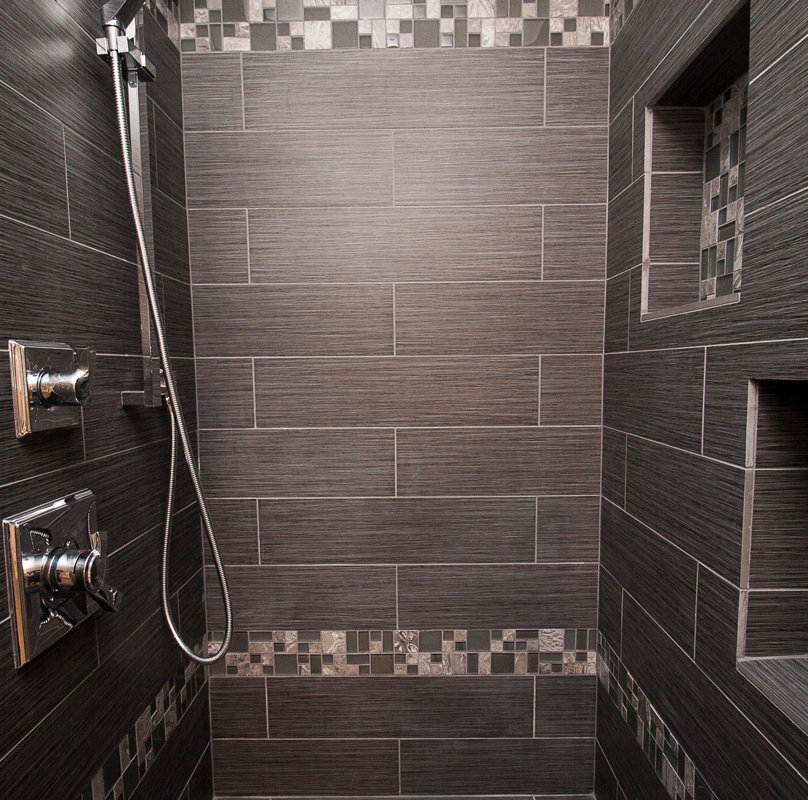 A Taste Of Spain
A feature wall can go a long way. And the tiles used to create this one are based on traditional Spanish designs. Made from ceramic, these gray, blue, and brown tiles have a distressed look.
So while they may be new, they look old.  The surrounding tiles serve as the perfect white frame. And the black fixtures also stand out against the white as well.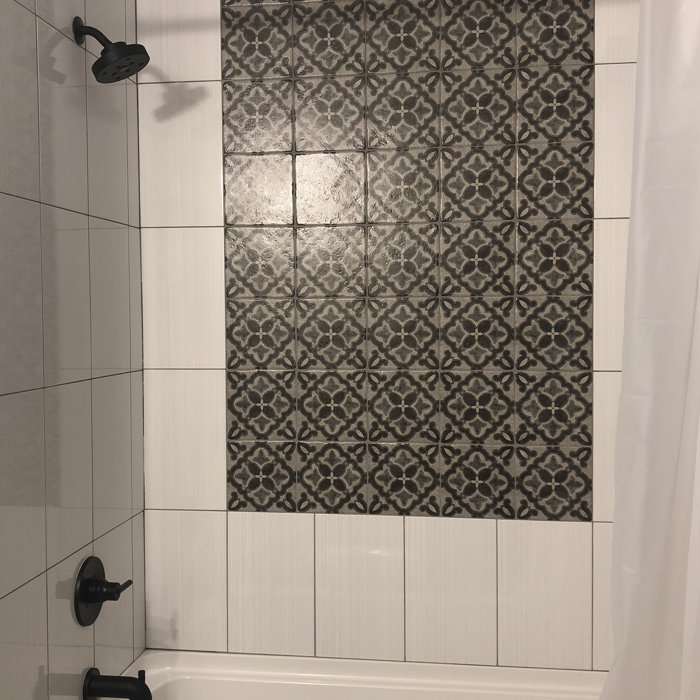 Stacked Stone Look And Black Pebbles
The long rectangular porcelain tiles used in this shower look just like stacked carrara marble and really add texture to the walls. The floor is made up of black random sized pebble tile. And as they continue onto the wall they draw your view upwards and create two vertical accents.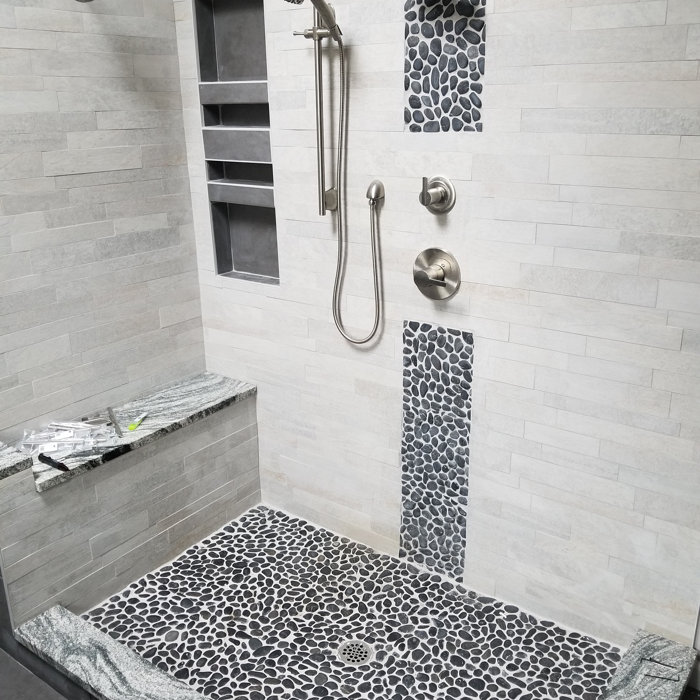 Baby Blue Glass
One of the best things about using glass tiles is the wide range of engaging colors they are available in. So it's no wonder they are often incorporated into so many different design ideas for tiled showers.
The glass subway tiles used for these shower walls are baby blue. The smaller mosaic subways used in the vertical accent are also made from glass however in an iridescent white. Not only does their iridescence change depending on how the light hits them, but they also add texture.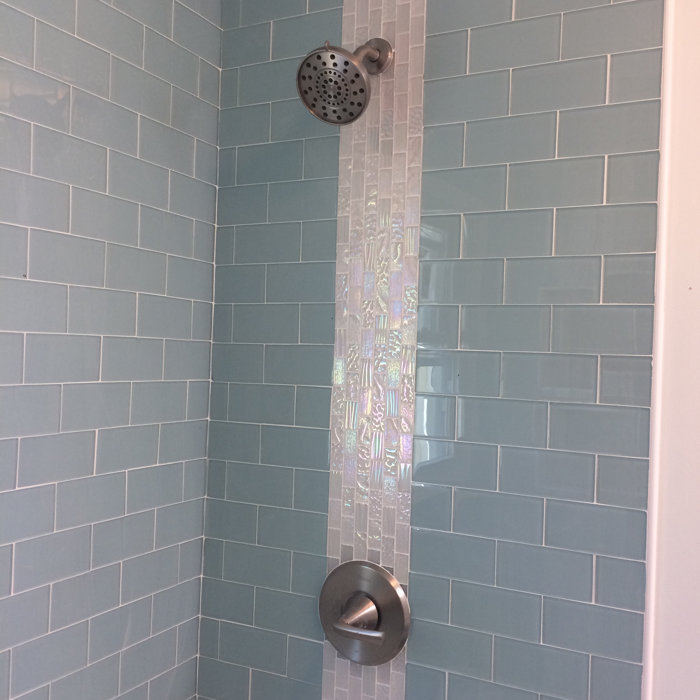 Stunning images of tile showers such as these are sure to give you some fantastic design ideas. So be sure to use them to help you create your ideal bathroom space!
Click Here Now to start shopping for Shower Tile!