Marble is one of the most lavish looking of all stone tile options, but it can be costly and needs special care. So how can you experience all the beauty of real marble when you're on budget or don't want to deal with any hassle? Marble look porcelain tile is the answer.
Why Choose Porcelain?
There are many reasons why porcelain makes an excellent alternative to authentic marble. The most obvious is the fact that it can be made to just about indistinguishable from real stone. This means complete with highly realistic veining and variation from tile to tile.
Porcelain tile is also highly durable and can be used outdoors even in freezing conditions without a problem. Marble look porcelain floor tile for example is often used in spaces where you wouldn't want to install real marble because it would likely be damaged, particularly in high traffic areas.
Tile made from porcelain is also much easier to take care of. You won't have to worry about damaging it with harsh or acidic cleaning solutions or and it is resistant to staining. Porcelain is also impervious to water so there is no need for sealing even in wet areas like the bathroom.
One of the best marble look porcelain tile advantages is of course that it costs less than real stone as well. So you can use it to create impressive spaces for a fraction of the price.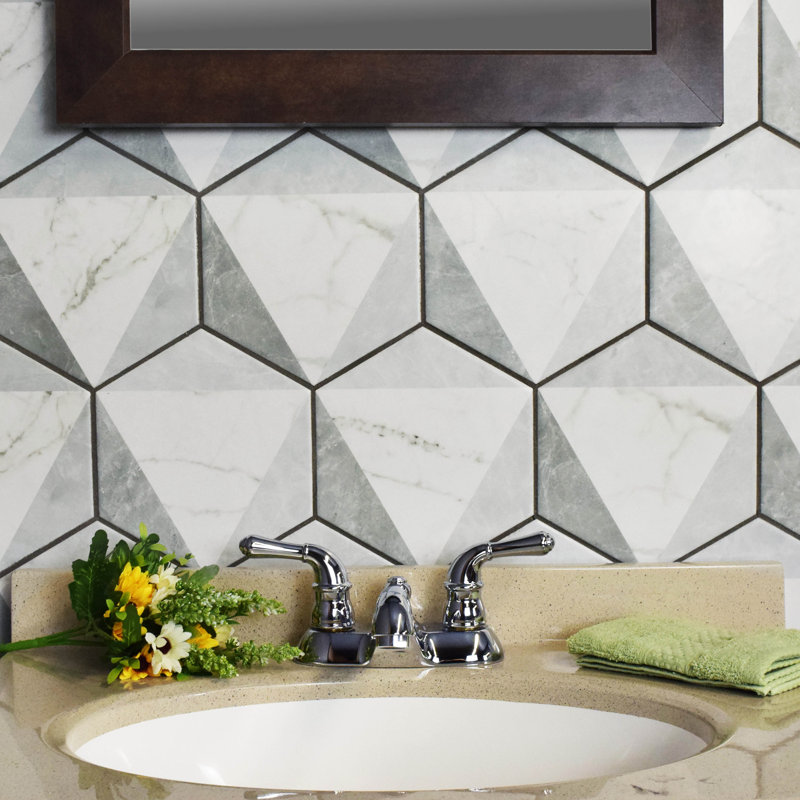 Top Picks To Consider
Because porcelain is available in an enormous range of colors, shapes, and sizes there are just about endless options. However there is a handful that you can't afford to overlook and here are our top picks:
Authentic marble comes in many gorgeous colors which can include such choices as red, green, and yellow. Yet, when deciding on a color for your porcelain tile, you won't want to miss checking out the classics such as white, black, and grey.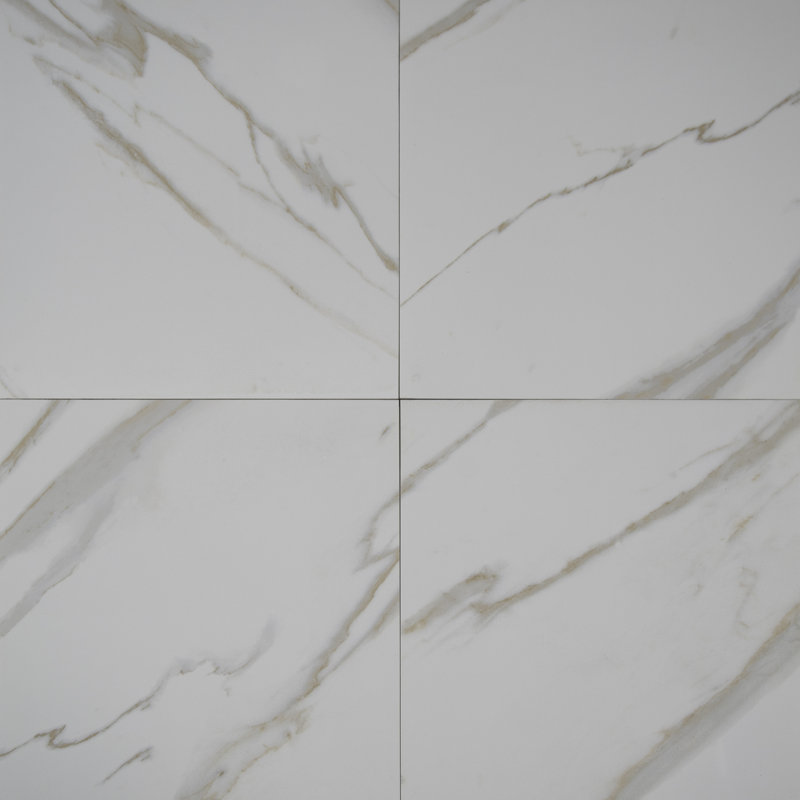 White
White tiles are always an easy way to brighten up your space and when they look like marble they can add some serious class at the same time. There are white porcelain options that mimic the appearance of the most famous white marble type of all: Carrara marble.
Just like the real thing, Carrara marble look porcelain tile is more of a grayish white and has subtle grey veining. Although you may prefer the exclusive look of Calacatta marble, which is considered to be a luxury marble option.
Calacatta marble look porcelain tile is whiter than other choices and will have grey veining which is both thicker and more contrasting.
Black
For more of a vintage look black would be a winning choice. The contrast of black marble look porcelain tile which has white veining can be visually stunning. You can use black in sleek and modern spaces as well, and it's often used to contrast white fixtures and spaces in the home.
Grey
Another timeless marble favorite is grey. A grey marble look porcelain tile installation will go great with any existing color scheme you may have. An added bonus of grey tiles is that they will naturally hide dust, grime, and dirt from view.
Chic Shapes 
You can find porcelain options in all shapes but large square and rectangular tiles are always especially popular. It usually doesn't take many big marble look porcelain floor tiles to cover most spaces. And because larger tiles tend to make a small room appear bigger they are smart and elegant choice for totally transforming the feel of rooms that are limited in size.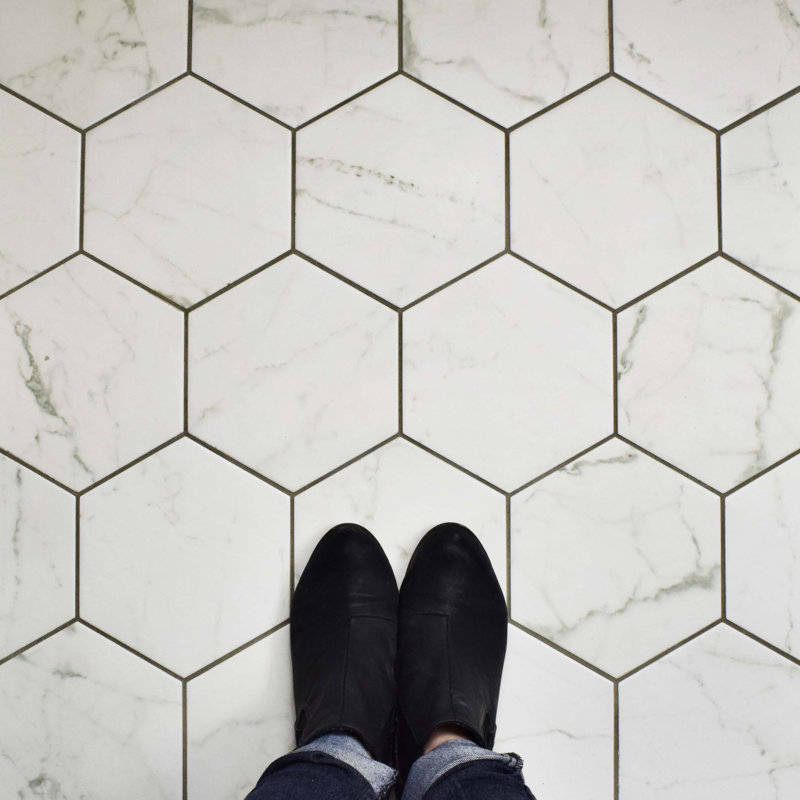 Another flooring favorite is hexagon tile. Marble look porcelain hexagon tile is often used for a retro look which also adds visual interest at the same time. Hexagons are often used for bathroom floors but also make a very eye-catching choice for walls too.
And if you've always dreamed of a vintage style wall or backsplash that's much more refined than what most other materials can offer nothing works like marble look porcelain subway tile. The rectangular shape and long lines created by the tiles can also help you to add the perception that your space is bigger than it really is.
There you have it, our top marble look porcelain tile picks for getting your marble fix without the drawbacks of natural stone. For lavish results for less these trendy choices will be sure to deliver.
Click Here Now to start shopping for Marble Look Porcelain Tile!