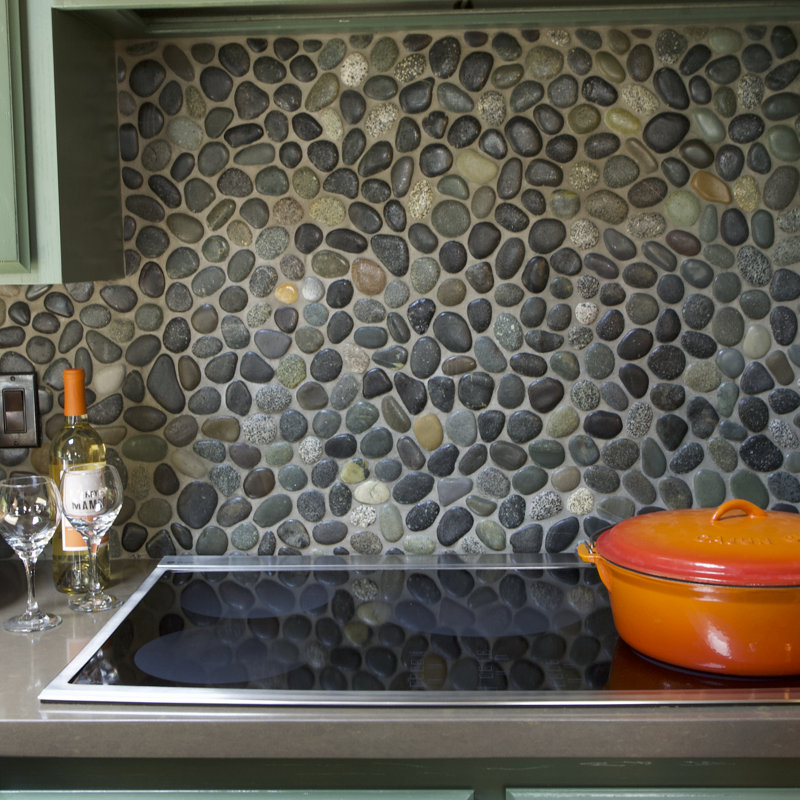 Even though nowadays there are a ton of synthetic tile options many homeowners are looking to get back to nature. And when it comes to tile, most people assume that means large natural stone tiles such as marble, slate, or granite. However, there is another option that is not only much cheaper but which many find more exotic as well. That option is pebble tile, or sometimes called pebble mosaic tile.
Like their name implies pebble tiles are tiles made up of small stones and pebbles. The stones usually come from the islands of Indonesia like Bali and Java and of course other places too. Mined from the bedrock of these island mountains they are then separated by their individual size, thickness,and color.
Once they are grouped with pebbles of the same group they are then set by hand into a mesh backing. Usually that tile is 12″x 12″ in size and sometimes are made to be interlocking which allows you to install them yourselves with ease and even appear seamless.
Why Pebble Tile?
There are many great features of pebble tile which make it so popular. The most obvious is the fact that it is an all natural tile and is the perfect way to bring the look and literally the feel of nature into your home in an inexpensive way.
Also because because each individual tile is made up of its own unique stones it means that each tile will be unique as well. This means that when they are set you will have a natural mosaic of pebbles which are all slightly different sizes, varying shades, and shapes.
Pebble tiles are also extremely versatile and can be used in a huge variety of applications both indoors and out. Even better is the fact that there is also a variety of different types to choose from depending on your needs, particular project, and of course your preference.
Different Types
Typically pebble tile is found in three basic types. The first is the standard or basic pebble tile which has natural pebbles which are round and uncut. The second type is a variation of the first and these are called sliced pebble tiles. These are tiles comprised of the same type of pebbles however they have been sliced or cut so that they are all completely level and flat.
And the third type is called standing pebble tile but is sometimes also known as stacked pebble tile or stacked stone tile. These are tiles that are made up of pebbles which are larger than the first two types and cut in half with the flat side on the bottom and the rounded side of the pebbles on the face of the tile.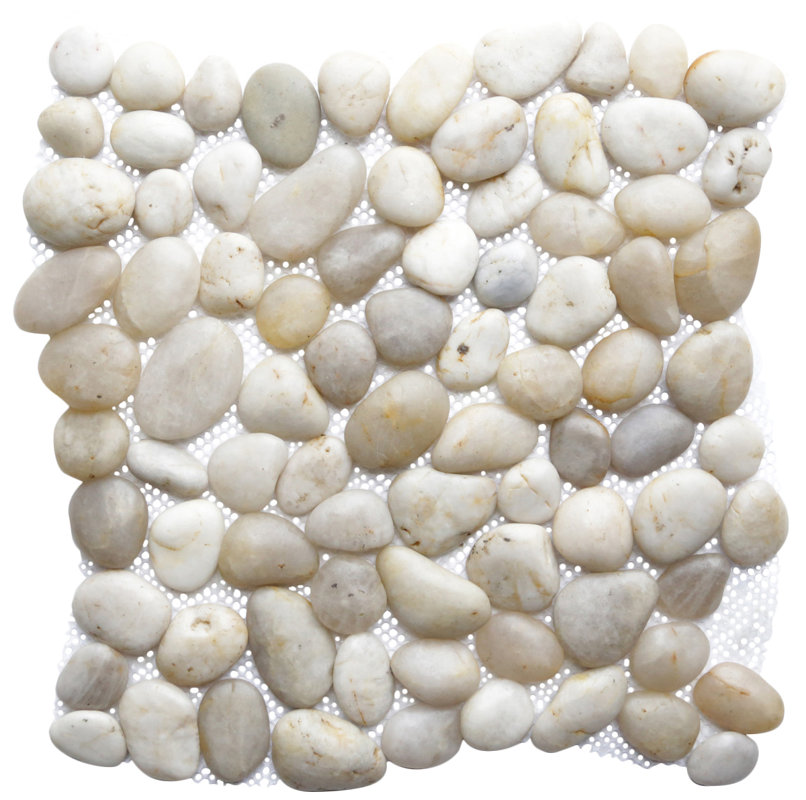 Like the first two varieties they are also set into a mesh backing for easy installation but are normally rectangular in shape and usually either 4″ x 12″ or 6″ x 12″.
Because of the unique configuration of the pebbles standing pebble tiles give the impression that all of them are hand-set into your wall standing on top of one another, an amazing effect for not a lot of effort. All three of these types are available in two options polished or unpolished.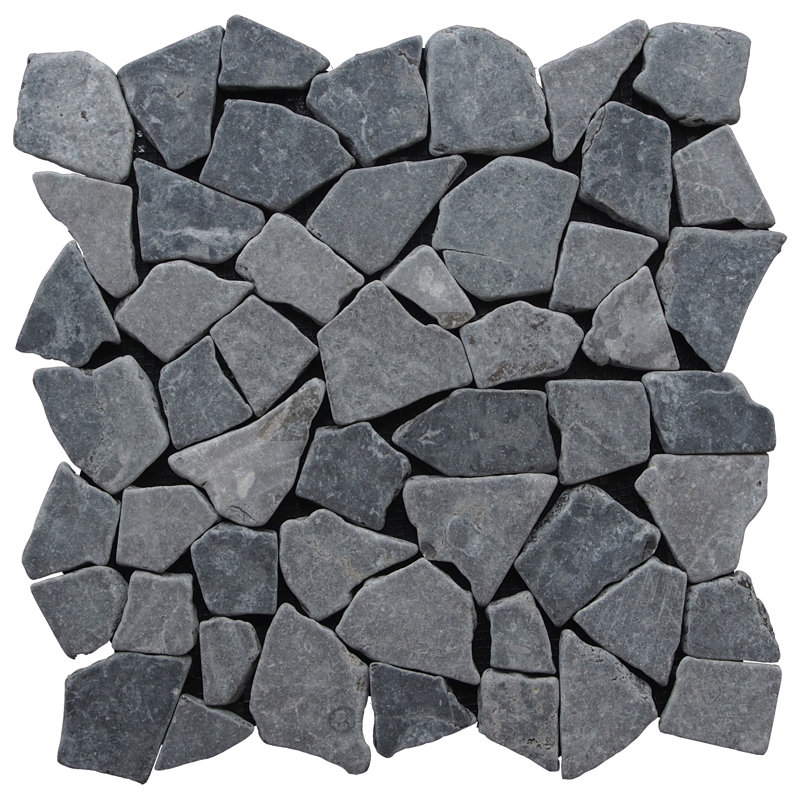 Pebble Tile Uses
Being extremely versatile you can use pebble tiles for a variety of projects. Unlike other tiles, ceramic for example, there is no distinction between floor and wall tiles, all pebble tile can be used as either.
However typically while both the standard and the sliced pebble tile are most often used on the floor and walls (sliced pebble tile being used when a flat surface is needed), standing pebble tile is almost always used for wall projects.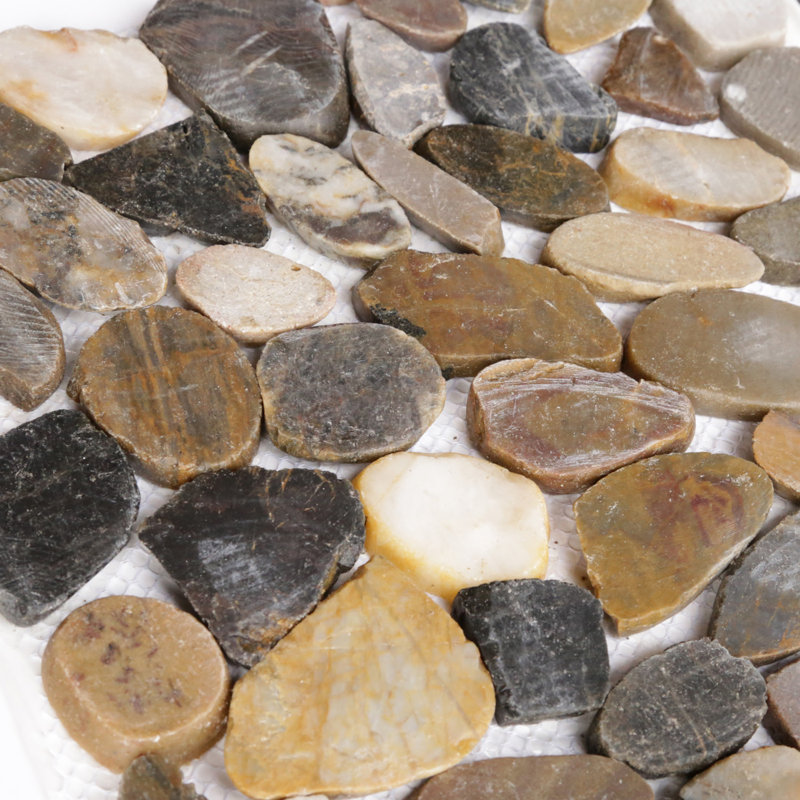 What could these projects include? Most often they are used as backsplash tiles and to create natural looking counter tops, floors, walls and borders. The two most common projects probably being kitchen backsplashes and also a pebble tile bathroom. Both of these projects can look phenomenal and are perfect for anyone who loves and admires the beauty of nature.
A bathroom can be transformed with the use pf pebble tiles on the counter, backsplash, floor, tub, shower surround, or even by just installing a pebble tile shower floor and wall. With the addition of a tree or flowers you will feel like your are in a tropical resort or spa, not your own home.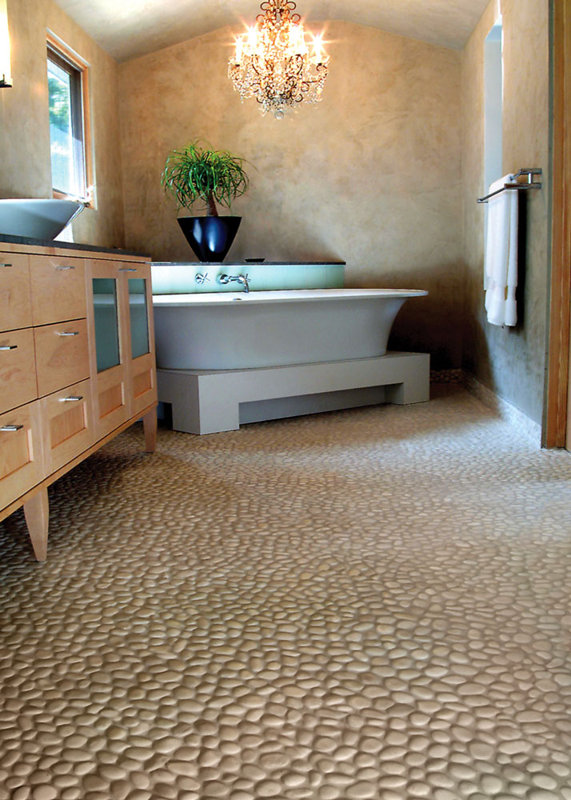 How To Choose The Correct Pebble Tile For Your Needs
Step 1: What's Your Project? 
The first step is deciding on what you will use your pebble tile for. What project you are going to be using them for will help you the most to determine which of the three types you will use: standard, sliced, or standing. This is because it will tell you if you need a level surface or not.
For something like a counter top, sliced pebble tile would be the best option because you will want it to be flat so you can rest plates, bowls, and expensive kitchen appliances on it without the risk of things spilling, falling, or breaking.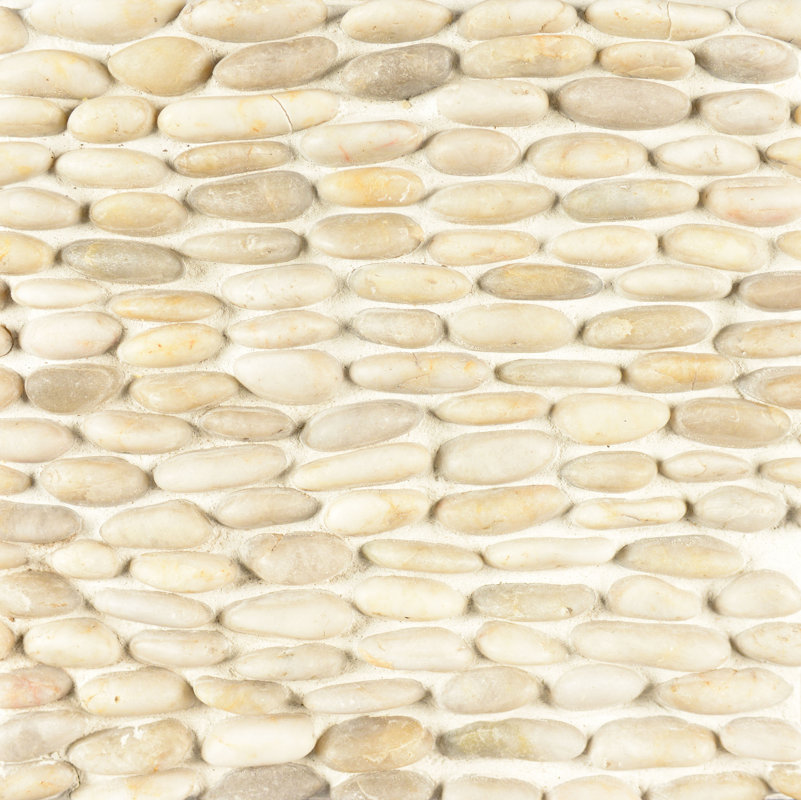 If it's a wall or backsplash project where a flat surface is not necessary, probably the standard or the standing variety is what you will choose unless of course you like the look of sliced pebble tile more. For the floor either standard or sliced pebble tile are the best options depending on whether you need a level surface or not.
You may want to purchase samples and walk and stand on them first if you plan to use them as floor tiles. While many homeowners say that walking on standard pebble tiles is like receiving a foot massage, you personally may not like the way it feels under your feet and opt for sliced pebble tile instead.
So it would be very smart to buy a sample of both the standard and sliced variety and stand and walk on them both so you can make an accurate decision. ***  
Step 2: Choose Your Color
Being natural stones, the pebbles used in these tiles are typically found in black, brown, gray, green, and white. Yet there are many more options available and it depends on your personal preference as well as the color scheme or plan of your room which you decide.
Typically you have two options. You can choose natural pebbles of one color and these will vary shade because within each individual tile there is a natural variation of color shades. So if you chose brown for example, you would have many different shades of brown in your tile some a little lighter and some a little darker but still very similar.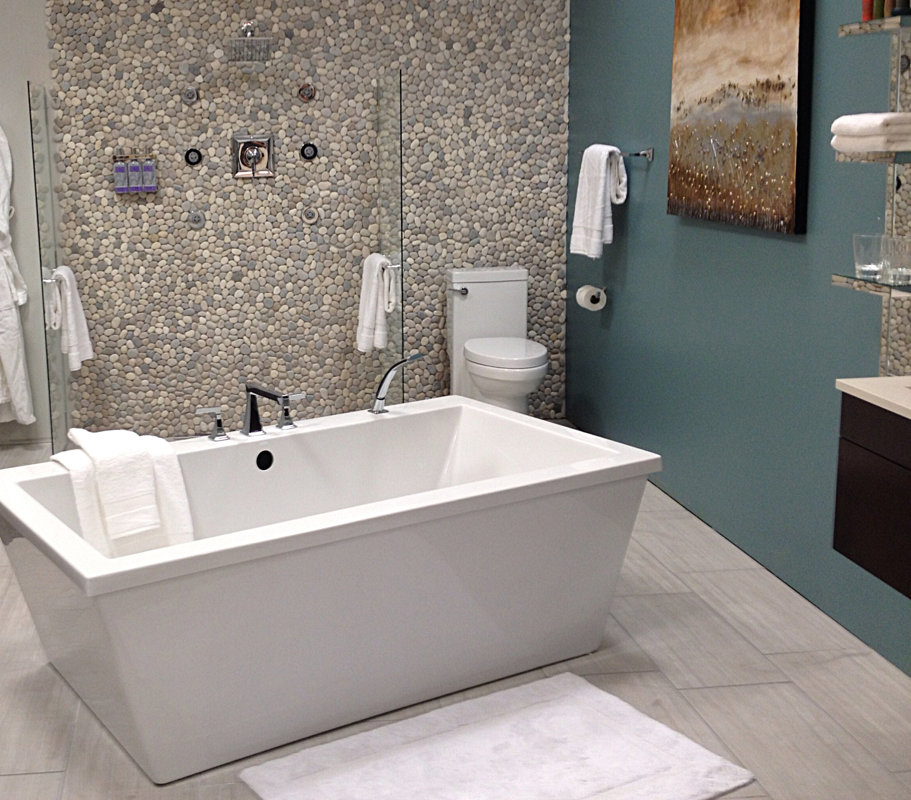 And If you can't decide on just one color, not to worry, your other option is tiles which are comprised of pebbles of mixed colors for a truly well blended yet natural look.
This variation of shades and colors can form a stunning display because just as there is variation  in just one tile, when this is multiplied by the use of many tiles in your room it creates a visually stunning mosaic of natural color.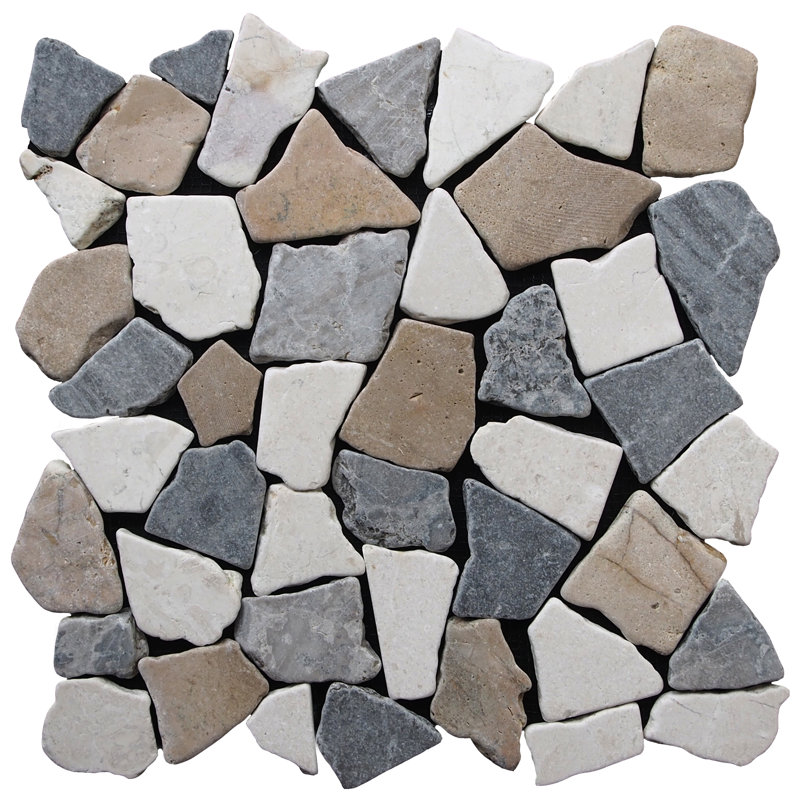 Step 3: Polished Or Unpolished
Once you have decided on a color, the last thing you need to decide is whether you want to go with polished (glazed) or unpolished (unglazed tiles). Unpolished tiles are referred to as natural pebble tile, as they are in there natural state and look just as they did when they were taken from the earth.
They are not polished or shiny. Polished tiles on the other hand, are made up of stones which have been glazed to give the stones a shiny and polished finish. Both are great looking options it's just up to you if you want a more natural earthy look or a slightly more modern and polished one.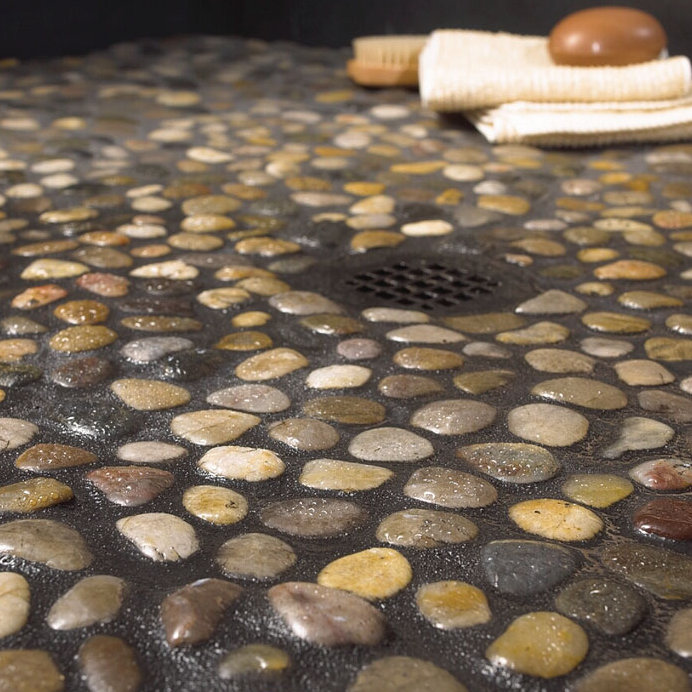 Using pebble tile is a unique and visually appealing way to add natural beauty to your home. Whether it's for a kitchen backsplash, pebble tile shower floor, adding a splash of nature or a tropical resort like bathroom which also massages your feet, pebble tile can do the trick. Just make sure you use these three simple decisions to help you purchase the right tiles for your project and of course a little imagination and your results will be stunning.
Click Here Now to start shopping for Pebble Tile!