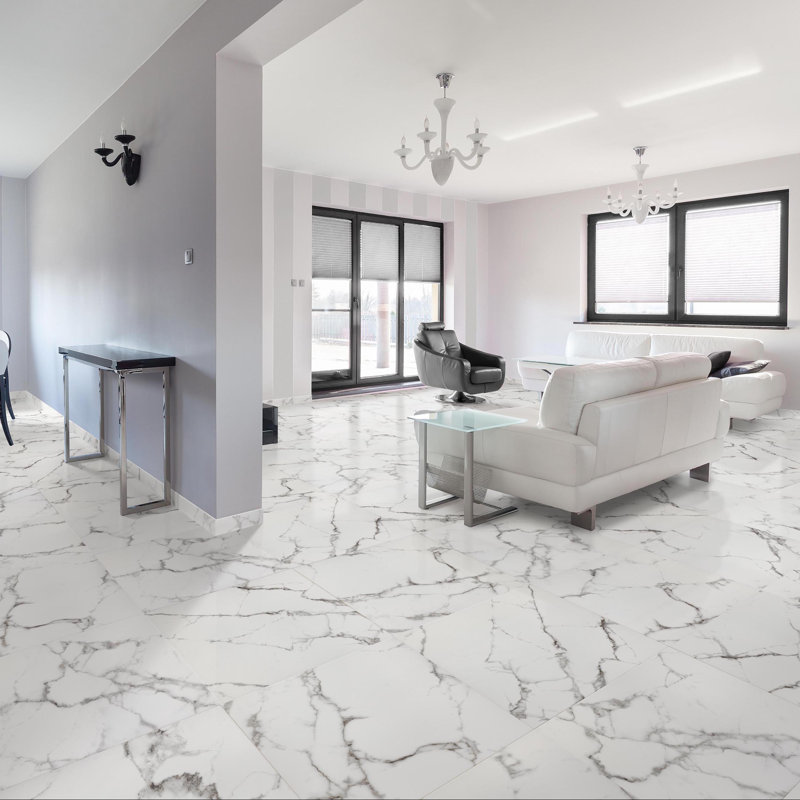 While tile is most commonly used in kitchens and bathrooms, it's also ideal for living room floors. There are many attractive and functional ways to install them. And here are some of the top pictures of floor tiles for living room spaces to help give you some ideas.
Sleek And Modern Stone Look  
These glazed porcelain stone look tiles give the appearance of real natural stone complete with veins and a varying appearance from tile to tile. This living room has both the warmth of natural stone and at the same time a sleek and modern feel. The neutral gray color  of the tiles allows them to blend easily with this interior but they could work in many others.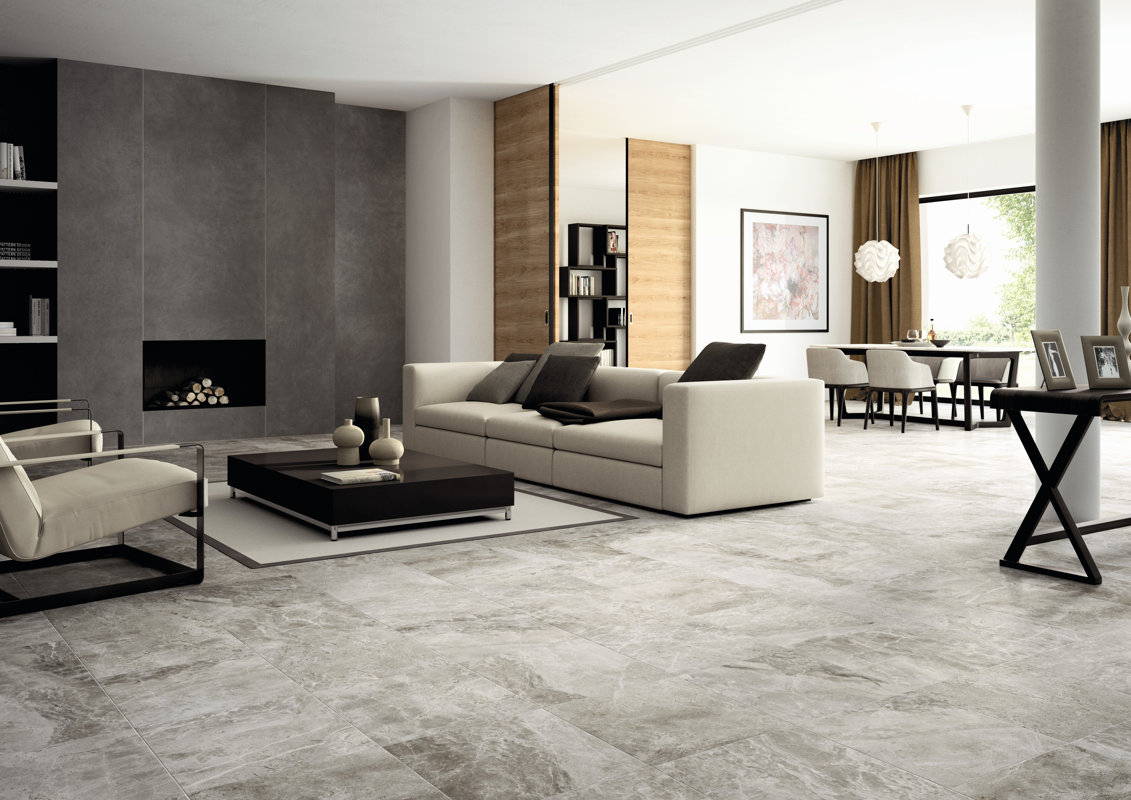 Golden Granite 
Granite is considered to be the most durable of all natural stone flooring choices.  And as you can see in the image below, using granite tiles for living room floors can also make them much more elegant. These polished Venetian gold granite tiles would also be ideal for fireplaces or countertops too.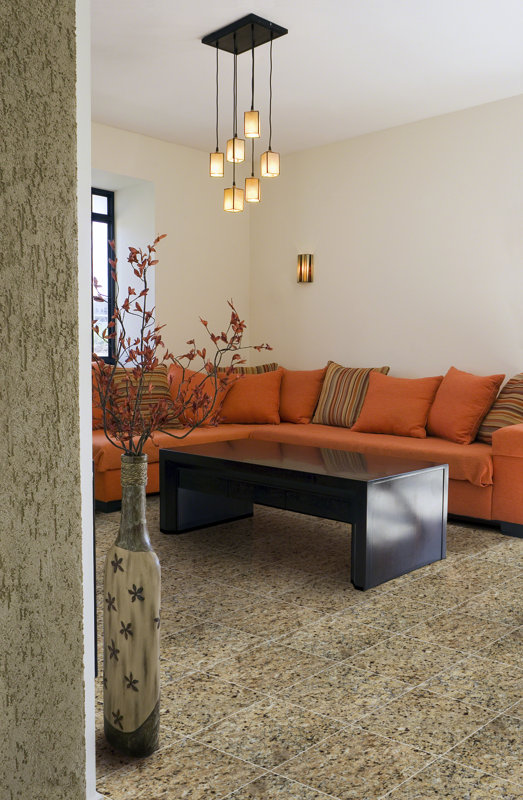 Porcelain In Drift 
These large 12″ x 24″ faux stone porcelain tiles look fabulous set in the running bond tile pattern. With highly visible veining and moderate variation each tile is like a work of art. The high-end appearance of these tiles make this living room floor stand out yet they don't overpower the space.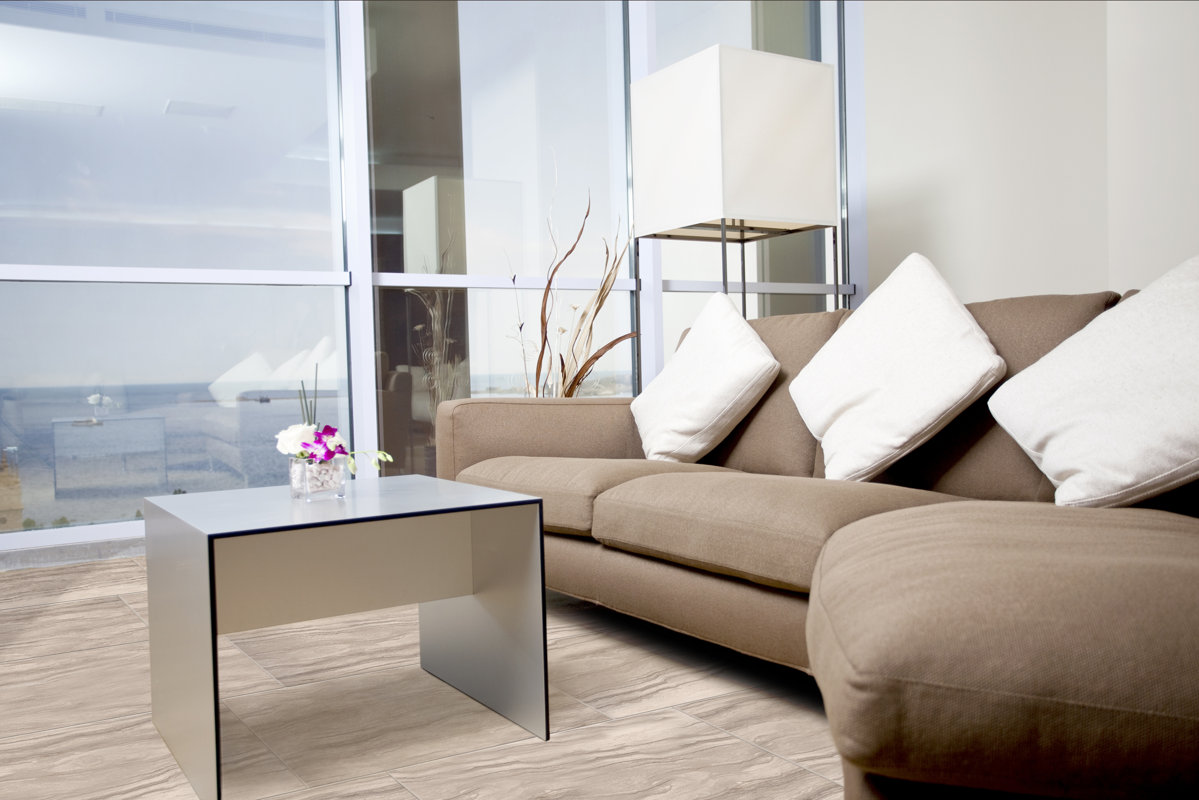 High Sheen Retro
Using large tiles for living room floors that are more expansive in size is typically a smart way to go. These big square ivory-colored ceramic tiles have a high sheen and green starbursts which have a retro look that can work in both classic or more contemporary spaces.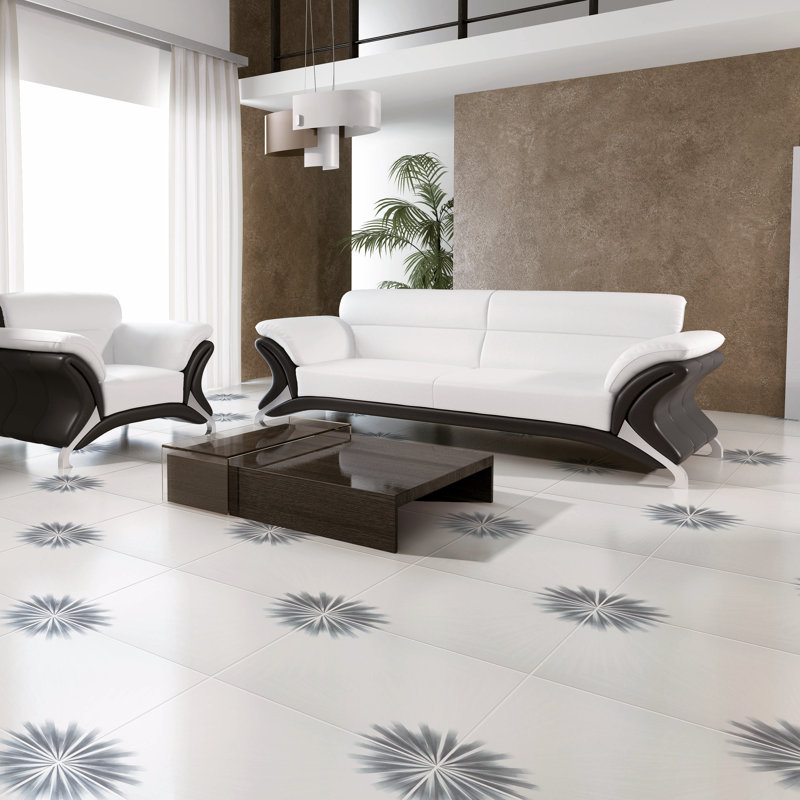 Mix And Match Carpet Tile 
One of the top benefits of carpet tiles is that they are modular so you can move remove or add individual tiles to suit your needs. As you can see below, when using carpet tiles for living room floors a popular choice is to purchase tiles of different colors, patterns, and textures, and then create your own unique layout.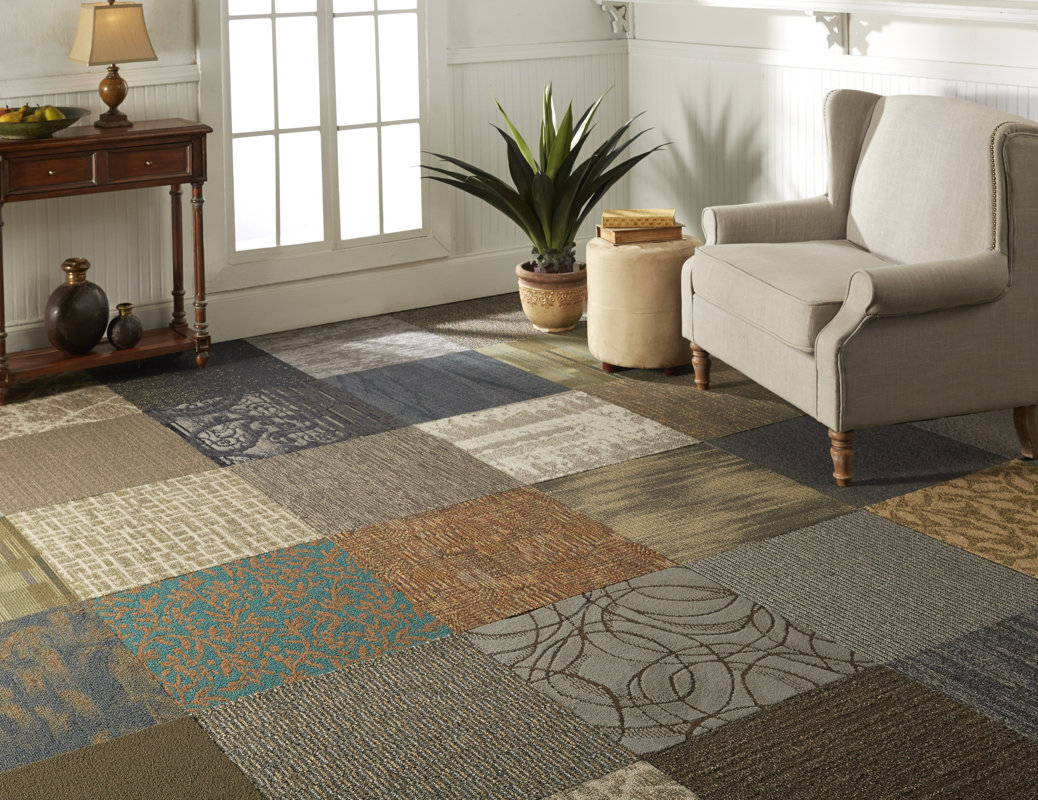 Faux Noce Travertine 
This floor features travertine look tile made from ceramic. While the tiles provide the look of real travertine, they aren't pitted , so they aren't any small holes that can trap dirt and dust. The shade is known as noce, which is a famous type of brown travertine.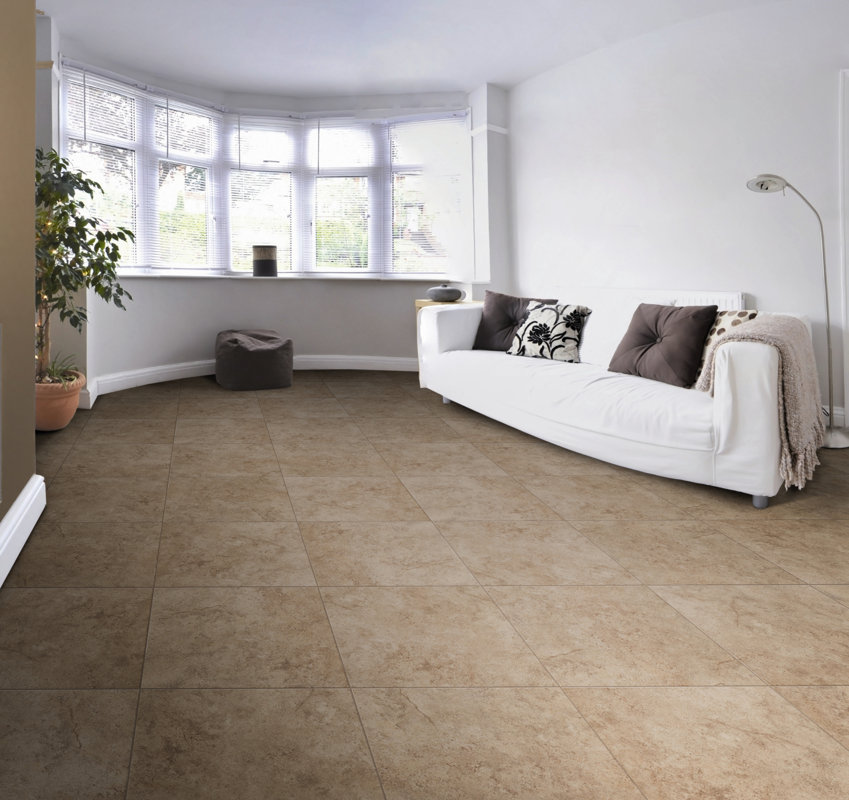 Realistic And Neutral
This gorgeous shade of gray is called matterhorn. It's neutrality allows these living room floor tiles to easily work with materials such as wood along with various other materials and colors. While they may look like real stone, these tiles are actually made from porcelain.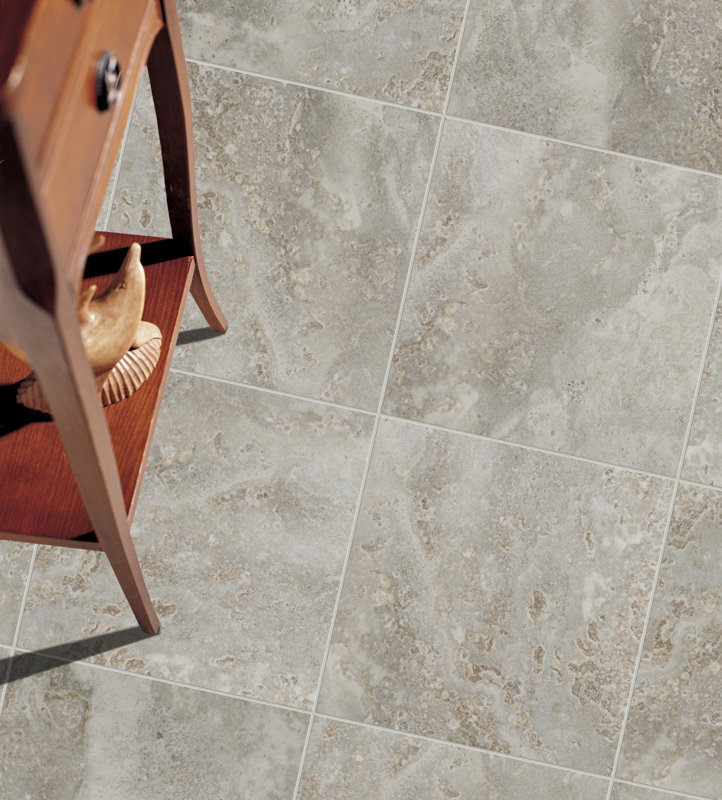 Gray Wood Look
Many homeowners don't realize tile can be made to look just like wood flooring. The long 8″ x 45″ porcelain tiles used on this living room floor for example mimic the appearance of authentic hardwood planks. Their weathered look and variation in shade add visual interest while providing a surface that's easy to maintain and less costly per square foot than the real thing.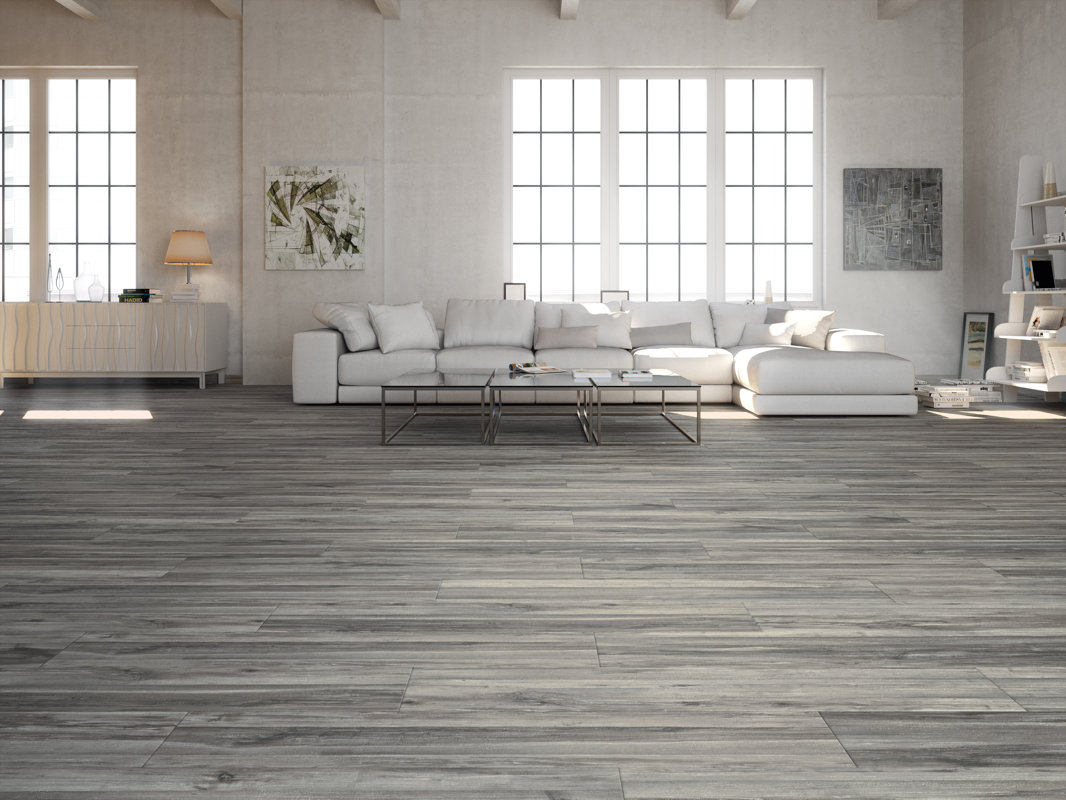 Weathered Silver Planks
Another example of just how realistic porcelain wood look tile can be. However this living room uses a darker shade of gray, ancient silver, to give the appearance of a handsome and aged natural wood floor. Note the realistic wood grain clearly visible in each tile.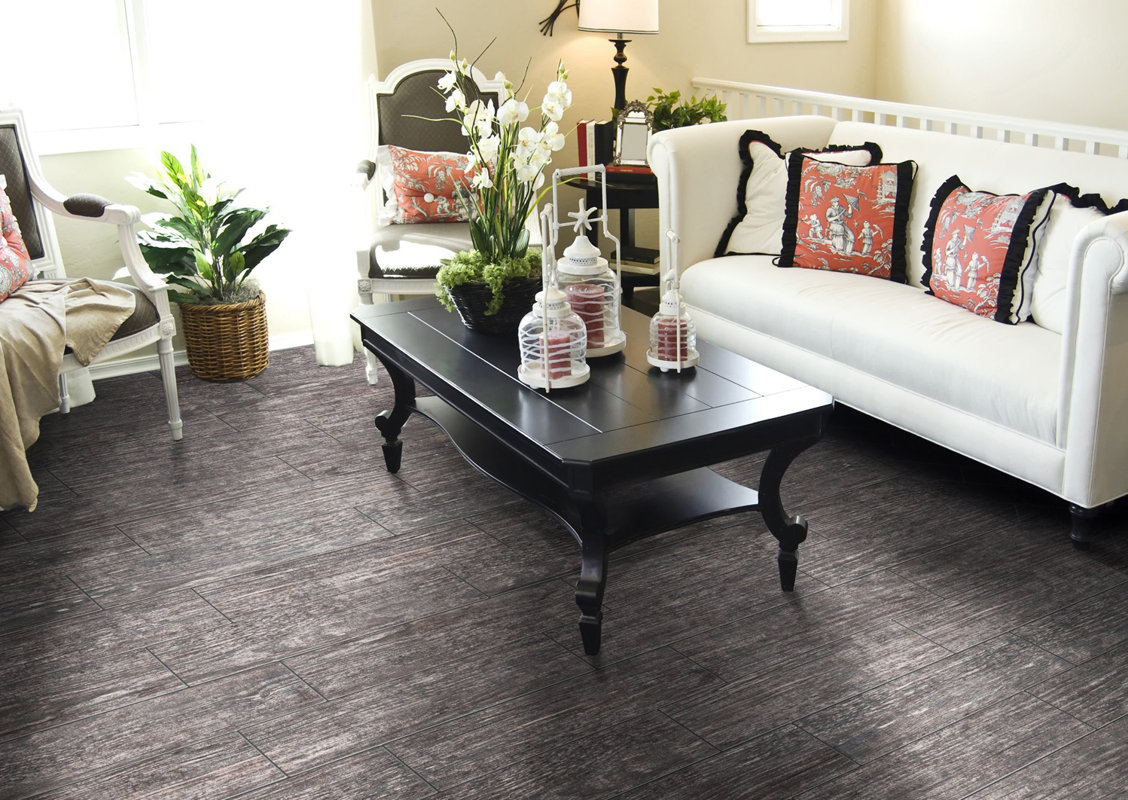 Polished Modern 
The polished finish on these large rectangular porcelain tiles helps create a modern living room space. They also function to brighten up the room. This is a perfect example of how you can use white glossy tile when you'd like a  clean and sleek looking floor.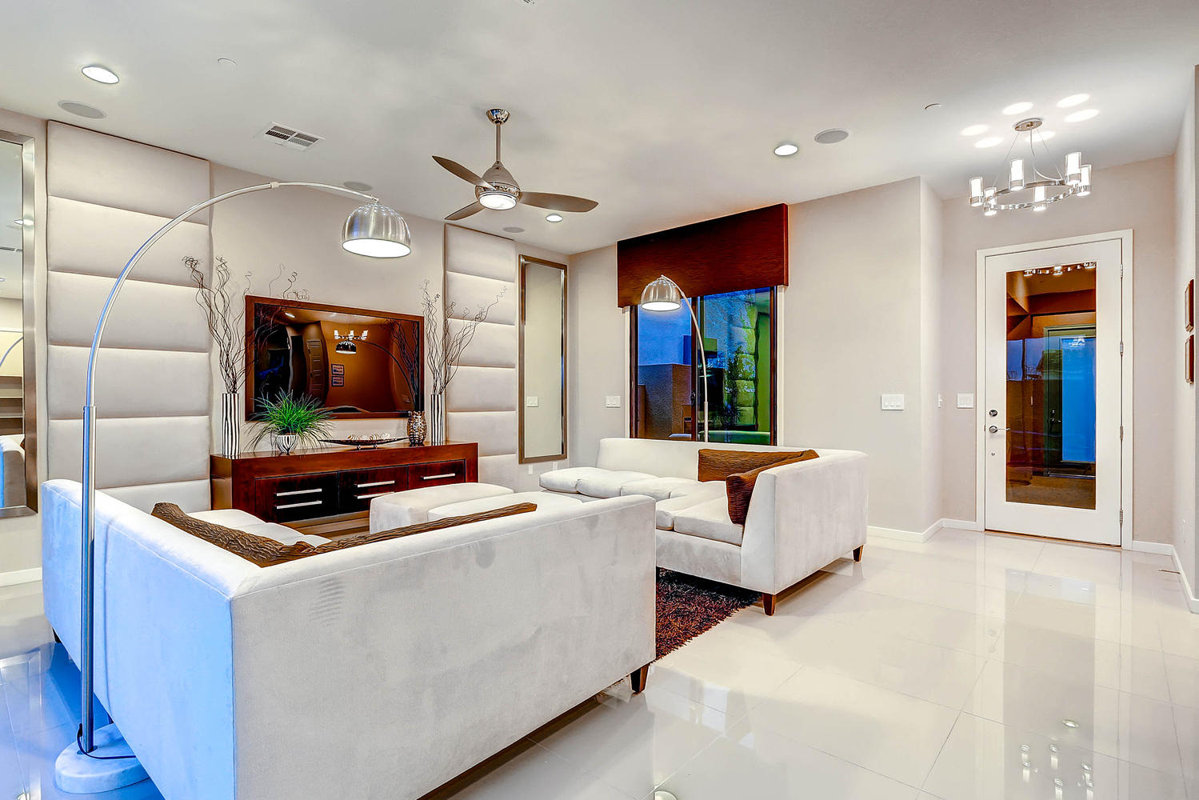 Subtle Strands
Fabric look tiles like the ones on this living room floor are inspired by textiles. These big rectangular porcelain living room floor tiles are oyster in color yet on closer inspection are made up of interwoven lines of varying shades just like fabric. Floor tiles of this size would also work well in small spaces such as hallways and bathrooms as well.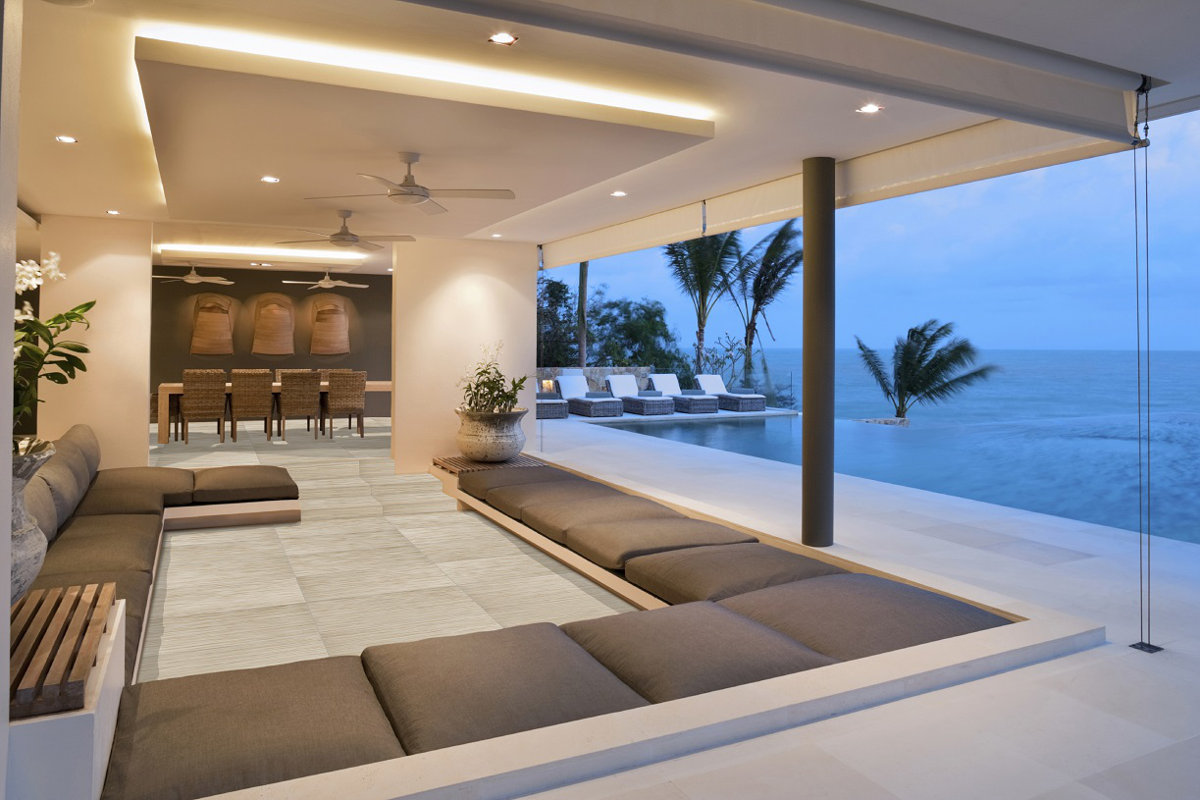 Stone On A Light Blue Background
This beautiful floor uses blue tiles made from porcelain with a white stone print. The random and natural looking shapes of the stones are highlighted by the contrasting blue background.
While using blue tiles for living room floors is not as common as other color choices such as gray or white, you can see here just how attractive a blue floor can be. It also appears to the eye to be a single stone surface since the tile edges don't stand out.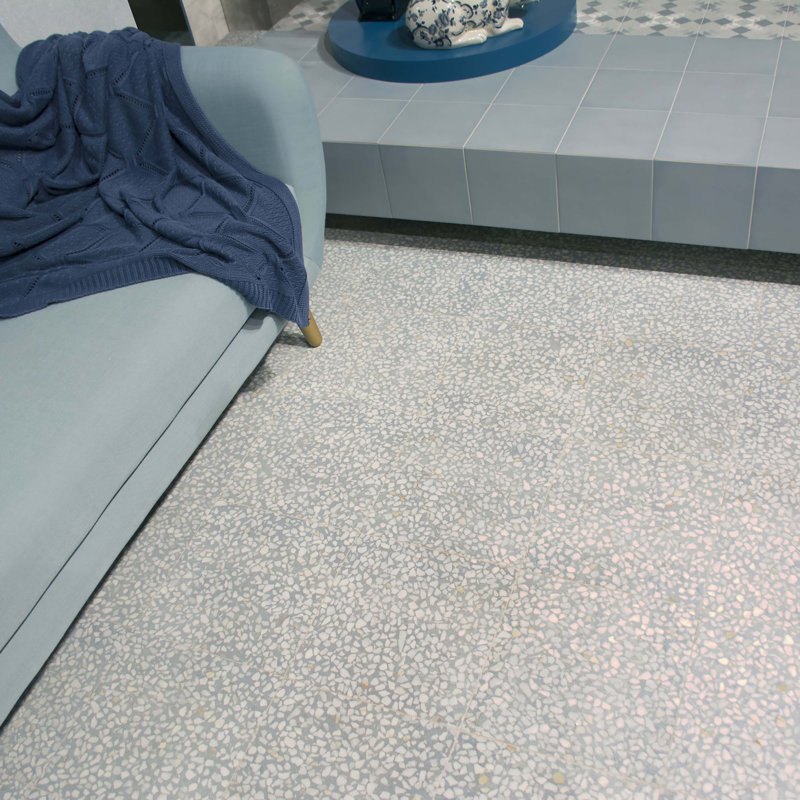 Classic And Classy Cement 
Retro style tiles have become one of the hottest trends in recent years and these cement floor tiles highlight are an excellent example why. They have an attractive matte finish and their contrasting colors grab attention. Tiles like these can handle heavy duty foot traffic but care should be taken to seal them as cement is a porous material.
Weathered White Wood
With these wood look porcelain tiles, the floor seems like it's made up of aged wooden planks. Their surface is distressed which makes them look as if they are covered in white paint which is fading with age and wear and has a a wood-like texture that adds to their realistic appearance.
Embossed Hexagons
Made from porcelain, these hexagon tiles offer a classic look with a twist: embossed designs. The nature-themed motifs add texture to this stylish living room floor that is very high-end in appearance. Tiles like these would also be an excellent choice for bathroom floor as well.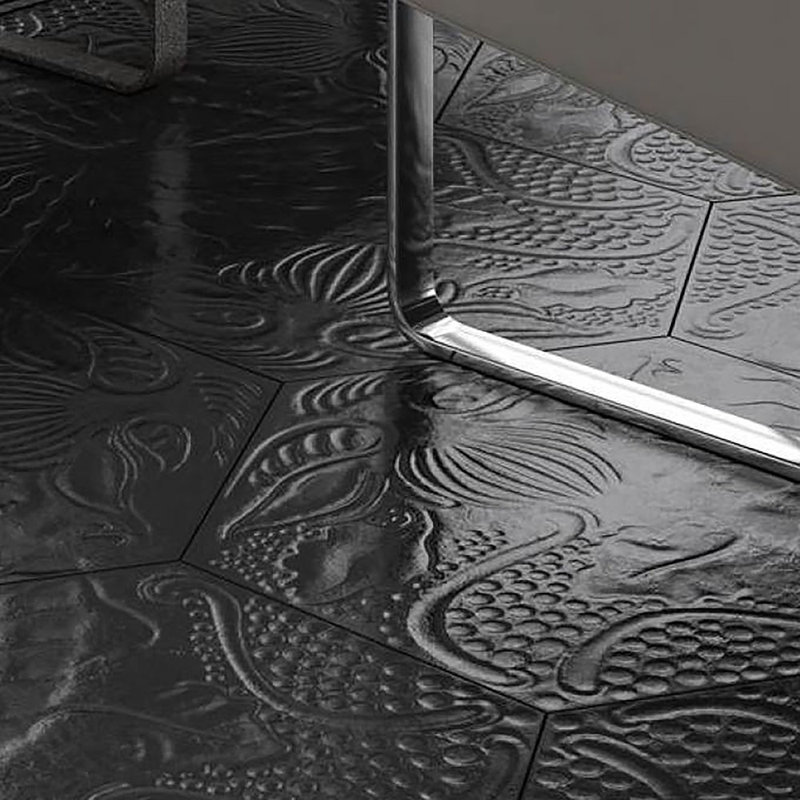 With these pictures of floor tiles for living room spaces to inspire you, you're sure to have some fabulous ideas on how you can dramatically improve your floor regardless of what style you are looking to create.
Click Here Now to start shopping for Floor Tiles!