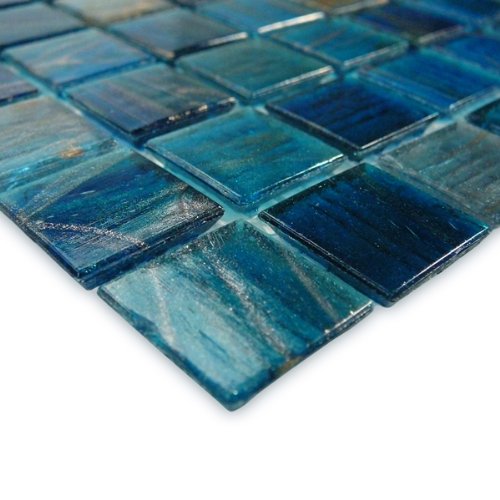 A wet room is a completely waterproof shower room that offers a more stylish and contemporary alternative to a traditional bathroom. They can be installed in virtually any home and are fantastic for increasing the value of a property.
Tiling is one of the key design features of wet room design and installation. With so many different tile materials, varying in colour, style and properties, it can be tricky choosing the right tiles to match your needs.
Take a look at our six wet room tile design tips below to create a wet room that perfectly matches your requirements and personality.
1) Mosaic Tiles to Brighten up your Wet Room  
If you appreciate intricate design and like the idea of a wet room that is luxurious and completely unique, mosaic tiles are an excellent choice. Available in a wide range of colours, sizes, materials and patterns, they offer plenty of scope for designing a wet room that looks and feels amazing.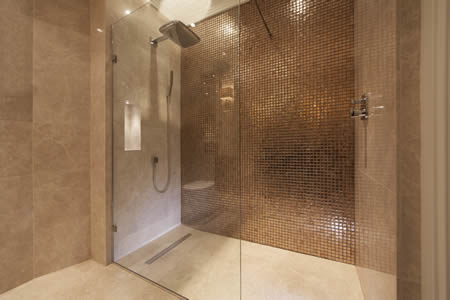 Mosaic tiles are a great asset to small wet rooms. Their translucent beauty can help to lighten up a small space, whilst a blended mosaic tile design of different materials and colours can add depth and a more creative flair.
In terms of wet room flooring, mosaics allow for easy coverage of the drain slopes in the shower area. They are also highly durable and resistant to cracking, and as a porous material they are impermeable to moisture and grime. Just make sure your mosaic floor tiles have a special non-slip layer to provide optimum safety underfoot when wet.
2) Ceramic Tiles for Durability & Variety
Ceramic tiles are one of the most popular choices for wet rooms, mostly due to their high durability and versatility in terms of style. They are also easy to care for and are naturally resistant to the effects of high humidity – making them ideal for the moist environment of a wet room.
If you're inspired by colour and texture, ceramic tiles are an excellent choice. Available in a wide range of colours, styles and finishes, they can make for a great accent in your wet room – adding extra dimension. For your shower area, smoother ceramic tiles (with a non-slip finish) are a better option as they are easier to clean. Just make sure any ceramic tiles you have installed in your wet room have 6% maximum water absorption.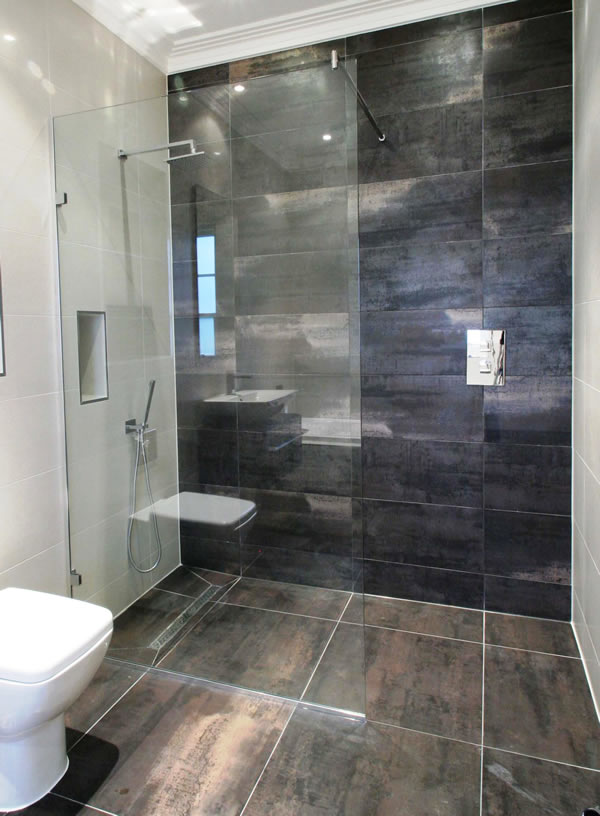 3) Marble for a Unique, Luxurious Feel
Marble is by far the most glamorous wet room tile material. This natural stone is of high quality and every tile varies in design and colouring – allowing for a completely bespoke wet room finish. The elegant and soft appeal of marble is considered a perfect match for the wide, open space of a wet room, and the larger the tiles, the more attractive the finished design.
As marble is highly absorbent, it's not the best material for high-traffic wet rooms. It requires a high level of maintenance and care and you may need to have your marble wet room tiles professionally restored every so often.
4) Limestone Tiles for Resilience
Limestone is one of the more resilient tile materials, and is available in a range of beautiful patterns and colours to enhance the look and feel of your wet room. Another natural stone, limestone is quite porous, but if it is sealed thoroughly and regularly, it will stand the test of time.
A popular choice of limestone tile for wet rooms is a classic white tile, as it adds brightness and timeless sophistication to the finished design. Another option is a two toned finish in which limestone tiles of the same hue, but different shades are used to create a more unique look and feel.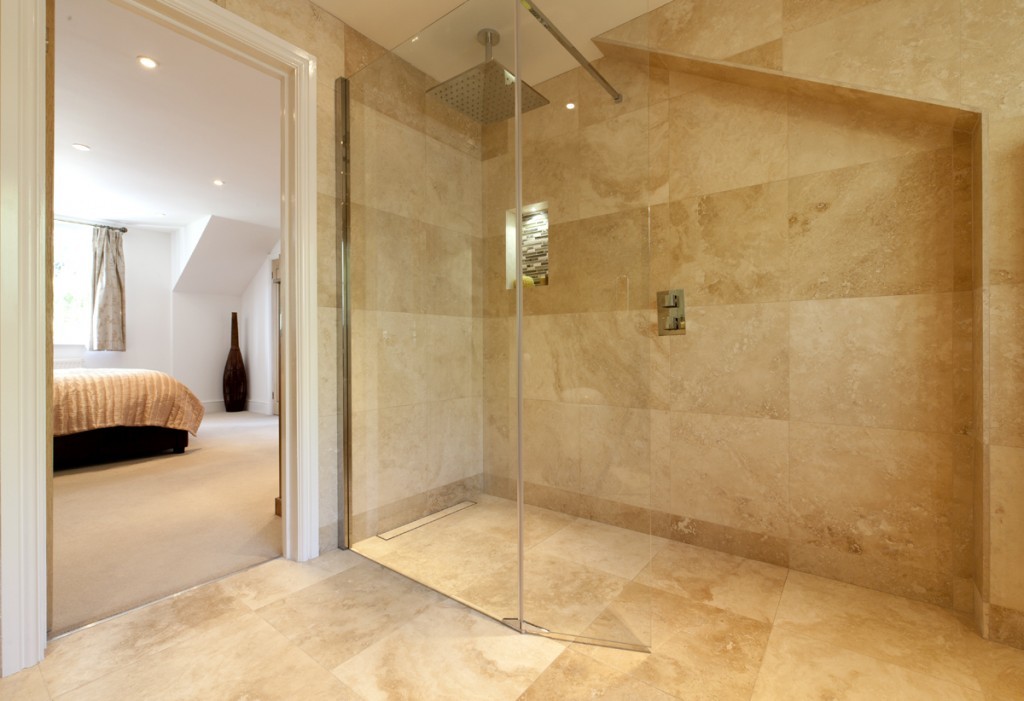 5) Travertine Tiles for Affordable Style
Travertine is another natural stone that can be used to create a stylish and bespoke wet room. With its natural veining and availability in a wide range of colour schemes, shapes, finishes and patterns, travertine tiles can be used to help create the exact look you're after in your wet room.
Cheaper and more durable than marble and porcelain, travertine offers more for your money and is ideal for unusually shaped wet rooms. As it can be slippery, it's best to choose the tumbled travertine tile material as this has more texture and is the safest to walk on in wet environments. Travertine is also porous, so it will require a good quality sealant to prevent seepage.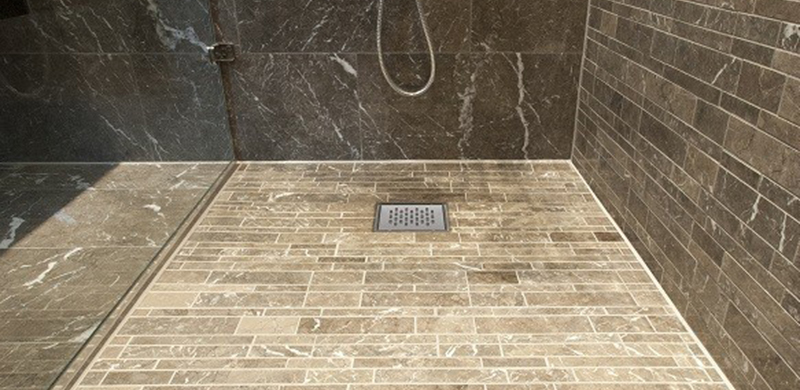 6) Granite Tiles for Maximum Toughness
Granite is the strongest stone tile that holds its shine and repels water extremely well – making it ideal for high-traffic wet rooms. It is also one of the most attractive materials, and each tile is unique in design and hue. Choose a single colour for a simplistic, classic design, but for a more contemporary look choose granite tiles of differing shades and colours. Large granite tiles are an increasingly popular choice for wet rooms.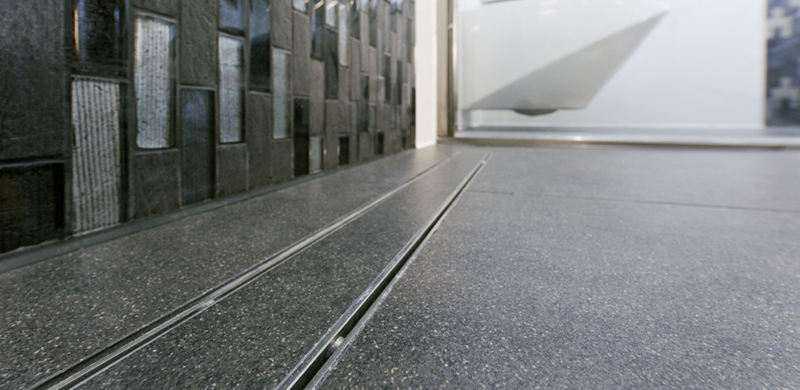 As granite is very heavy, installation can take time, and it's crucial that your wet room floor is strong enough to support the tiles. Granite is a particularly cold surface that can be quite slippery, so you'll need to ensure your tiles have a special non-slip layer for maximum safety underfoot.
CCL Wetrooms is the UK's leading wet room specialist, providing a wide range of innovative, high quality products design to create stylish wet rooms.