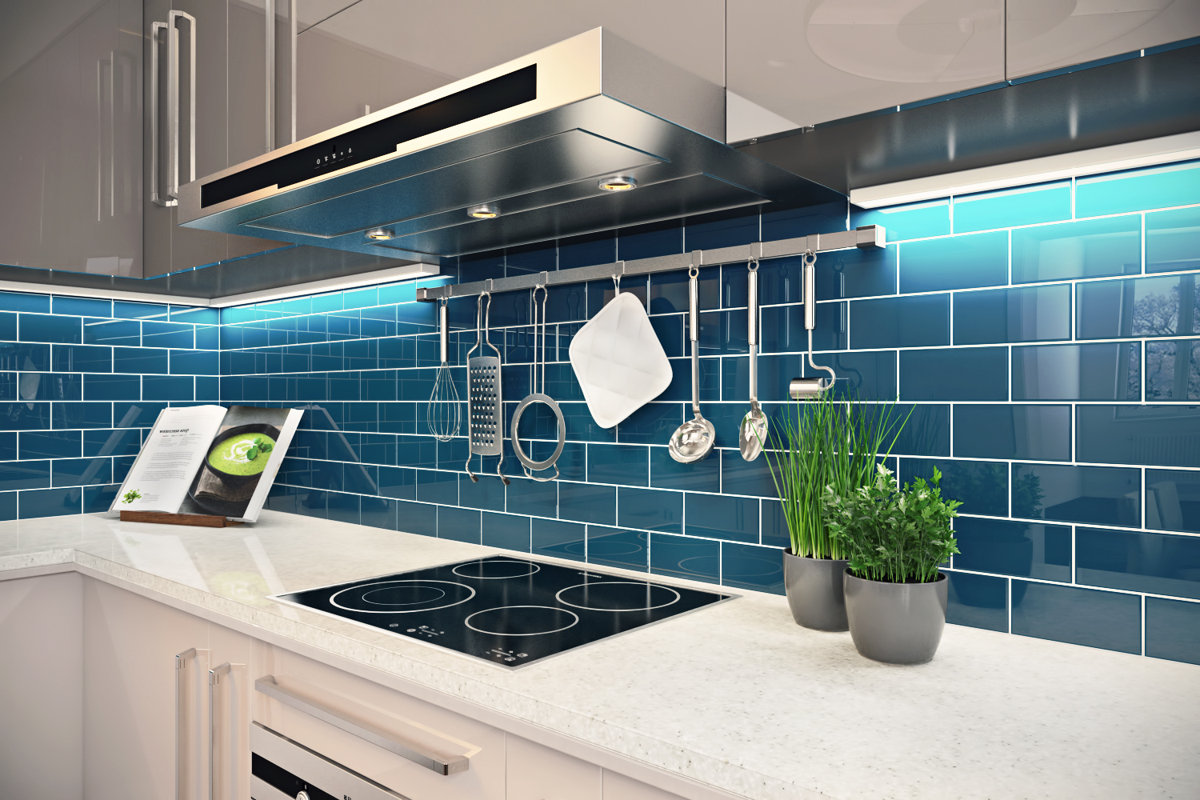 "What is subway tile?" This is one of the most common questions consumers ask when thinking about using tile for a home project or upgrade. Stemming from the early 1900's, these tiles were used in the New York City subway system. Their long rectangular shape, "pencil thin," grout lines, and shiny white color made them an instant hit back then and they have only been gaining popularity since.
In fact, using them in the home today, is one trend that won't be changing anytime soon and for many good reasons. So we've compiled a guide to give you some inspiration and ideas on why and how to use them along with some tips and other useful information on this uniquely shaped option.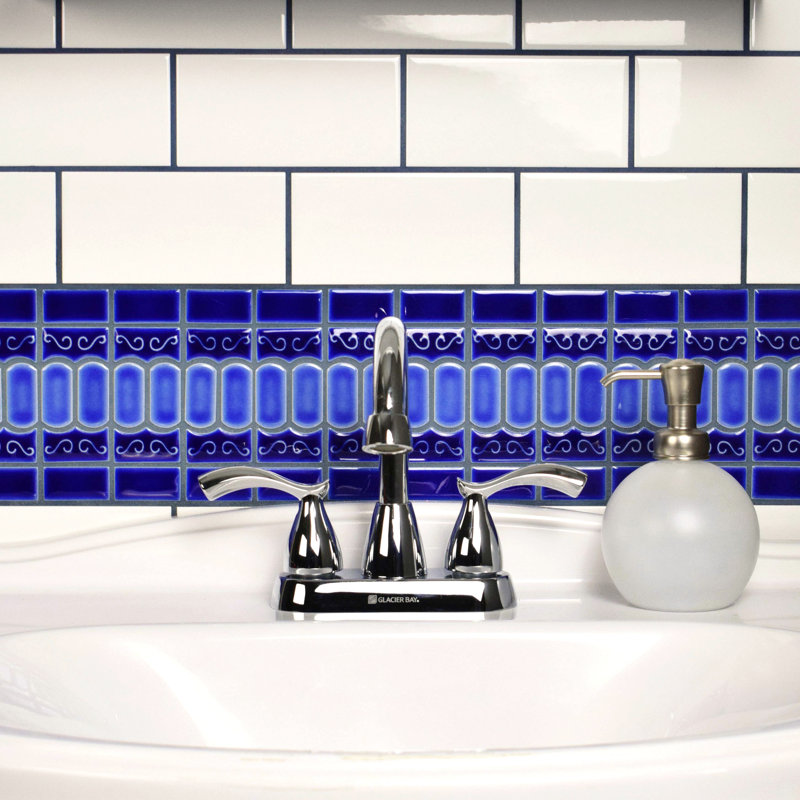 Why Use Subway Tile?
Designed To Brighten Up Dim Spaces 
Subway tile was designed to bring light to the dark underground subway system and all of their features were hand picked to help them accomplish this. That is why they were originally white in color and had a glossy finish as it helped them to reflect as much of the surrounding light as possible.
Their shape was chosen because it provided a large surface area to maximize the total amount of light reflected. And by using only a very thin grout line to surround them it didn't take away from these light producing effects as a much wider one would. You can take advantage of their ability to brighten up a room by installing white or other light colored tiles in your home.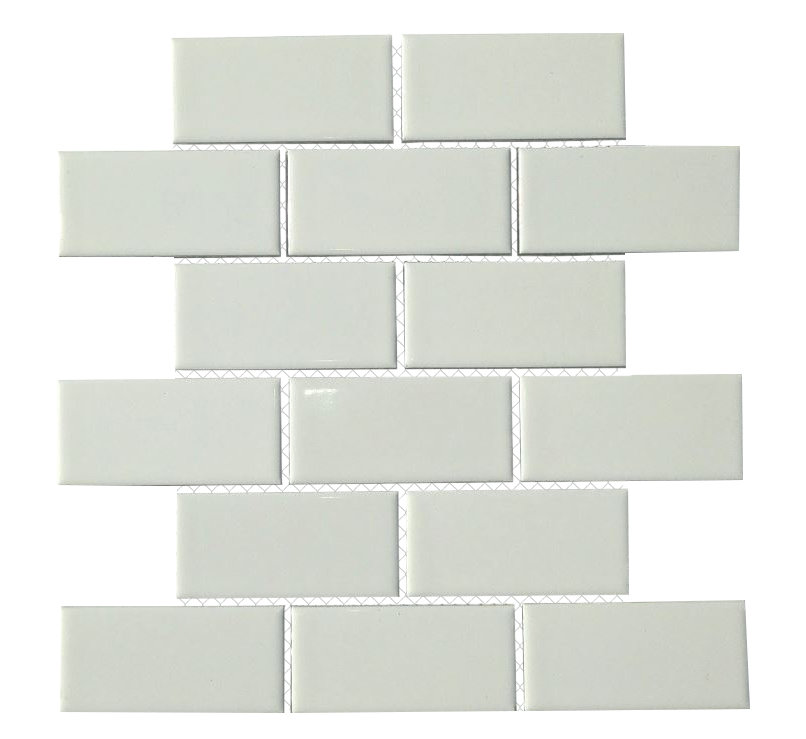 Easy To Clean
An extra benefit of having thin grout lines is that it makes the tile much easier to clean. And they remain looking that way for much longer than other tiles with much wider dirt-attracting grout lines. This is just as helpful today as it was in the past and is something worth keeping in mind since it can save you a lot of time.
Great Looking And Inexpensive
Another reason so many people love subway tiles is the fact that they can be so inexpensive yet still look amazing. And while some materials do cost more than others, many people are shocked to see just how great even inexpensive ceramic tiles look after they are installed. They just really have such a luxurious appearance no matter how much or little they cost.
A Traditional Yet Simple Look that Always Stays Relevant
Installing subway tile can give your space a classic early 1900's look which never goes out of style. One guarantee is that its simplicity will never make your space look dated. It's a timeless choice.
Create the Feeling of Space
Installing subway tile is often a trick used by decorators and tile professionals to make a smaller room feel and look a little bit larger than it really is. The length of the tiles deceives your eyes as they follow its edges horizontally connecting to one another forming a straight line, an effect which can really help a cramped space.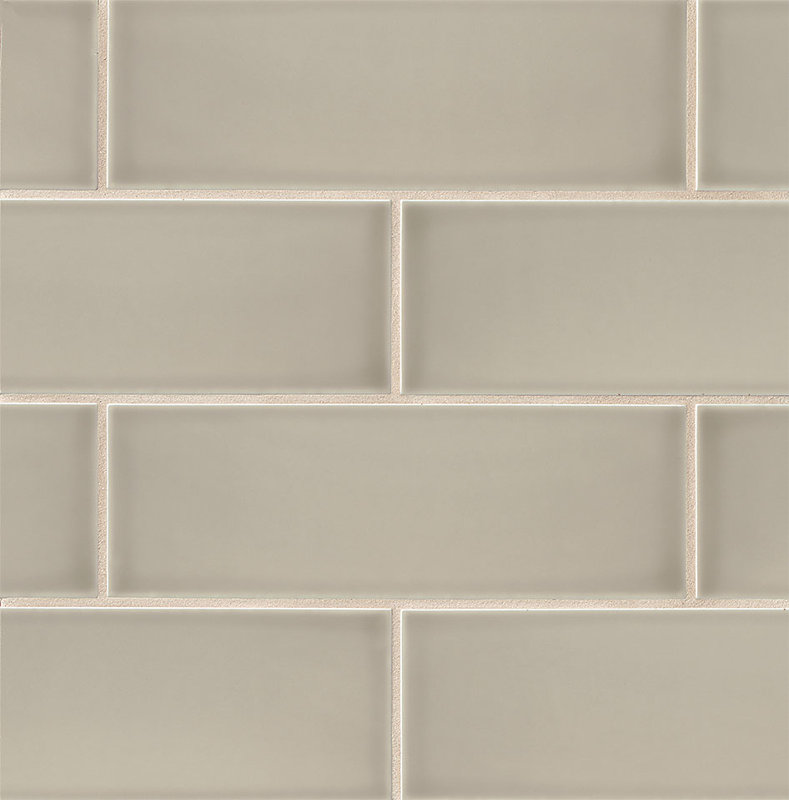 Typical Subway Tile Sizes
While they do come in many different sizes,  3" x  6" subway tile is by far the most common and was actually their original intended dimensions. Typically they are 3/8" thick.
Some homeowners prefer to go a little wider and longer and there are many options if you do decide you want large subway tile such as 4" x 12", 4" x 16" or 12" x 24" among other sizes. Narrower and longer is also a choice too.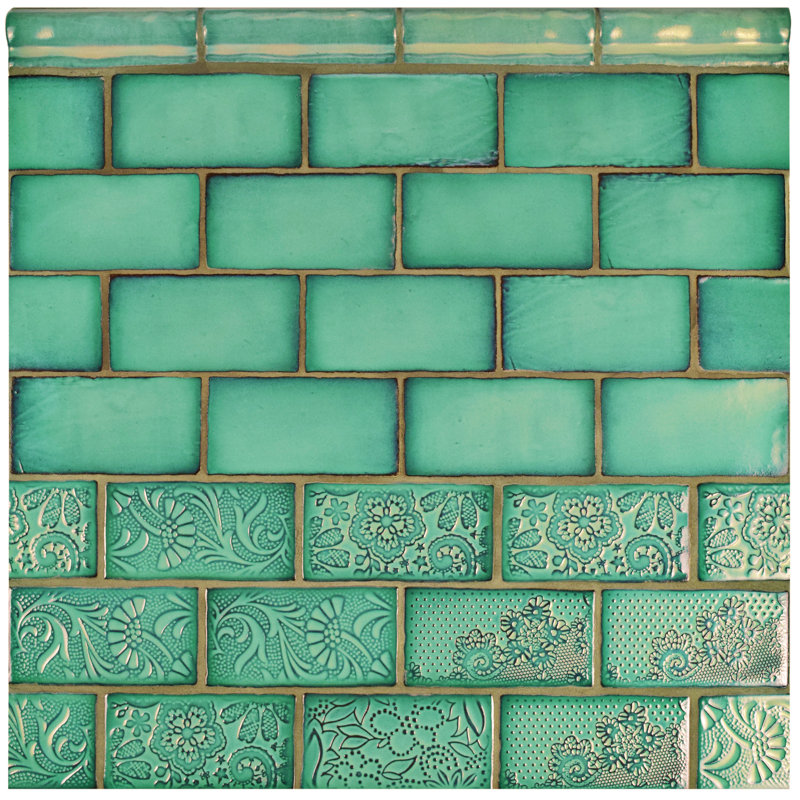 Common Uses
A subway tile backsplash is without a doubt the most common use for these tiles. In case you don't know what a backsplash is it's a covering normally made from tile, above the counter top, sink, or stove which protects the wall from heat and water damage.
Whether it is in the kitchen or bathroom, this small area can pack quite a punch. It can function to bring together the whole style of the room, accent certain features, add a splash of color, or match the existing color scheme in the room.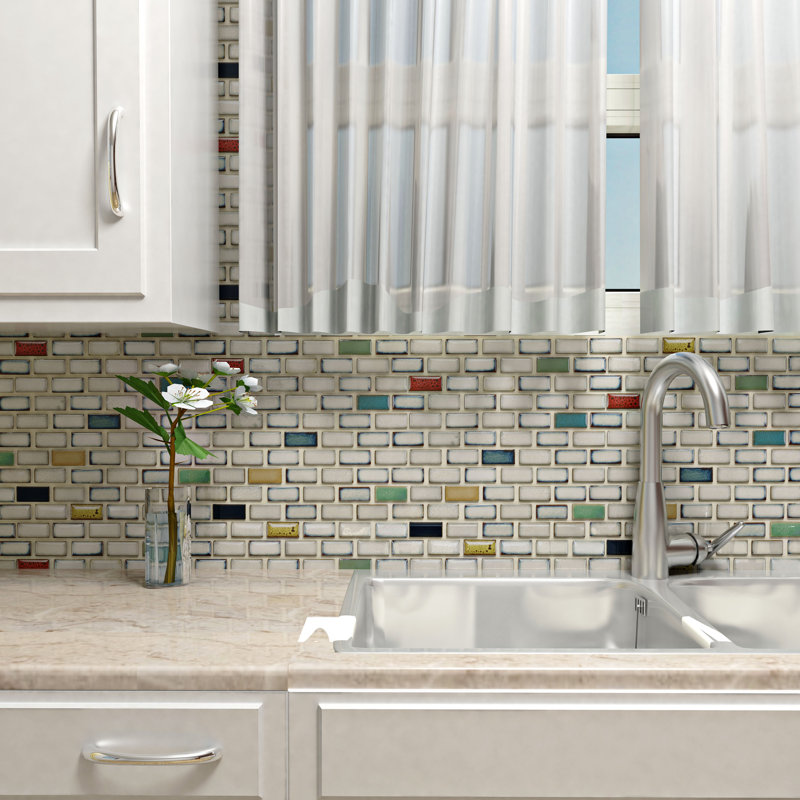 They are also typically installed in showers or from the floor to ceilings in bathrooms. A subway tile bathroom actually is much more efficient at protecting walls from water than one which uses square tiles. The fact that there are many less grout lines and that the lines are much slimmer, makes it much more difficult for water to get in. This why you'll see so many subway tile tub surrounds.
Another option is to use them as fireplace tiles particularly if they are made from glass or stone because they can handle very high heat. Don't forget the floor either. Just be sure that the ones you pick are rated as floor tiles since they will need to be much more durable than wall tile is.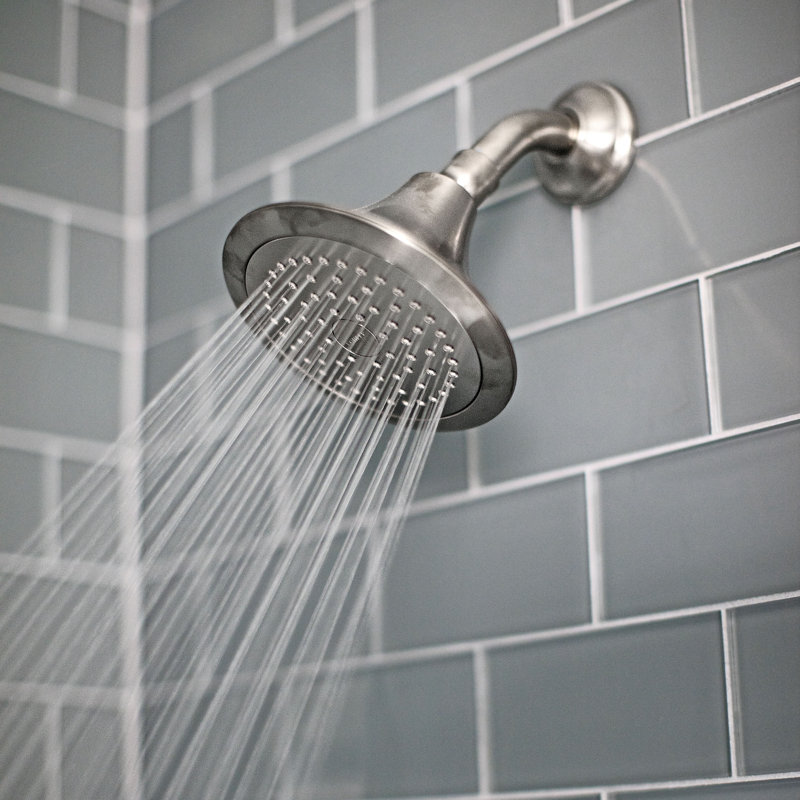 Subway Tile And Grout
It's easy to assume that because it is so thin that the grout around subway tiles doesn't really play a role in how the tiles are perceived. However, this is not true. In fact it can make a big difference if you use it right. For outlining your tiles and making them look bolder choosing a colored grout which contrasts the color of your tiles works best.
For example by framing white tiles with a dark or black grout it will really make them stand out. Using thicker grout lines as opposed to the classic thin ones will also emphasize the individual tiles even more. The same concept works for dark colored tiles where using a light colored or white grout would have the same outlining or framing effect.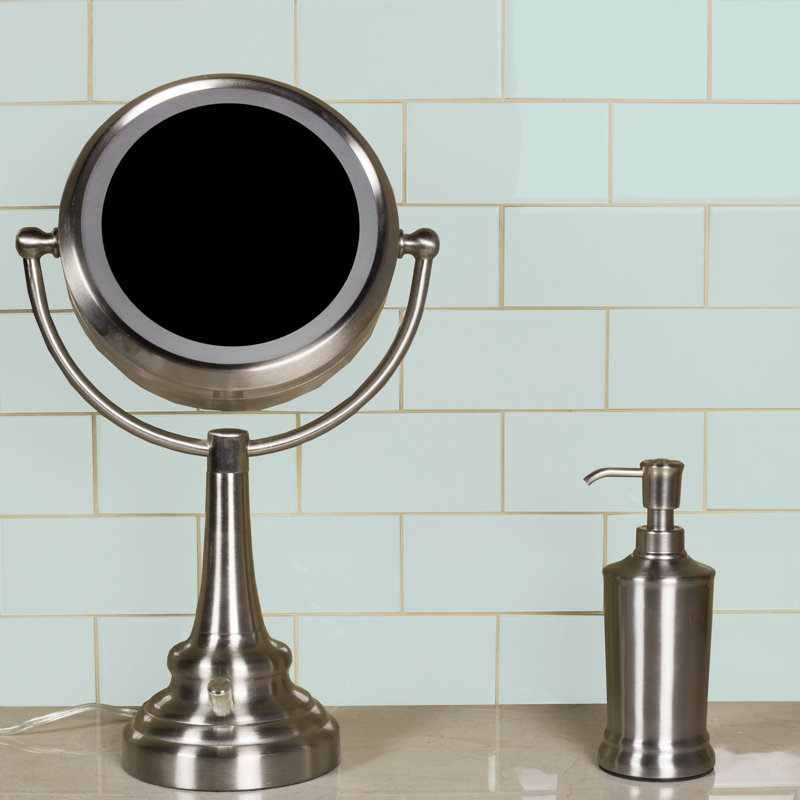 You can also use a dark grout to match the darker colors in your room to bring your space together and make it more balanced. Many actually people prefer to use dark colored grout regardless of the color of their tiles so that if the grout does become dirty it is very hard to spot.
If you'd like to emphasize the wall or space as a whole instead of each tile you can simply use grout which is the same color as your tiles. Fortunately even if you have an existing installation you can change the color of your grout very cheaply by applying grout colorant which is available in just about every shade.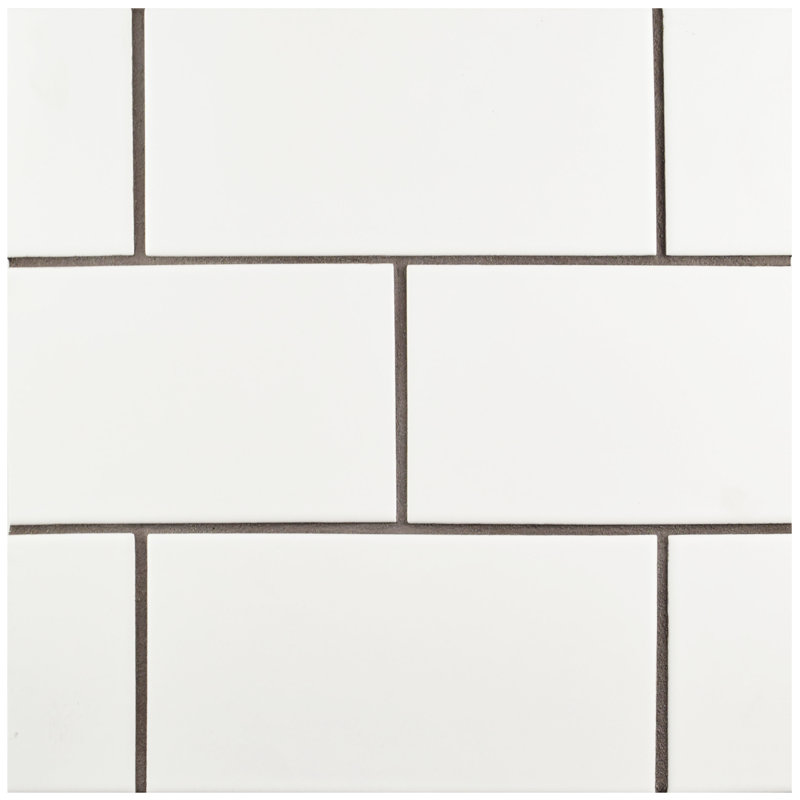 Subway Tile Patterns
The running bond is without exception the most used pattern. Just like you'd see on a brick wall the tiles are off-set by half a tile length from the row under and above it. For the best effect, when using it in areas like backsplashes that are very visible it is important that the pattern is centered.
The herringbone pattern is normally used on the floor but can make a statement when on backsplashes and in showers too. It is fairly intricate and looks very similar to the skeleton of a herring. When you see it, it instantly is obvious why it has been so popular in Europe for so long.
A stacked subway tile layout is much simpler choice. The tiles, just like their name suggests, are stacked so that each one is perfectly in line with ones below and on top of them which can be quite modern. Stacked tiles are sometimes used as a way to help rooms with low ceilings appear as if it is they are higher than they really are.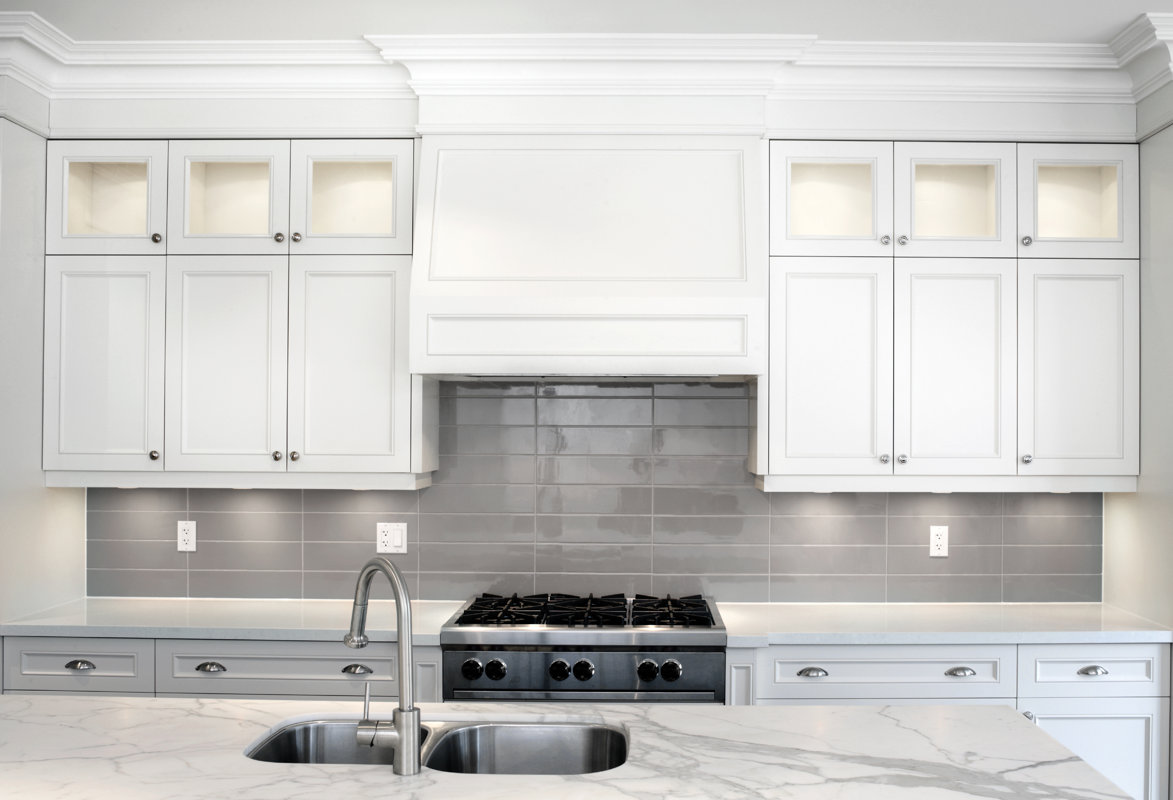 Top 10 Subway Tile Ideas
That being said, here are the top ten ideas to get you thinking including a few of the best colors, materials, and sizes:
#1  White Subway Tile
You really can't go wrong with the color that started it all. By using white tiles made from ceramic or porcelain that have a shiny finish, you can portray a vintage look. A classic white subway tile backsplash can be used to really transform the feel of your kitchen or bathroom space.
Whether they stop on the backsplash or continue on to cover the rest of the walls like mentioned above, using white or light colored subway tiles is one of the easiest and most effective ways to brighten up a room.  This can come in real handy if you have a room with no or limited natural light and is one of the reasons that white subway tile bathrooms in particular are so popular.
Of course there are many  other different finishes and shades to choose from, you may want to check out a matte finish for something less reflective and off-white subway tile always works well.
There are a lot of other materials available in white besides ceramic and porcelain from natural stone to glass, and even mother of pearl so you do have a wide array to choose from. Nowadays it is very trendy to use gray grout around your white tiles to really draw attention to them.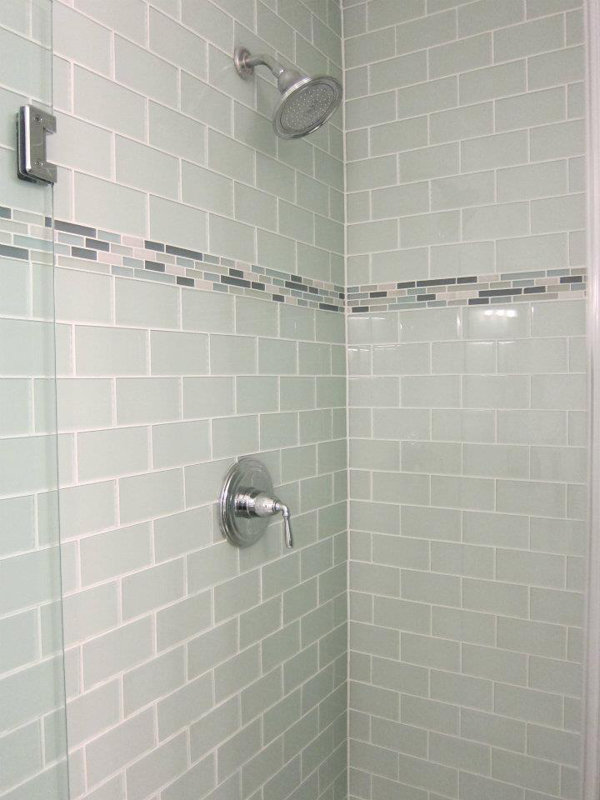 #2 Glass Subway Tile
Glass subway tile is well-known for its ability to add a splash of color to rooms which desperately need one. And they come in just about every hue you could imagine. There are even many hand-painted options. Some are solid colors but more often glass subway tile is translucent with a white backing.
This bright white backing makes them stand out with an almost gem-like luminosity. Glass is also a very tough material that can also handle very high heat so don't be afraid to use in the kitchen. And it's impervious to water so ideal for the bathroom or behind the sink.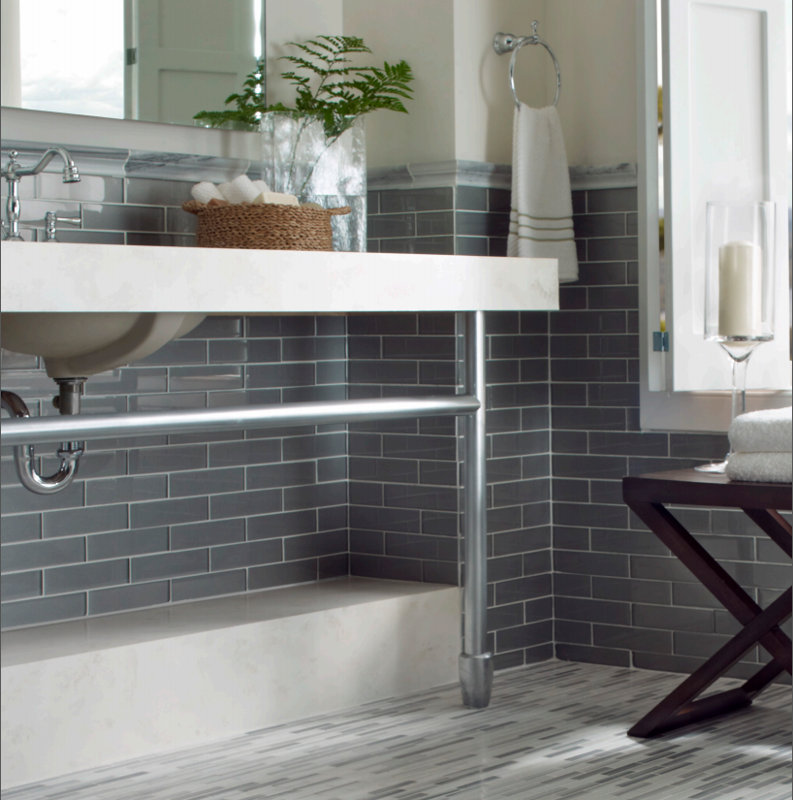 #3 Beveled Subway Tile
Many people end up purchasing these after seeing and falling in love with them while traveling on the Metro in Paris. They are sometimes referred to as three dimensional subway tile because of the fact that the face of each tile is 3D. This is furthered by the effect of the light and shadows which occur because of the many angles created by the opposing beveled edges of adjacent tiles.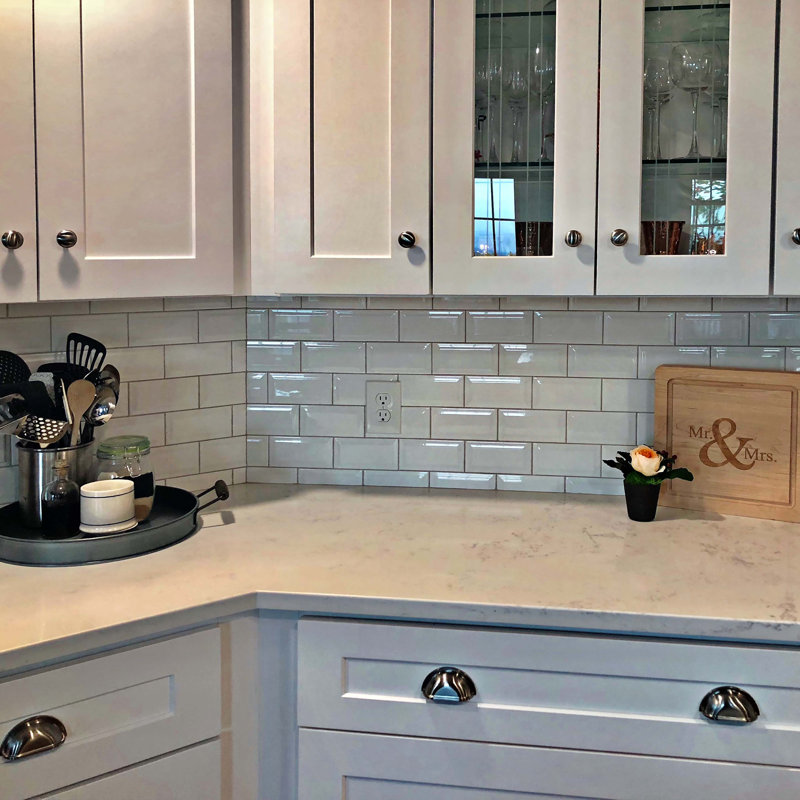 #4 Marble Subway Tile
Using marble tiles of any type is a great way to enhance the elegance of your home and subway tile is no exception. With each one being a totally unique creation having its own vein patterns, markings, and variations in shade and color they spell out high class and beauty like only natural stone can.
Marble subway tile comes in various finishes to meet the needs of the homeowner. Tumbled tiles are used for a weathered look, polished ones for a shiny glow, and honed for more of a dulled matte appearance. You also have the choice of just about any color since marble can range from white to black.
Just like when using them for other applications they will need to be properly sealed first. If you will be purchasing tile that varies slightly in length and width you may want to consider installing them in a vertical or stacked layout which makes these flaws much harder to spot.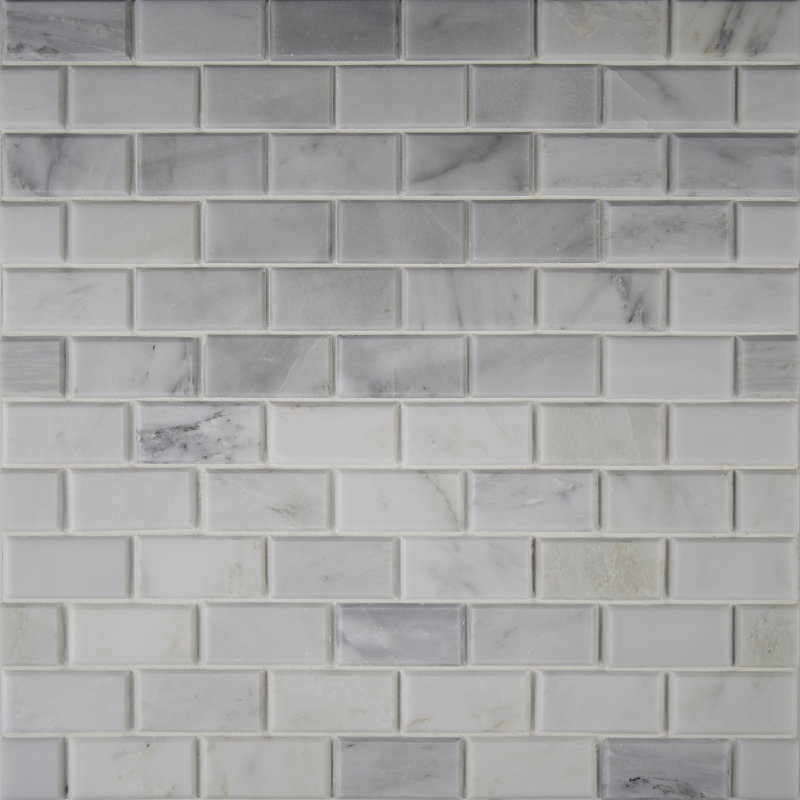 #5 Gray Subway Tile 
Just like using white tiles with gray grout looks fantastic so does gray tiles with white grout. The white outlines them beautifully. Installing a gray subway tile backsplash is often a smart move as with this color it's more difficult to see dust and grime.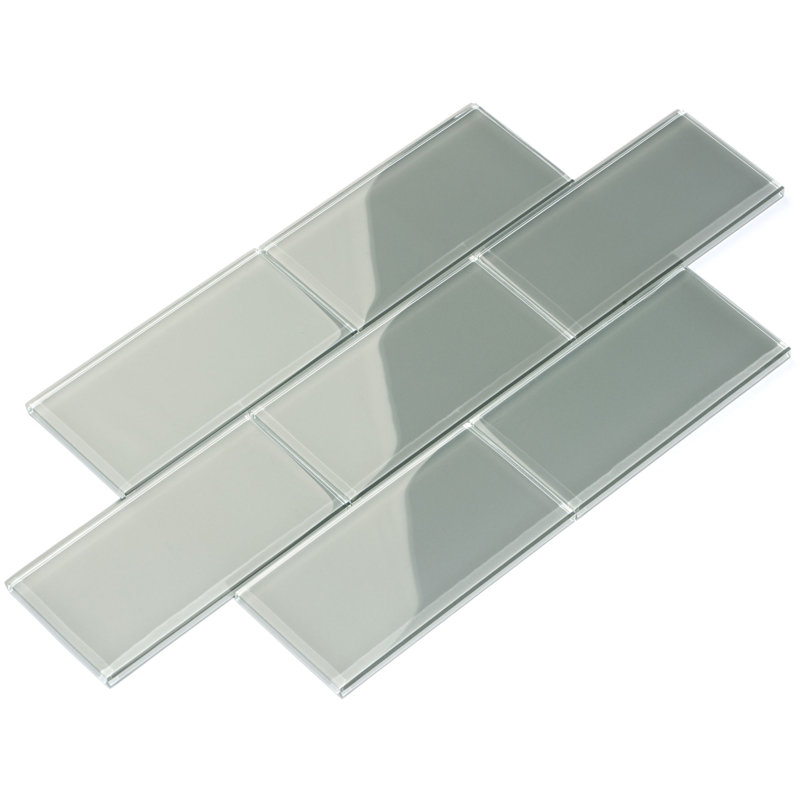 #6 Green Subway Tile
Unfortunately green is an often overlooked color when it comes to backsplash tiles. However since it not only looks so good and is proven to convey a sense of tranquility and relaxation, green subway tile is worth checking out.
It can be especially appealing to the eye when made from glass of which there are many shades to pick from such as sage, mint, olive, lime, and emerald green.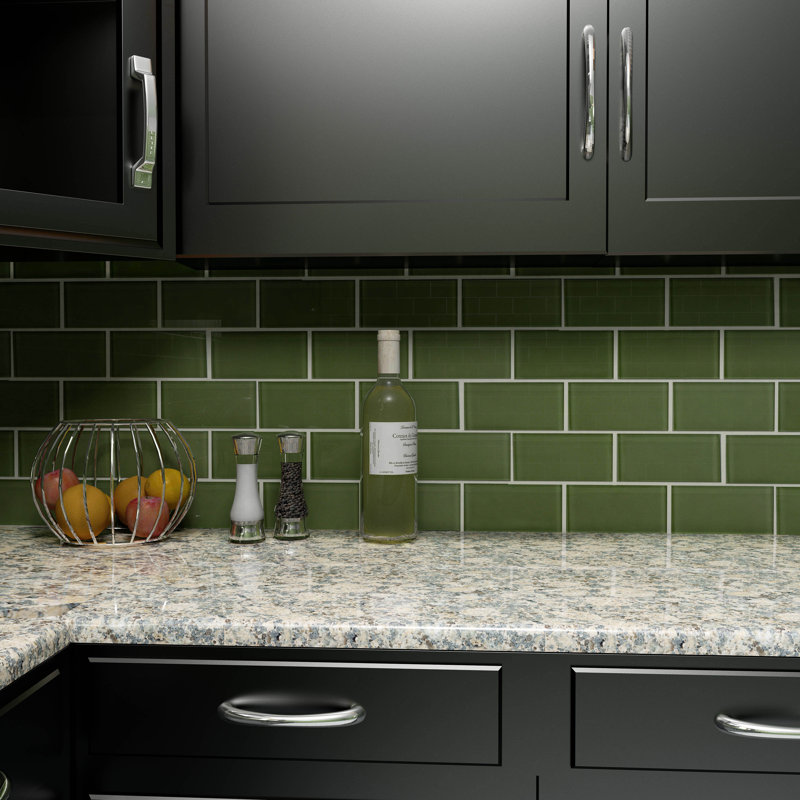 #7 Black Subway Tile
Just like when using black floor tiles, the key to success is contrast, contrast, contrast. And that means using white grout. Black subway tiles that are defined and highlighted by this contrasting color can portray a very clean look. Some people even use them as border for, or alternating with white tile.
However, you could always go the opposite route and use black grout for a much more uniform presentation if that's what you prefer as well. And remember a glossy finish will help you if you want something more retro.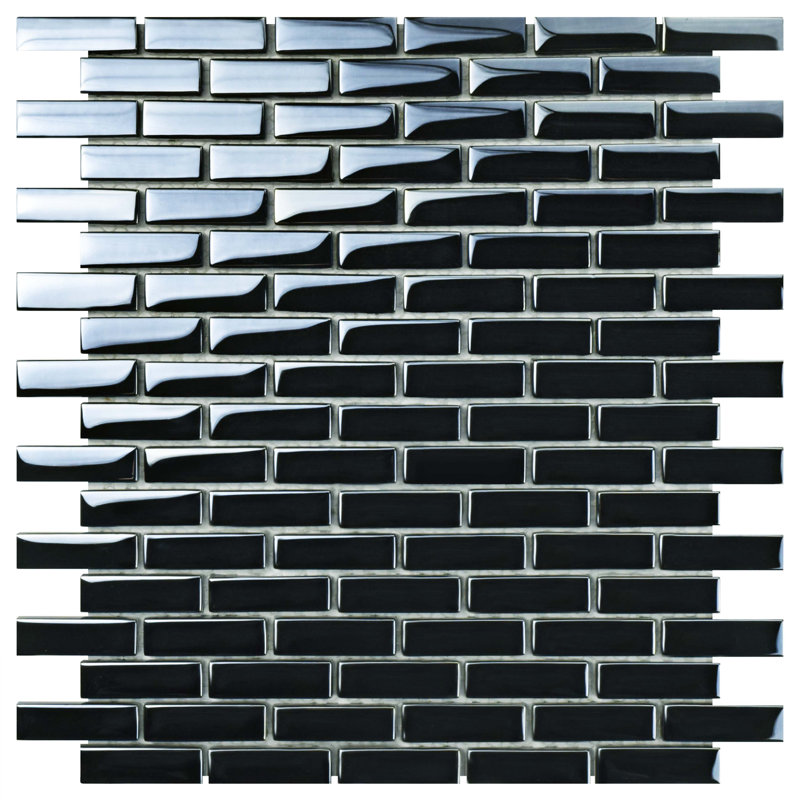 #8 Blue Subway Tile
For both bathrooms and kitchens blue is always a winning choice. Regardless of the shade blue subway tile is usually paired with white counter tops, grout, tile, or fixtures.
But it can also go well with other colors like black and even natural materials such as wood trim. It's a soothing choice that can be used for a wide variety of styles with all of its hues from very pale to more striking ones like cobalt blue.
 #9 Stainless Steel Subway Tile
Many consumers often ask, "Do you have to grout subway tile?" And the answer is yes, unless you are using stainless steel. With stainless steel subway tile you have the option of using or not using grout, the choice is yours because they don't require it. If you do decide to use it just make sure it is the un-sanded variety.
Stainless steel backsplash tiles provide a sleek and modern look that is also extremely easy to clean and maintain. Installation is a breeze as they can be attached to any flat surface and many are the peel and stick variety.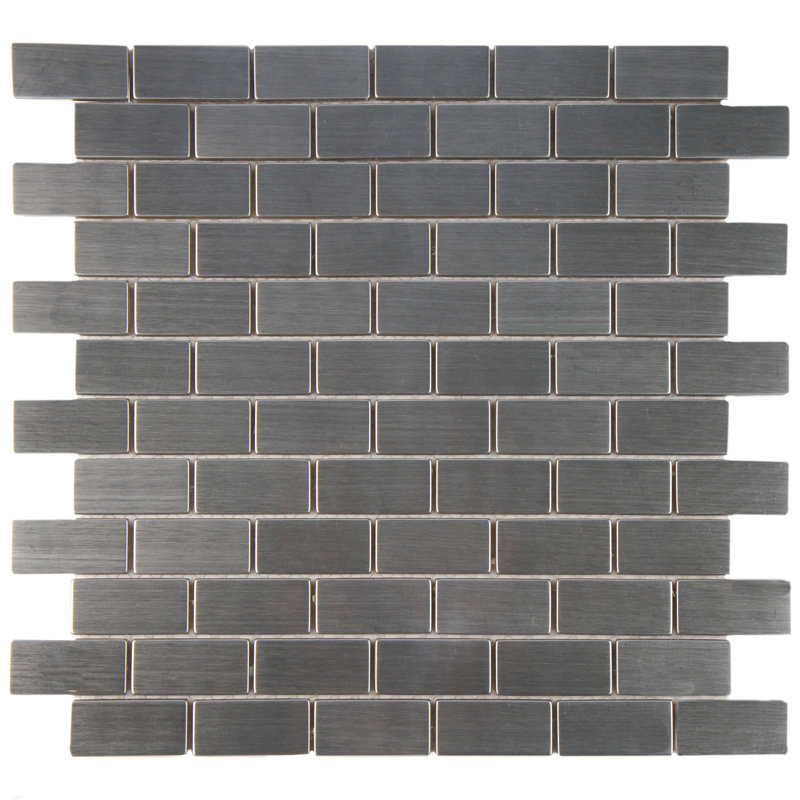 #10 Mosaic Subway Tile
For those who want something smaller mosaics are usually the best solution. Mosaic subway tile is a little different, as each one is made up of a square mesh backing that contains a number of different and much smaller rectangular mini subway tiles attached to it. When they are installed it gives the appearance that you set each one in place individually.
Just like larger tile they come in most materials. The glass variety is particularly sought after. These eye-catching little beauties are great for a bringing light into a room and are often used as a feature wall or focal point. With a multitude of bright white grout lines they will catch the eye of anyone who enters the room.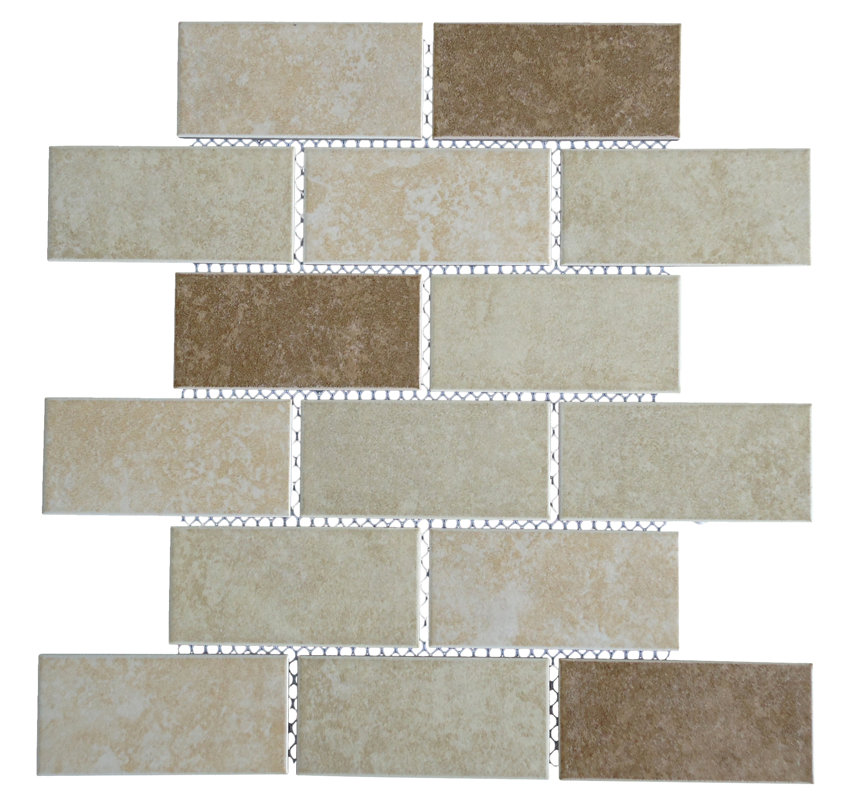 With these ten ideas plus all the tips and tricks in this article you are more than ready to get started. Subway tile can help even the dimmest spaces look bright, give your kitchen or bathroom the burst of color it needs, or simply be used to create the classic yet timeless look you've always desired.
Click Here Now to start shopping for Subway Tile!