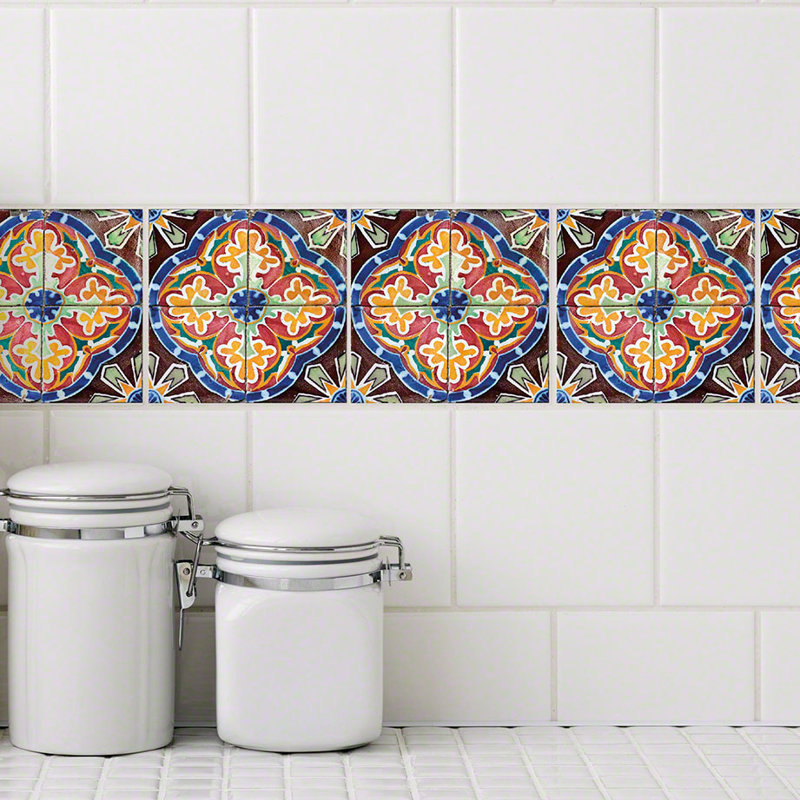 Purchasing and installing new tile can be expensive and sometimes out of your budget. It also may not be an option when you're renting or know you will only be living somewhere temporarily. However there is a way to get the look of a brand-new tile installation without having to pay for one. By using tile stickers anyone can upgrade almost any space.
Tile stickers have a face that looks like real tile and a self-adhesive backing. They are also sometimes called tile decals or peel and stick tiles. Stickers won't need any of the maintenance, sealing, or cleaning that is often needed by real tile materials. In contrast most will need just a wipe down with a non-abrasive cleaner to keep them looking spotless.
Installation
Because they are self-adhesive tile stickers can be installed by you which saves cash since because you won't need to pay a professional. No tile grout or skills are needed just a little time and patience. And unlike when working with real tiles you won't need a tile saw to cut them to size or fit around things like outlets or light switches, a pair of scissors or a utility knife will do.
Purchasing a few extra is usually a smart idea just in case you need them in the future as replacements or make mistakes when cutting. Typically they can be installed right over old tiles and directly onto clean smooth surfaces.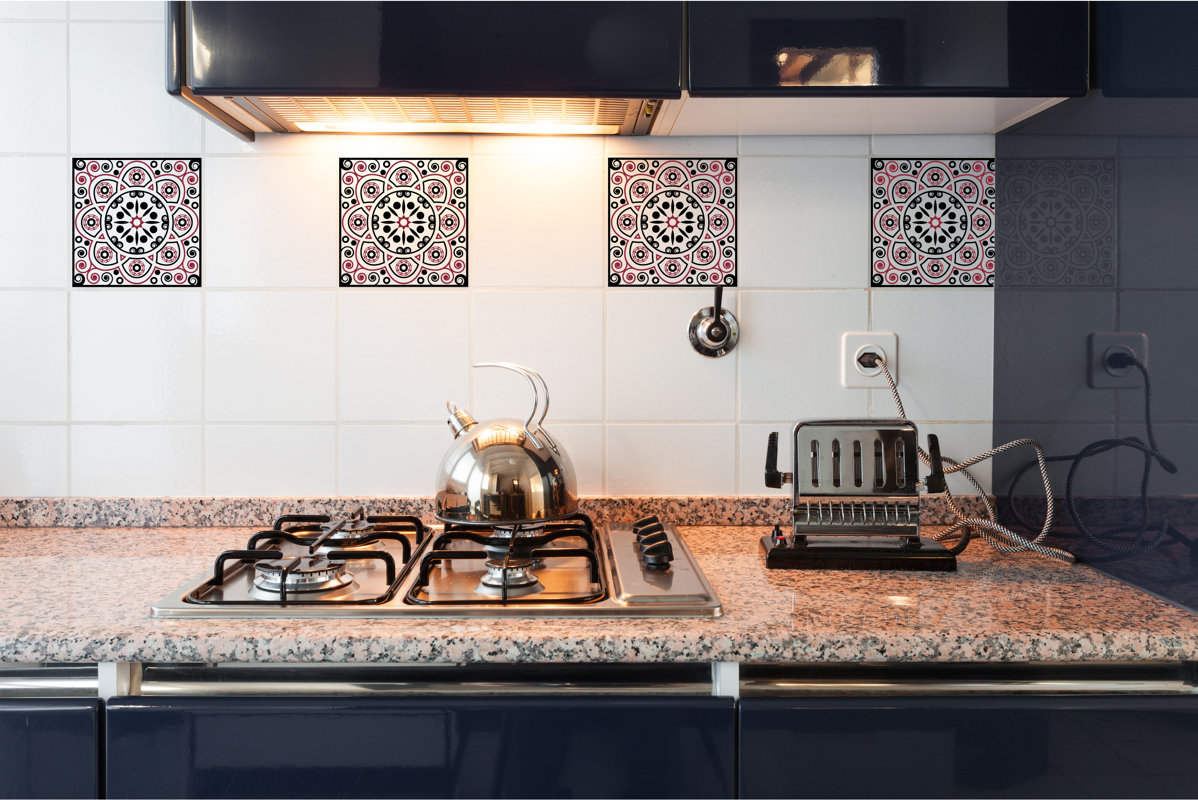 However you will want to check with the information provided by the manufacturer for what specific materials they recommend their tile stickers be used on. If you decide to use them on surfaces that aren't recommended by the manufacturer you may want to consider also purchasing spray adhesive to make sure they stick.
Not only are stickers easy to install but you can usually adjust and reattach them if you need to in order to make sure they are lined up properly. Luckily they aren't difficult to remove either which can be very important if you are renting and want to leave the property in the same condition you found it in.
But if you do install them over a painted wall just keep in mind that they will most likely take off some of the paint when they are removed.
Best Places To Use Them
Stickers are usually used on walls but also floors. However, because they can be made from different materials and have different thicknesses you will want to be sure that you check whether the specific stickers you are considering are designed for use on the wall, floor, or both before getting started.
Walls
Standard walls make an excellent choice for stickers especially in areas that otherwise might be overlooked. You can use them to create stunning feature walls or just as a wall upgrade in virtually any room of the house even in the bathroom. However, although they are made to be waterproof tile stickers should not be used inside of baths and showers because the excessive water and moisture will affect the adhesive backing.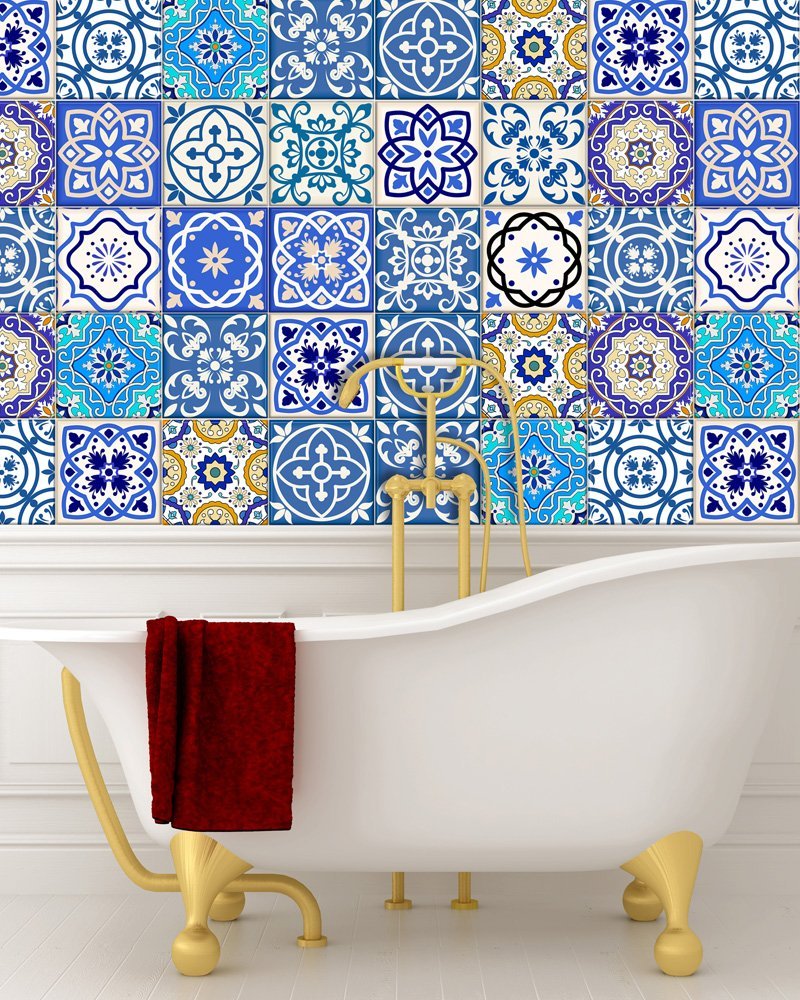 Backsplashes
The backsplash is the wall area above the counter but below the cabinets in kitchens and bathrooms. It is well-known for being an area that can make a big impact despite its small size and for this reason many stickers are specifically designed for use on it.
Some are even made from materials that are anti-bacterial, anti-mold, and resist both humid and high heat areas. That being said while they are usually heat resistant they should not be used on fireplaces or in areas where there is excessive heat.
Floors
Because they can be made from different materials and have different thicknesses not all stickers area suitable floor use. Therefore you should be sure to check whether or not the tiles you are considering are designed for use on the floor. Some can actually be used on both floors and walls; these are usually vinyl tile stickers that are a little thicker.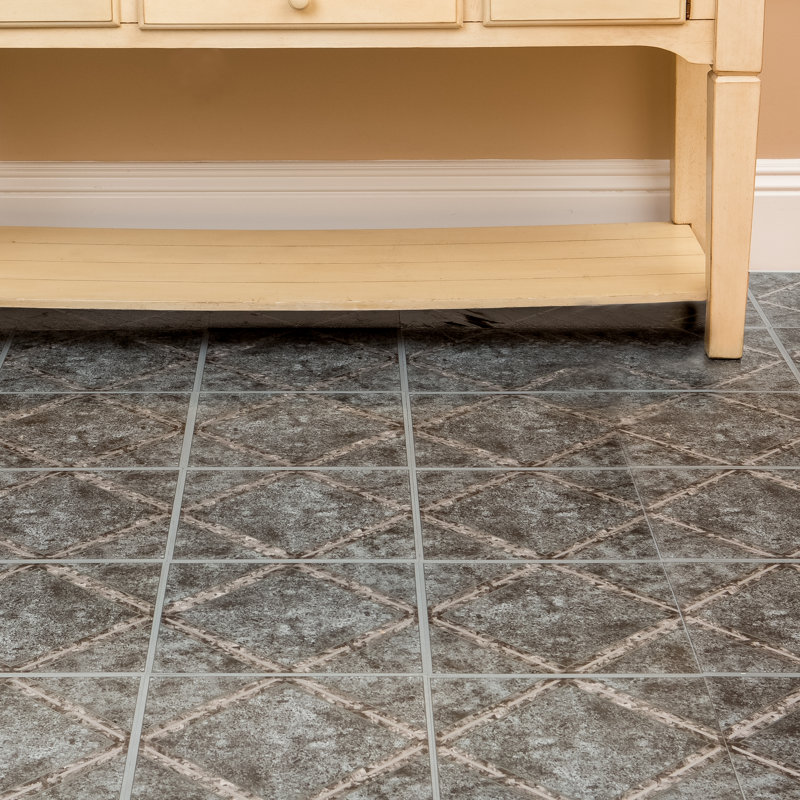 The Top Sticker Ideas
Now that you know where they can be used here are some of the best ideas and tips on how you can use tile stickers to reach your goals:
Cover Up Unsightly Tiles
One of the simplest and most common ways to use stickers is to place them right on top of single or multiple wall tiles of the same size that you find to be unattractive but don't want to or cannot remove. It's often surprising what only a handful of stickers can do. You may want to use a few stickers and space them evenly as accent tiles or simply cover the entire surface.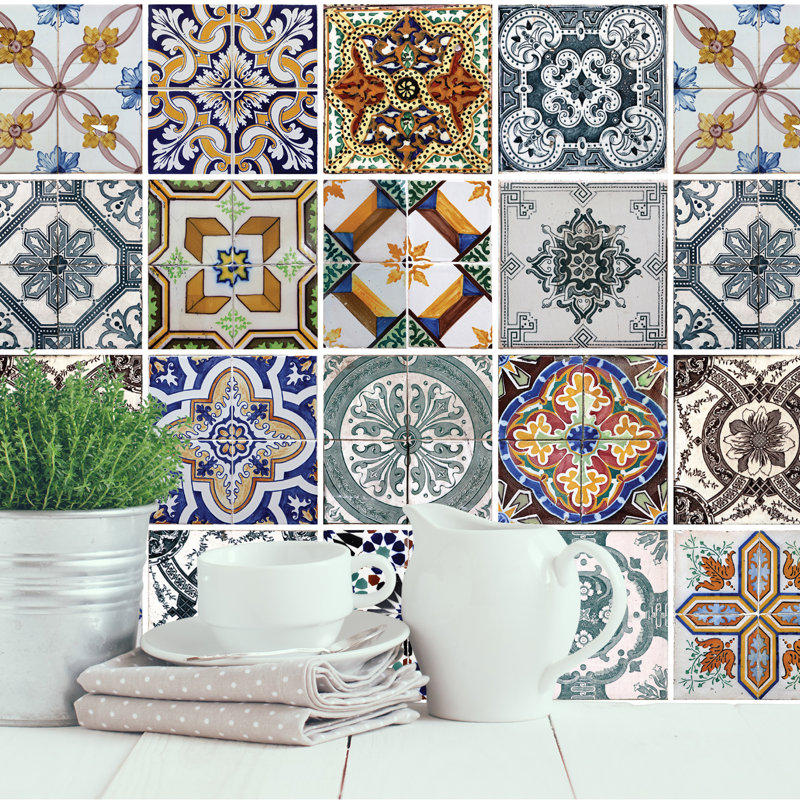 Upgrade Your Style And Always Stay Current
Some tile installations may have patterns, materials, or a style that is totally outdated. This can often be the case with older homes and apartments. To change this all you have to do is add wall or floor tile stickers with a much more current or modern style. Since they are easy to remove you can always update again when your taste or the times change.
Explore Materials That Otherwise Might Be Too Costly
One of the biggest advantages of stickers is that by using them you can get the look of much more expensive materials without the price tag or hassle. They are basically made to mimic just about all material options. You can enjoy the look of ceramic tile stickers or take it up a notch with choices like slate or marble tiles. Those which are made to look like glass tiles in particular are usually considered to be one of the most realistic looking ways to go.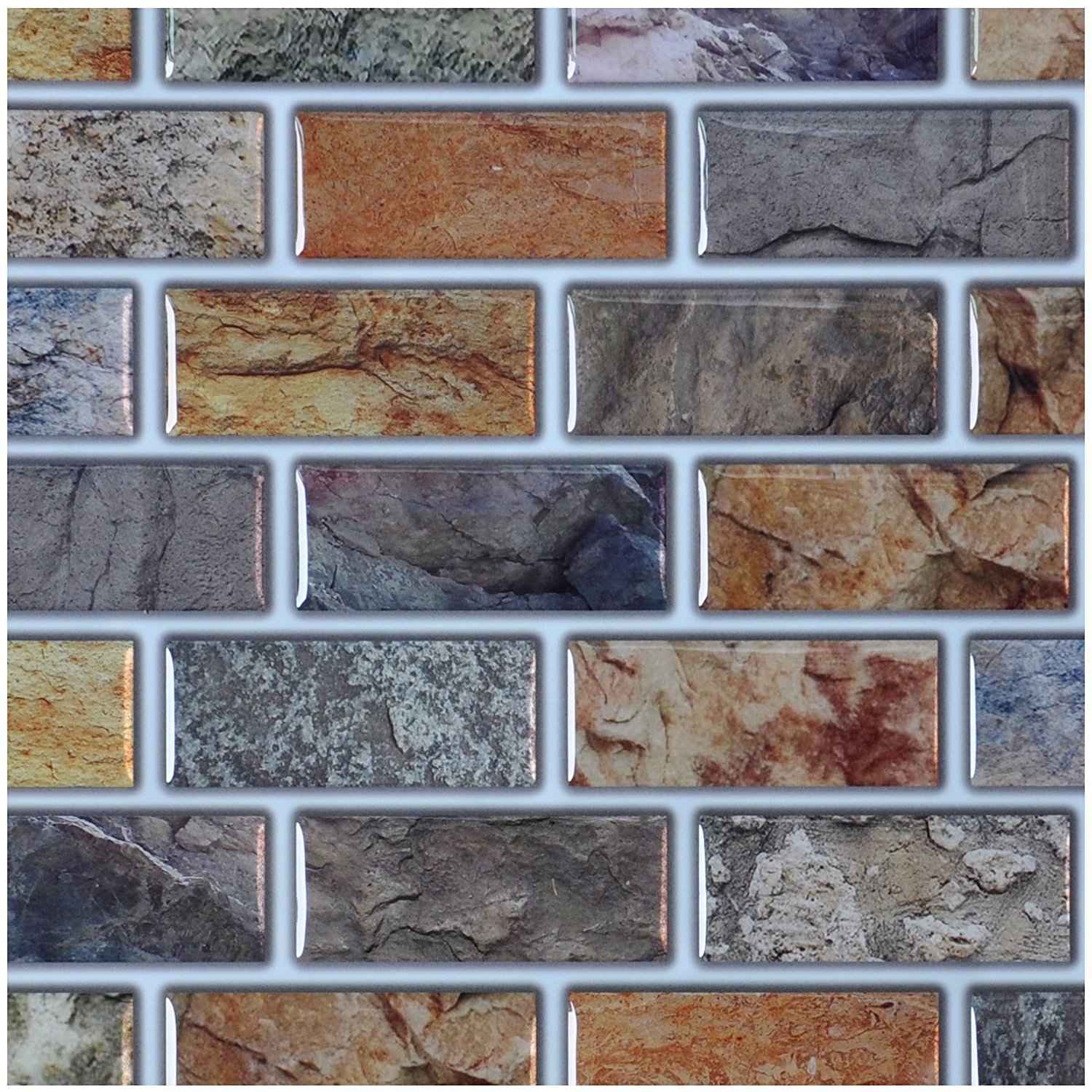 Exotic Designs And Patterns
Using stickers could be the chance you've been waiting for to try out a new theme or type of design without having to add them permanently. Ones which look like Mexican tile are an option that really offers some deep rich colors. Moroccan tile stickers are an exotic alternative that looks just at home on the walls as it does on the floor.
Add A Splash Of Color Or Even Texture
If you have a very plain looking space you may want to consider using bright and bold stickers to add a splash of color. You can also use contrasting colors to catch the eye so for example you might want to install some black tile stickers on an existing white tile wall. Many stickers are three dimensional as well which can be a great way to add texture to your spaces that are lacking it.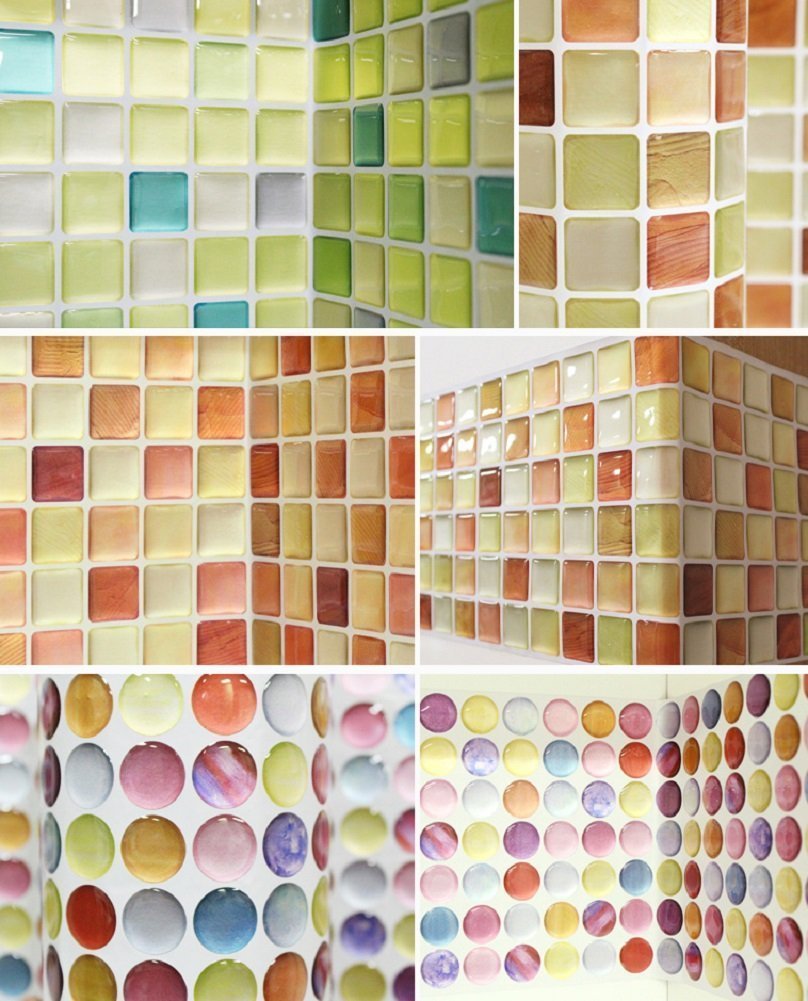 Highlight With Borders
Using stickers as border tiles can help you to highlight certain features such as bathroom mirrors. You can create one by surrounding whatever it is you want to bring attention to or just using them to make spaces more interesting.
Play With Size
You may want to think about using size to your advantage. Because larger tiles tend to make a small room appear bigger large tile stickers can be a smart move. Alternatively those who prefer smaller options might enjoy the look of mosaic tile stickers which feature many little tiles on each one.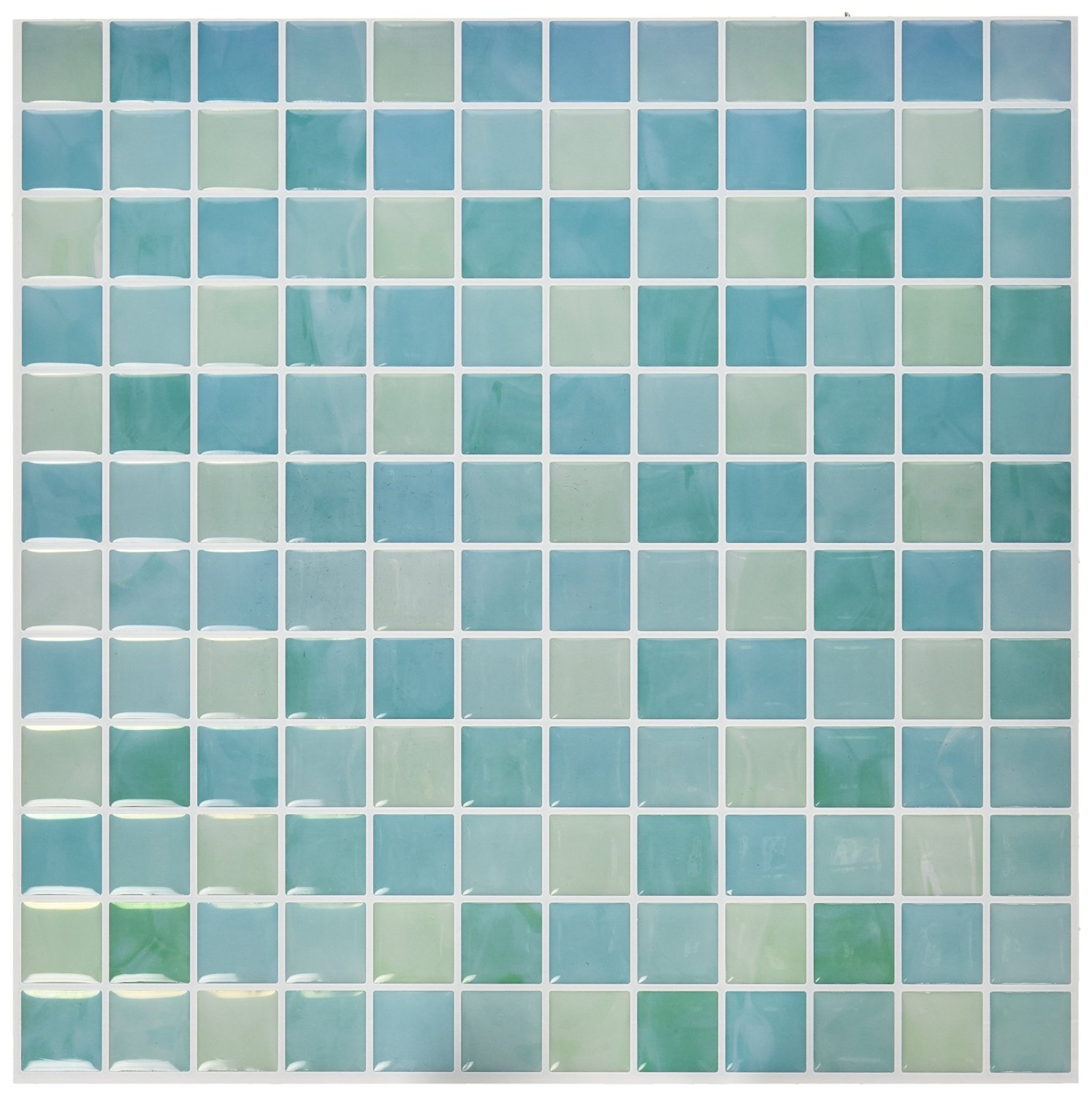 Create A Reflective Surface
Mirror tile stickers are manufactured to have a reflective surface. You can get creative with the many shapes and sizes available and how you space them for use as a mirror, to bring light into a dim room, and more.
Don't Forget Spaces You Might Not Otherwise Tile
While you might already be thinking of how you can use some of these ideas specifically in the bathroom or kitchen tile stickers are actually often perfect for a few other areas that are often overlooked as well such as stair risers.
You may also want to use them to spice rooms like laundry rooms where you might not otherwise want to spend the cash to install real tile. Many RV owners actually will use them on backsplashes or as wall art in their vehicles as well.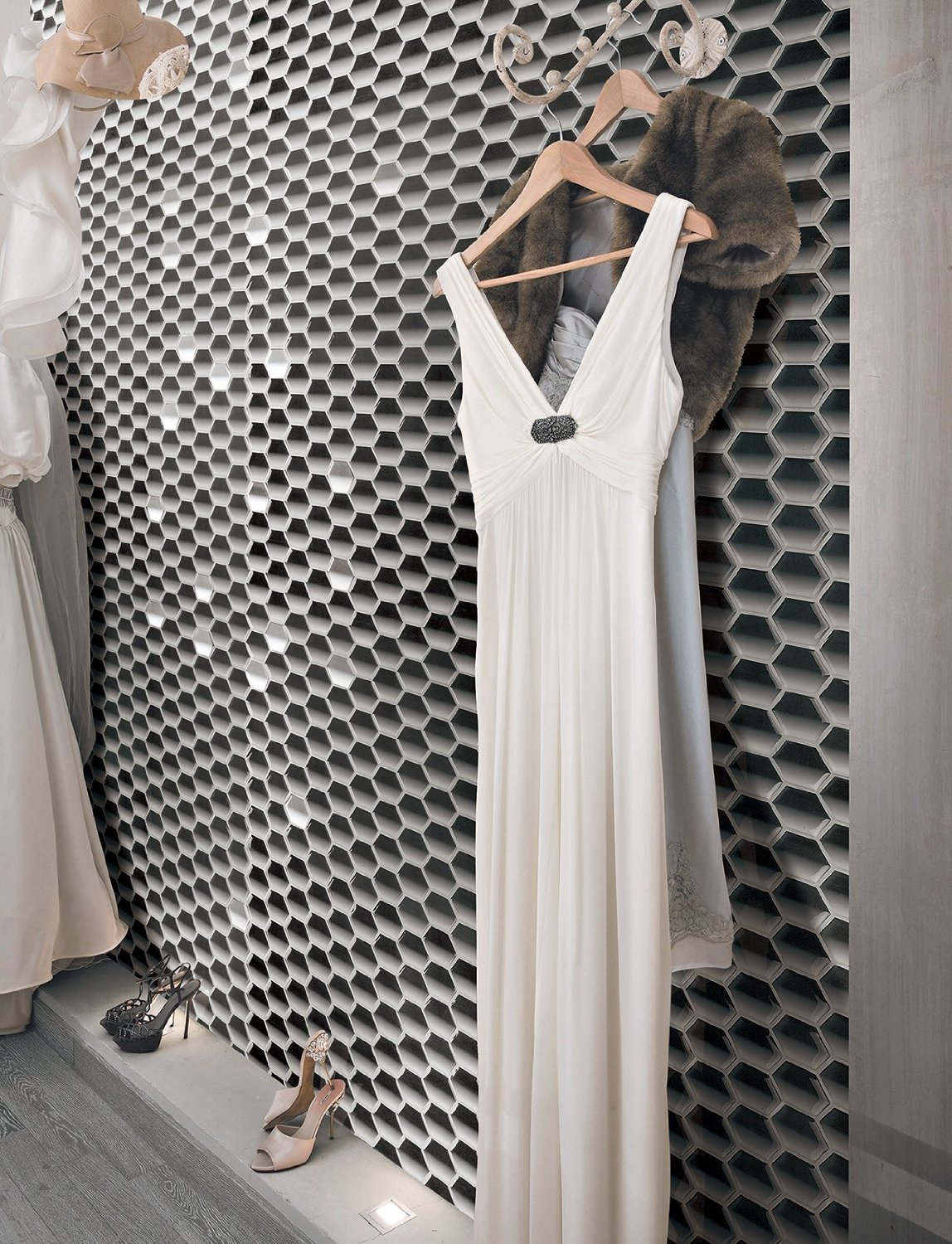 You now have more than enough info and ideas to get your style right and save cash with tile stickers. Just remember to always read the product information about the stickers you are interested before you install them to ensure they can be used how and where you want to use them.    
Click Here Now to start shopping for Tile Stickers!