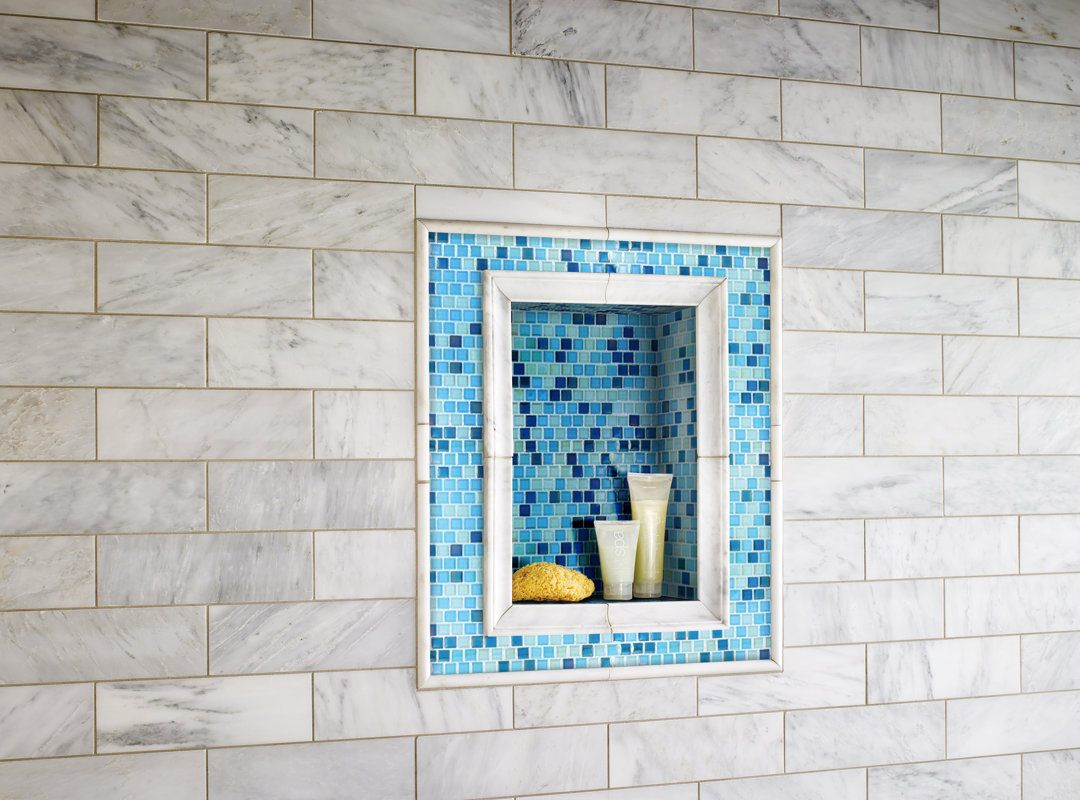 While shower niches can be used to keep important items such as soap and shampoo they also function as a way to add some style, color, or whatever your space may need. So here are some of the top tile shower niche ideas to help get you started.
Vertical Yet Subtle
Adding a rectangular niche that's positioned vertically can give you the height you need for multiple shelves even in a more confined shower. By using marble hexagon tiles that are a bit darker than the surrounding white rectangular ones, this shower niche is noticeable without calling too much attention to itself.
Natural Pebble Stones
A niche can be an excellent spot to showcase natural materials such as pebble tile. And this shower uses the niches to do just that. They also complement the pebble accent tiles on the shower wall, bringing the space together while providing a material contrast to the glass subway tiles too.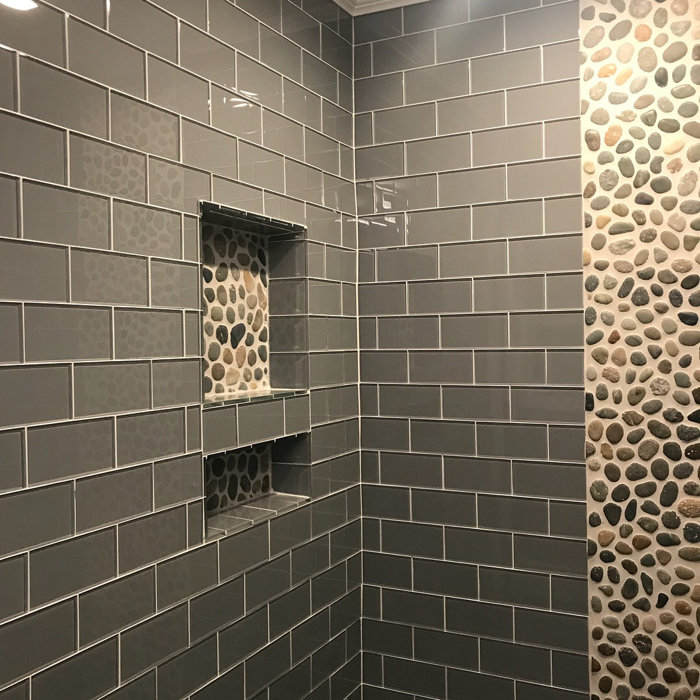 Go Long
Installing a rectangular tile niche horizontally can give you a much longer space to keep your things. It also can add some interest to those plain yet wide shower walls. This shower features Carrara marble tiles and two long niches. Notice the same tiles are used for both the niche and shower for a cohesive appearance.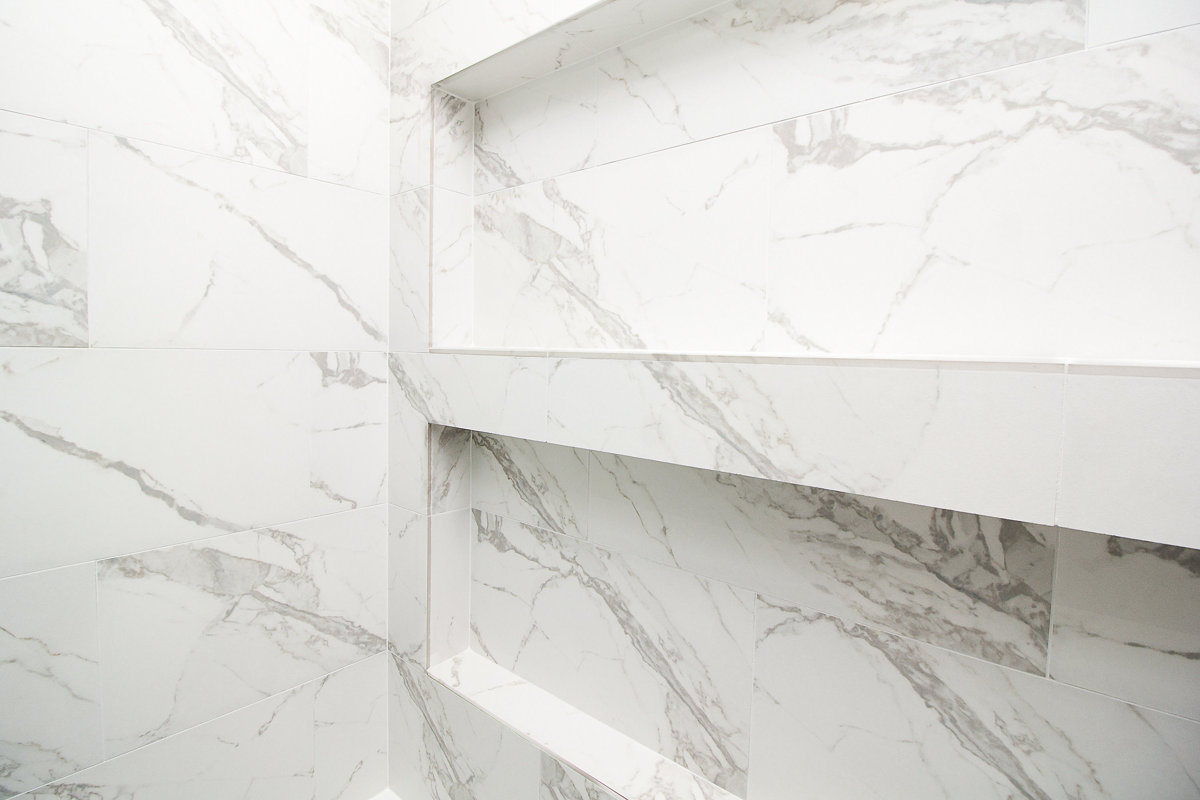 Grab Attention 
This niche easily grabs attention by using using marine blue mosaic arabesque tiles. Their exotic shape and color stand out against the white and much more classic subway tile while matching the accent tiles. The shower niche height is at eye-level which make it impossible not to be noticed.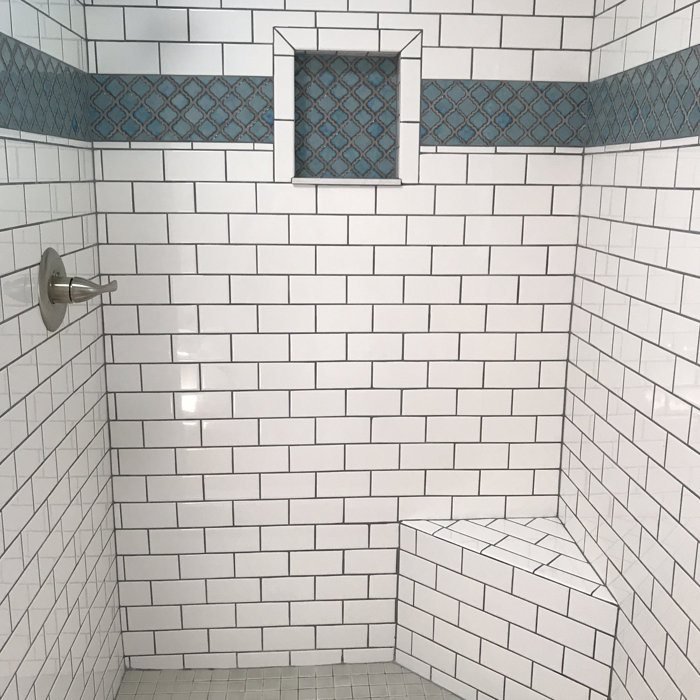 Focus On Function 
Unlike other shower niche pictures, in this image the niches are actually part of the overall tile design and pattern. This helps it to blend into the background rather than stand out. Installing it in this way can be an ideal option when you simply want a niche for function. The ceramic tiles here are installed in the diamond tile pattern which helps to create a feeling of space.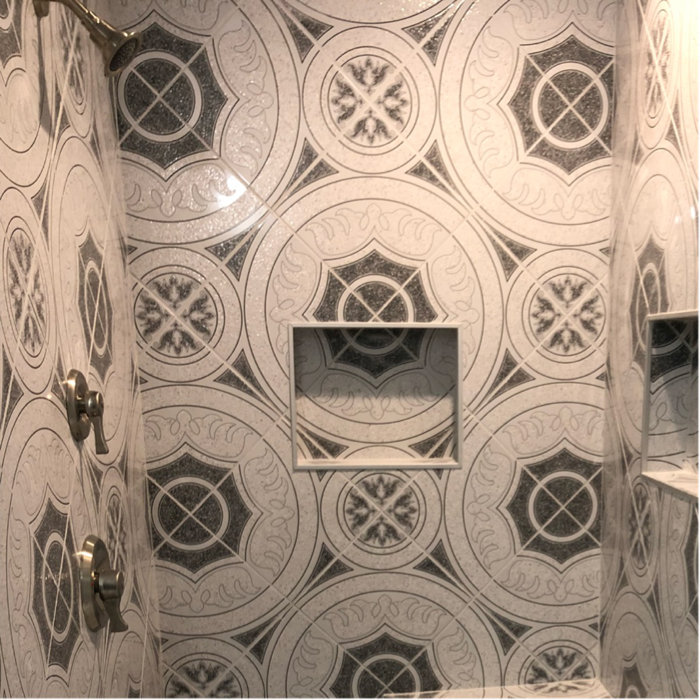 Retro Cement
The white and gray cement tiles used in these niches work exceptionally well with the gray subway tile and white grout. Their retro motif also goes hand-in-hand with the classic appearance that these subway tiles portray. While cement tiles can be used for wet applications like this one, they must be sealed properly first.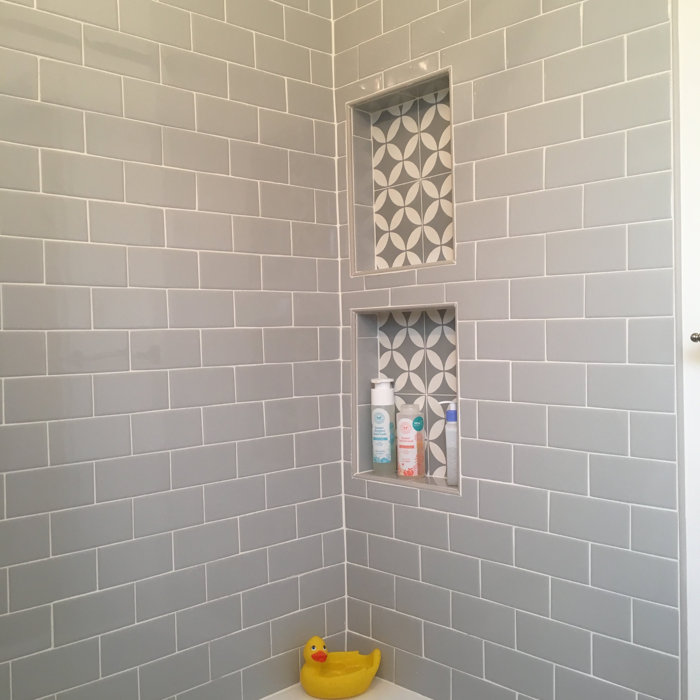 Rustic Slate
While this shower may be a step or two away from being finished it's already a winner. It uses slate tile for the niche that matches the pebble tile floor. And both of these materials help to complete the rustic look of the ceramic wood look tiles installed on the walls. This just goes to show that some of the best tile shower niche ideas come from thinking, "outside the box."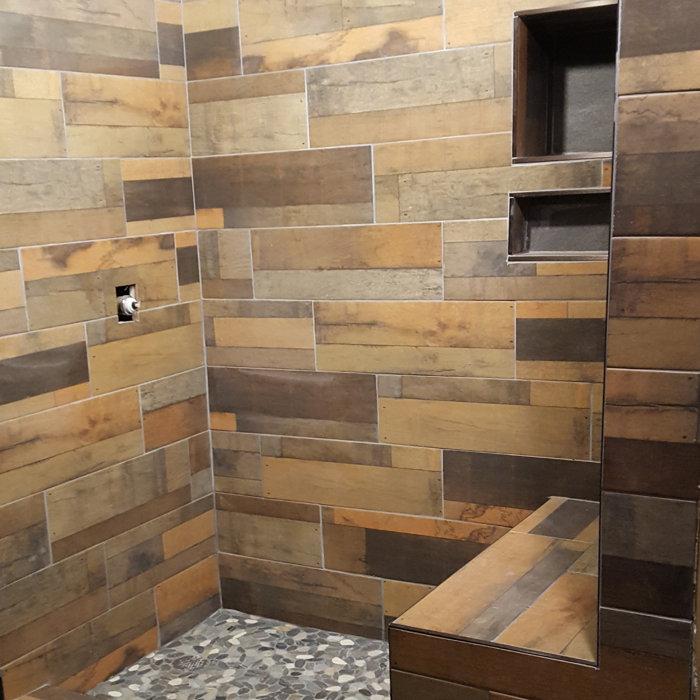 Penny Rounds
These mosaic penny tiles offer the perfect classic yet timeless pairing to go with subway tile. Their round shape and color are striking. Continuing the penny tiles on the shower floor or in other areas of the bathroom would look great as well while adding color.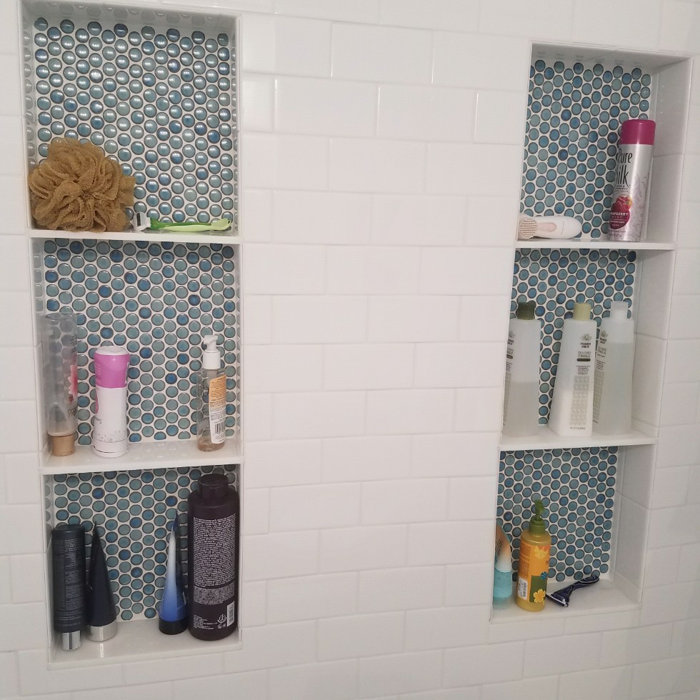 Stone Delight
A natural stone shower like this one can be a real treat on the eyes. The shower niche uses mosaic tiles which match the accents used at the ends of each of the surrounding marble tiles, along with those on the floor. We love the gorgeous white granite seat as well.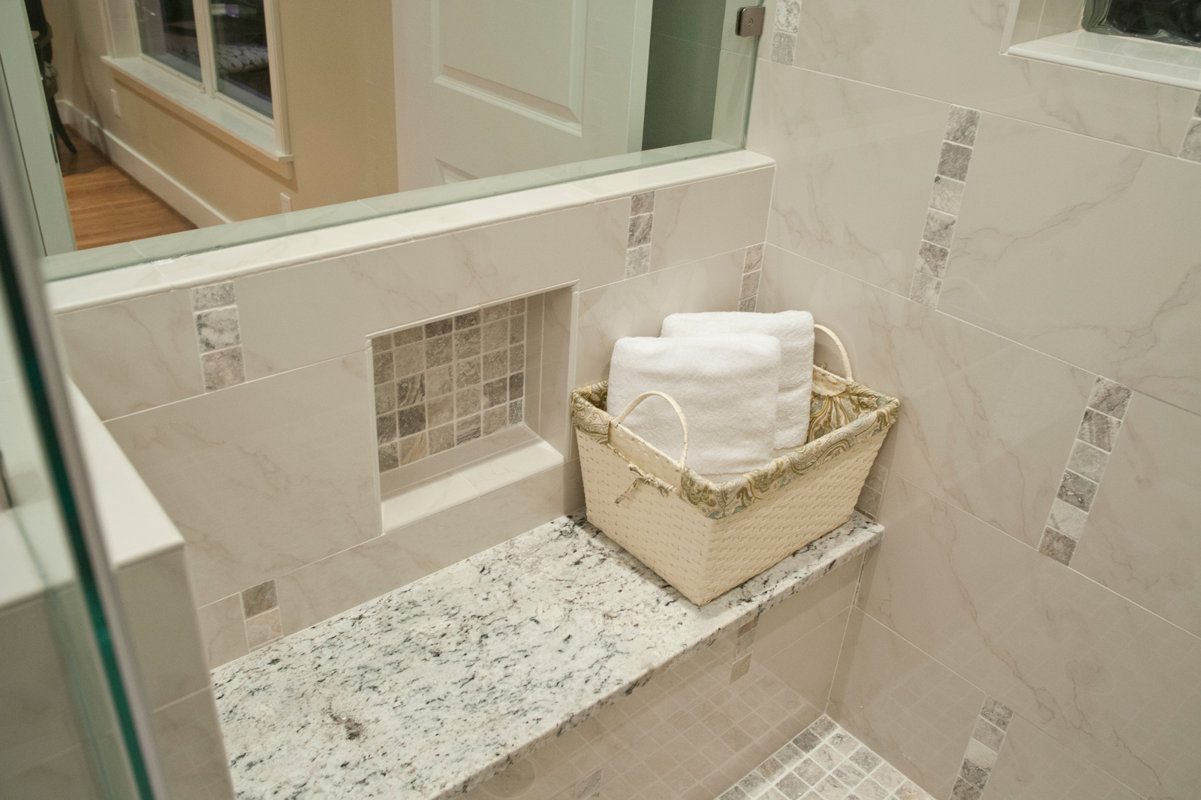 Marble Herringbone
Mosaics are an excellent option when you'd like to install complicated patterns on a small scale. This shower niche uses marble mosaic tiles set in the always elegant herringbone. It's actually surrounded not by real stone, but by marble look porcelain tile.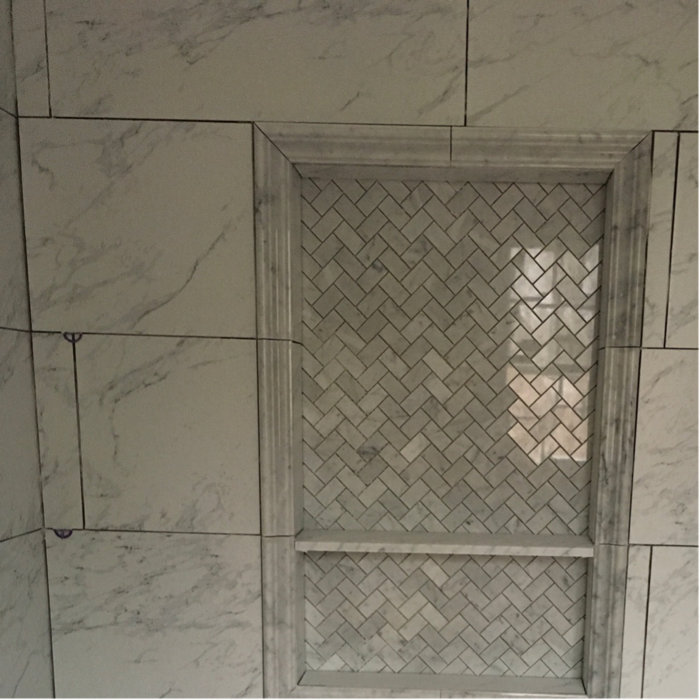 Contrast With Stone
What bigger contrast is there than black and white? The black sliced pebble tile in this shower niche contrasts the white marble. At the same time it also adds the appearance of texture.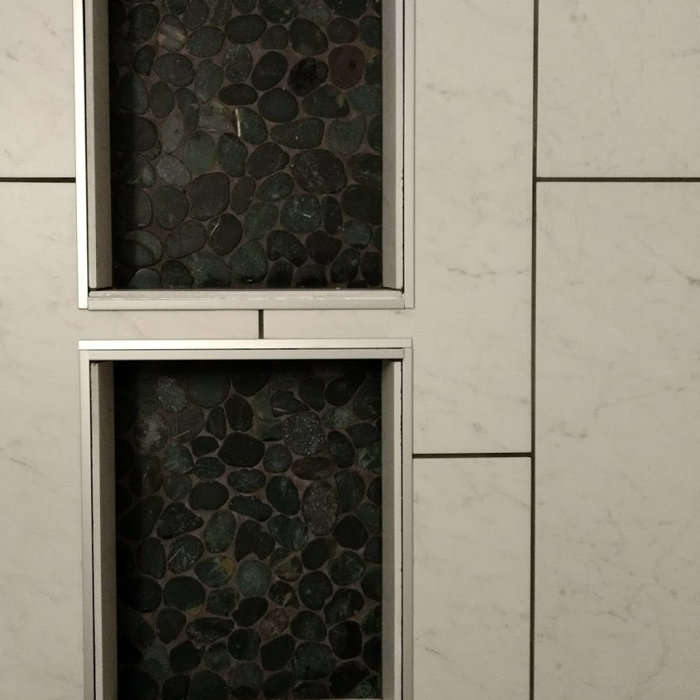 Echoes In Glass
Not all tile shower niche ideas use a range of materials and shapes to make a statement. This shower only employs glass and rectangular tile. The smaller mosaic tiles in the niche echo the larger rectangles outside, while intersecting with the vertical accents. A smart play on size, orientation, and also color.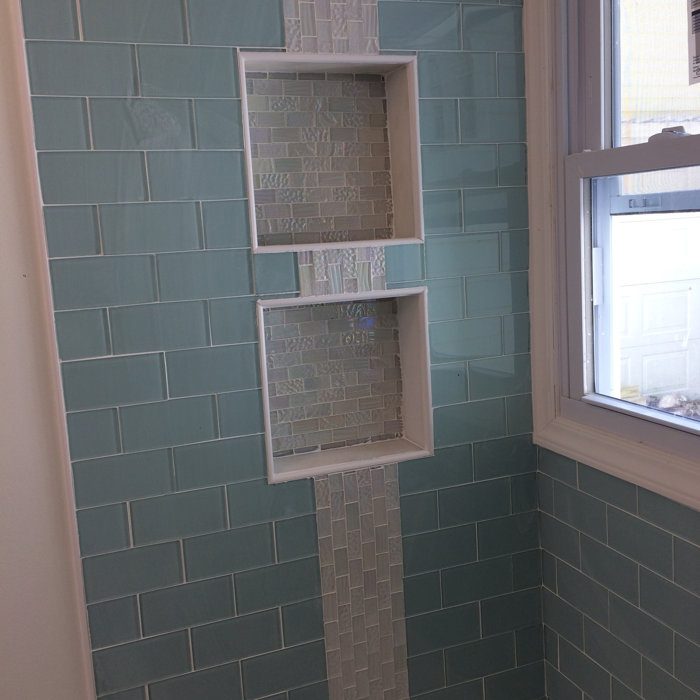 Faux Stone
Both the handsome mosaic tiles used in the niche and the larger surrounding tiles show just how close to stone porcelain can look. Porcelain is often more durable, water-resistant, and budget-friendly than stone making it an excellent option for niches and shower walls and floors alike.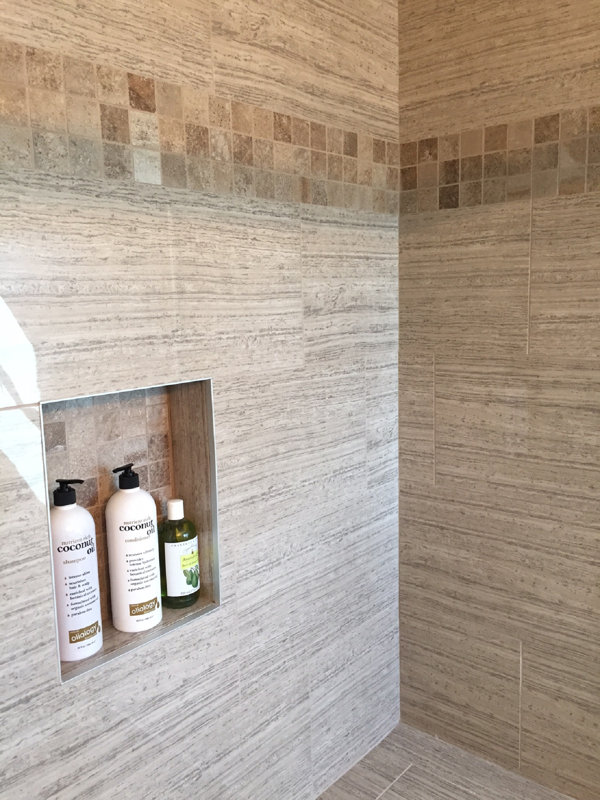 Mixed Material Elegance
When considering multiple materials in the same shower space, don't overlook using natural stone and glass together. As shown here, this pairing can look extremely luxurious. The neutral black and gray color of these mosaic tiles work particularly well with stone but could also be used with just about any color scheme and various other materials.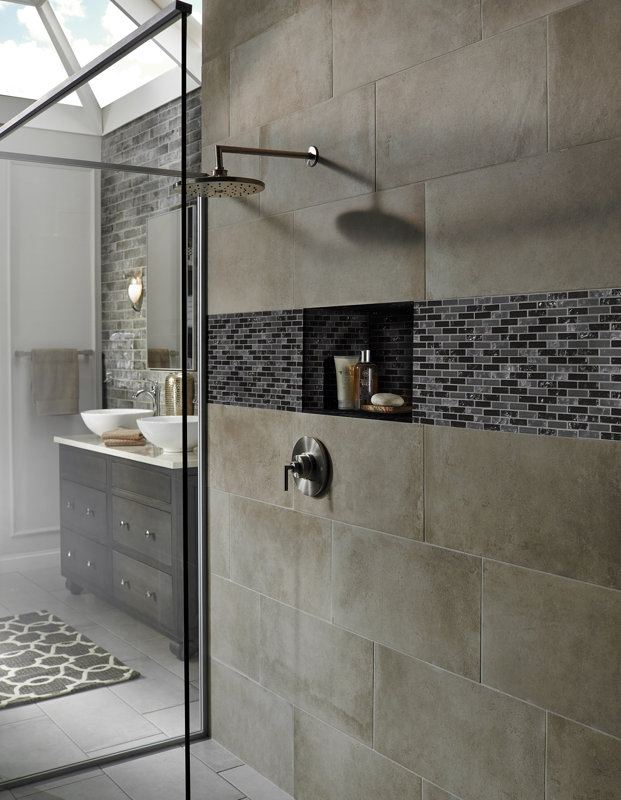 These tile shower niche ideas can definitely help you to achieve the goals you have for your bathroom space. But don't be afraid to use these pictures as a way to inspire your own creativity as well.
Click Here Now  to start shopping for Shower Tile!