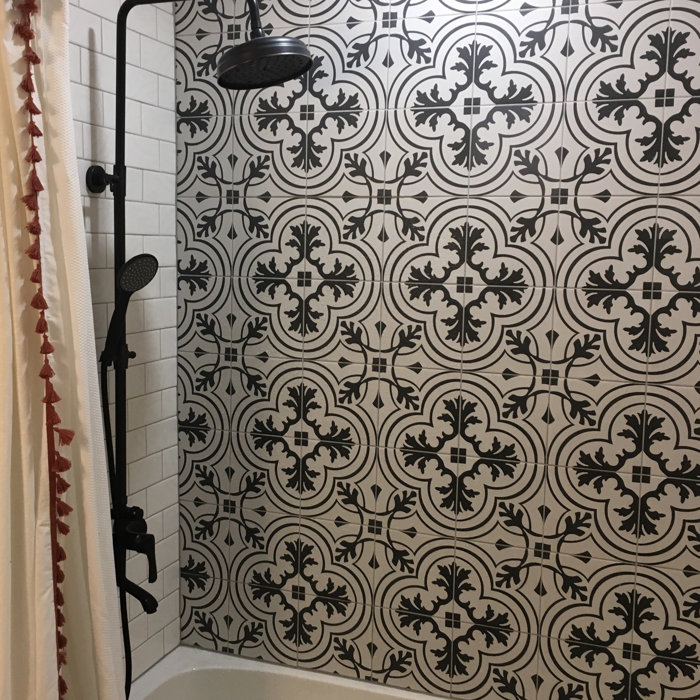 When you're looking for design ideas for tiled showers pictures can be your best bet. So here are images of some of the most impressive showers you can use to get started.
Aged-Look Ceramic
This gorgeous shower uses Spanish style tiles that are made to look as if they are worn and weathered from years of use giving them character. While they don't look like it, these are large 13"x 13"tiles. Each individual tile is actually made up of nine smaller tiles for easy installation.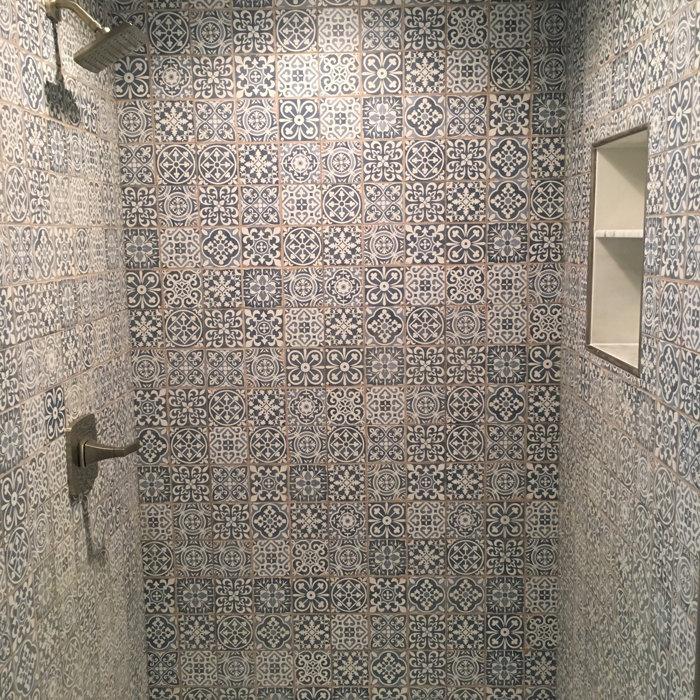 Classic Subway With A Splash Of The Exotic
White subway tile is a classic for tiled showers as well as kitchen and bathroom backplashes. This shower wisely uses marine colored arabesque mosaic tiles to break up all of that white space. Their exotic shape and color adds visual interest and a bit of contrast to both the wall and floor.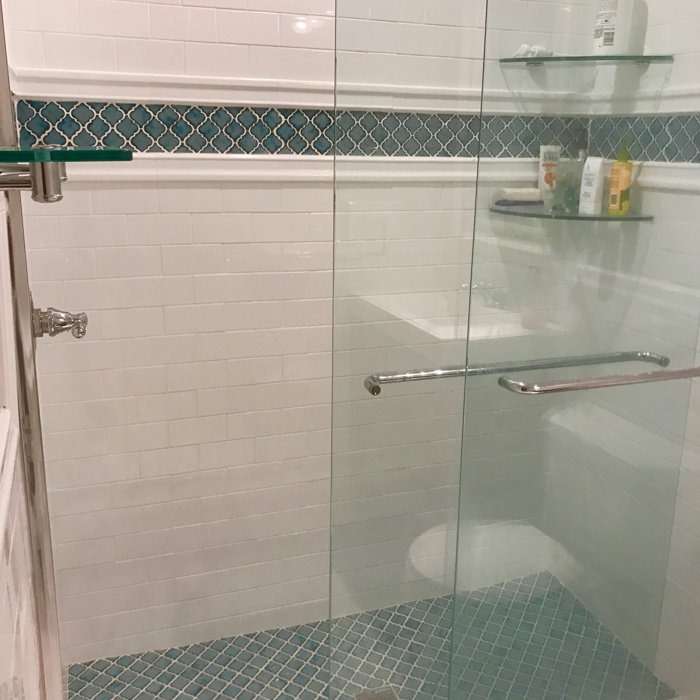 Glass And Pebble
Not many images of tiled showers show materials that are so different yet work so well together. The sleek gray subway tiles are made from glass while pebble tile is used on the floor and as a wall accent. This shower offers a unique blend of modern and rustic with a bit of texture thrown in too.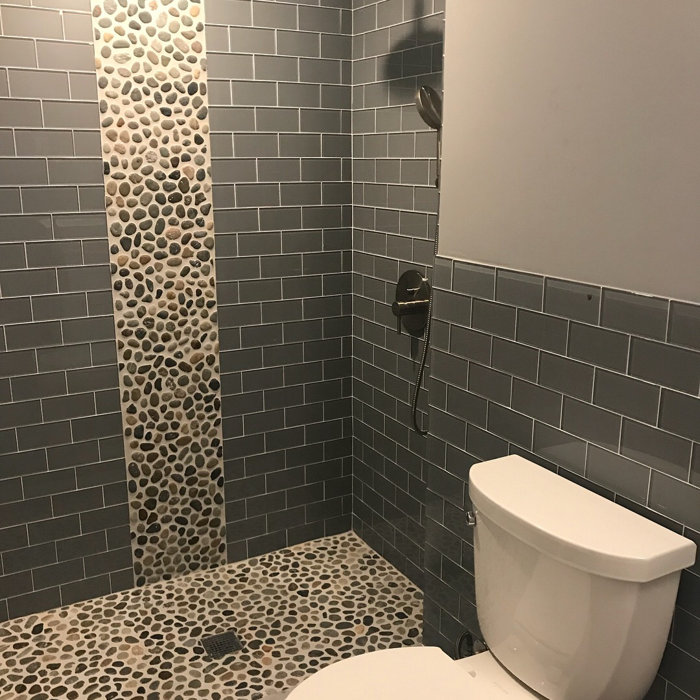 Glossy White Herringbone
The glossy white porcelain subway tiles used here are a bit longer and narrower than your average subway options which gives this shower wall a unique look. They are set in the herringbone tile pattern which is one of a handful layouts that's well-known for adding a luxurious feel.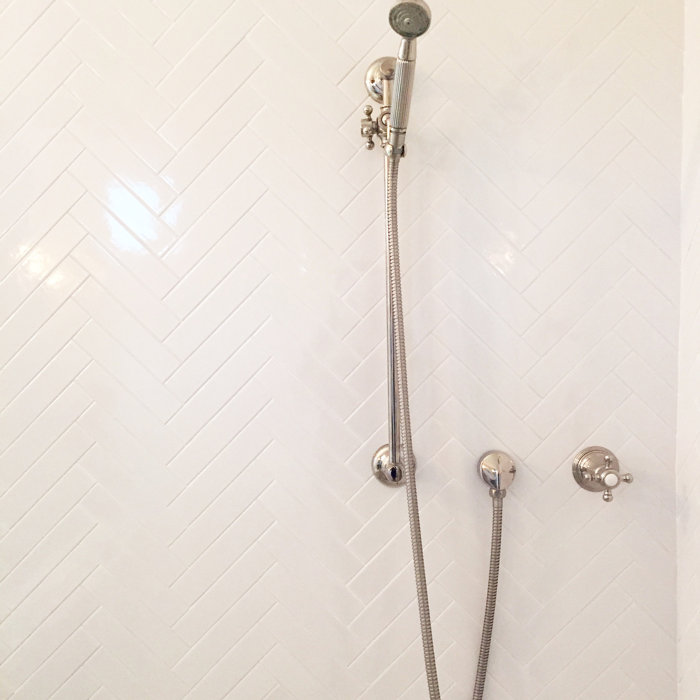 Beveled And Basket Weave
The beveled subway tiles used in this shower help to create a bathroom space that is bright and white. The shower and bathroom floor use matte white porcelain mosaic tile in the basket weave pattern. The gold fixtures show up well against the white background making a statement of elegance.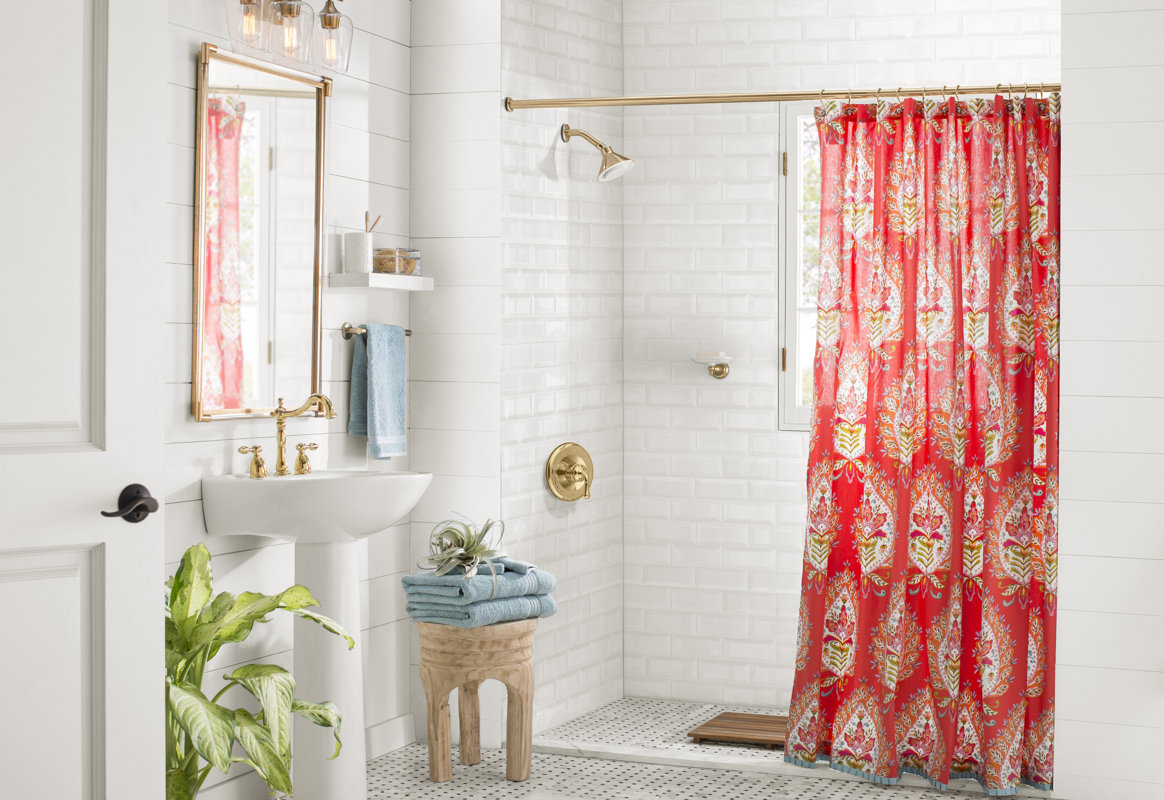 Coastal Pebble  
This white pebble tile shower is absolutely stunning. It's the icing on the cake for this coastal-themed bathroom. The pebbles are random-sized and have a smooth tumbled finish. The blue accent tile is actually made up of 3D glass.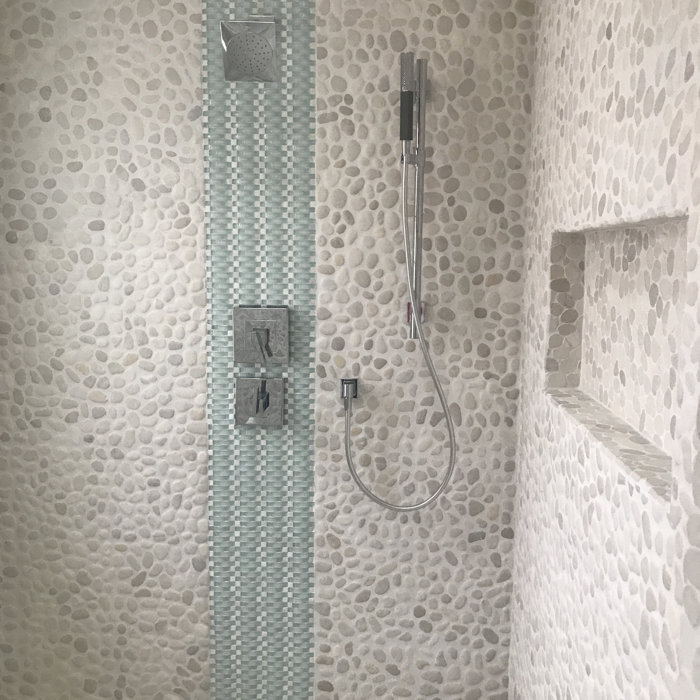 Glistening Glass Bubbles
While the large format white tiles and gray stone floor tiles are splendid, it's the dazzling feature wall of this shower that steals the show. Made with glass circle mosaic tile, also known as bubble tile, it glistens in the light.
One of the best advantages of tiled showers with glass doors like this one is that they allow you to see the beauty of the entire bathroom space all at once. And to be honest, who wouldn't want a view like this?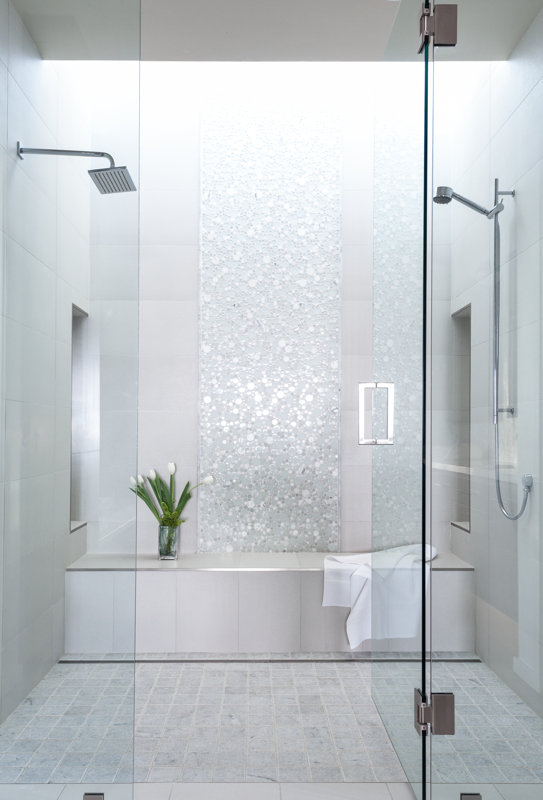 Elm Wood Look
Many a homeowner has dreamed of having the warmth and natural charm of wood in their shower, but unfortunately it's just too wet and humid an environment. Tile that looks like wood on the other hand, such as these long porcelain planks in elm, can work and look amazing.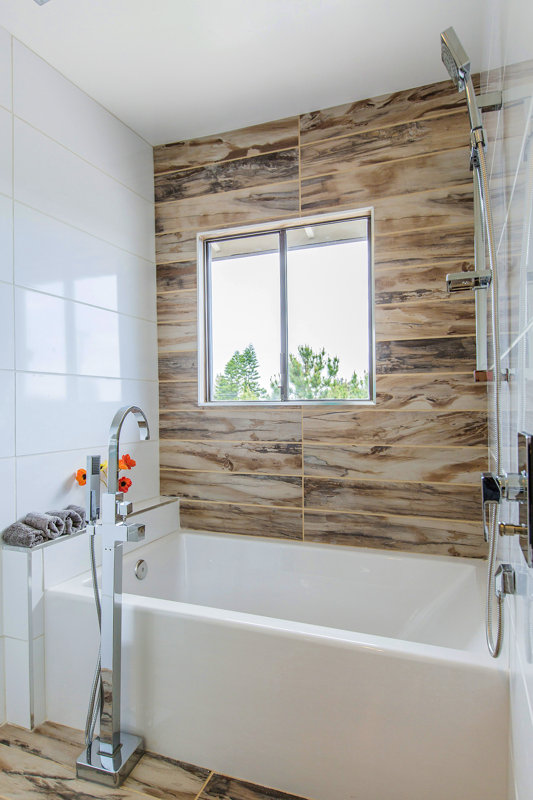 Marble Opulence
Some of the most lavish tiled bathrooms and showers around the world use marble tiles. And this picture makes it easy to see why. These large square 12" x 12" tiles are made from Italian calacatta marble. The dramatic veins and high polish really creates an upscale and classic appearance.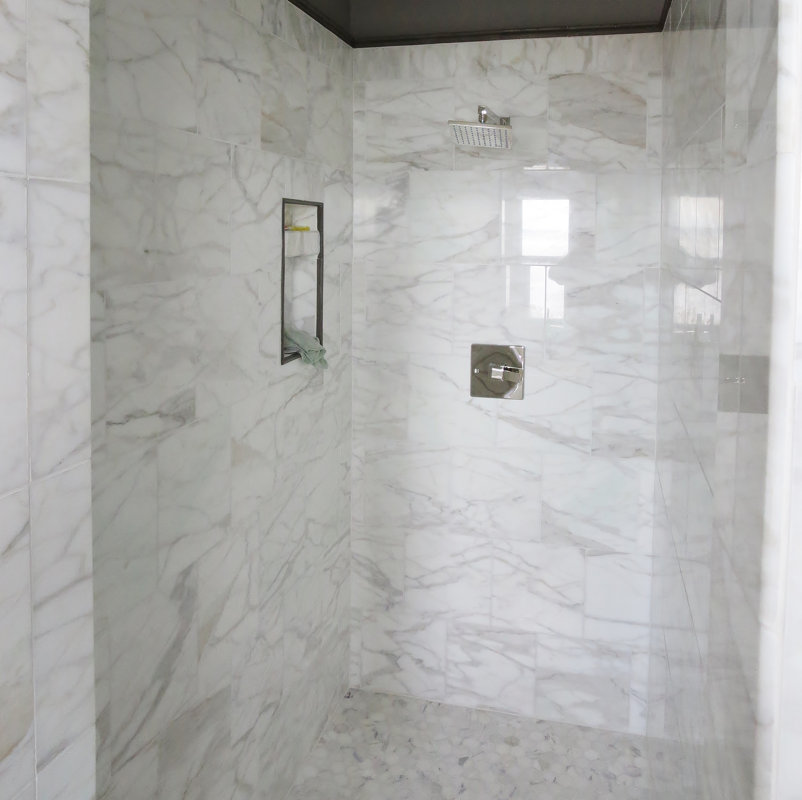 Burst Of Color
There's a contrast between the rectangular white marble used on this shower's walls and the black hexagon tiles installed on the floor. However, the unexpected burst of color from the mosaic tile accent jumps right out at you. These tiles are made from recycled glass and have a polished finish.
Ravishing Rain Forest And Pebble
Stunning would be an ideal word for this shower. And these grey rainforest marble tile are really an excellent example of what this material has to offer with its natural variation and veining. The black pebble tile accent is a perfect stone pairing. We wouldn't have chosen anything else.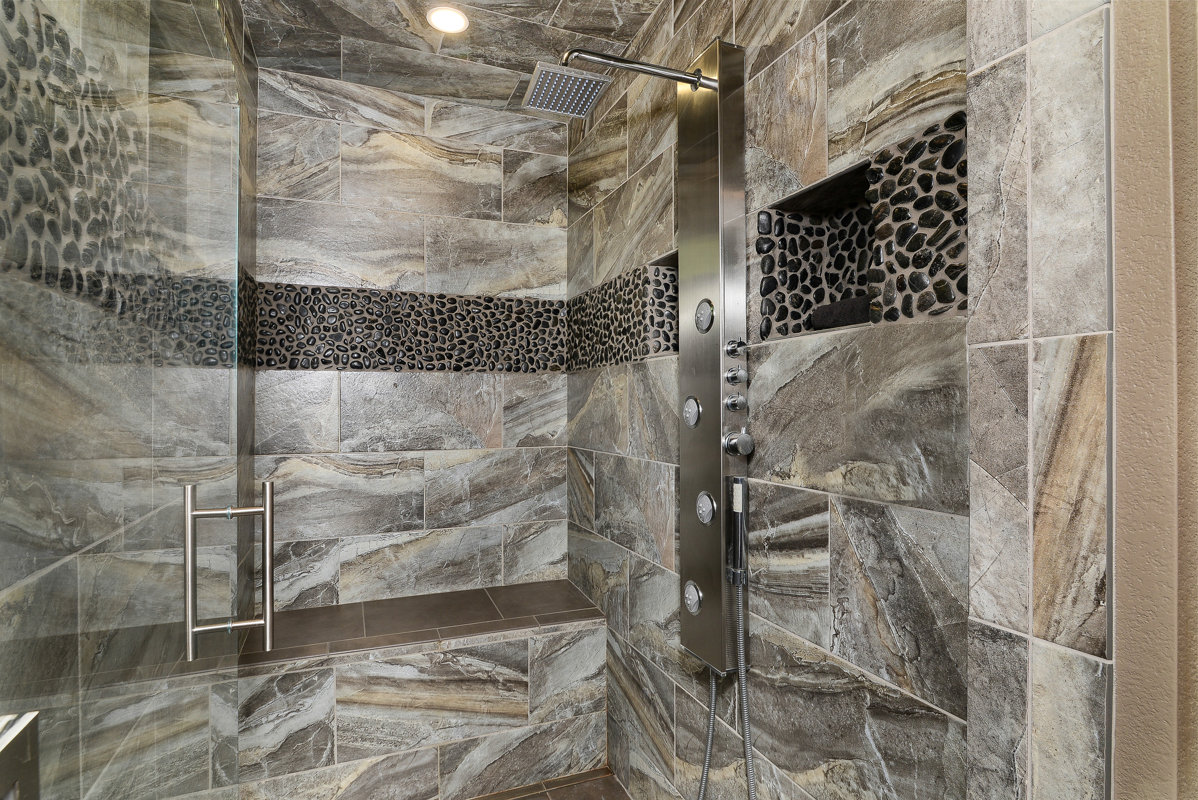 Convincing Faux Travertine
This is one of those photos of tiled showers that makes you look twice or even a third time when you find out the material. That's right, these tiles aren't travertine they're actually porcelain. We love the subtle linear accent tiles made from glass and stone as well.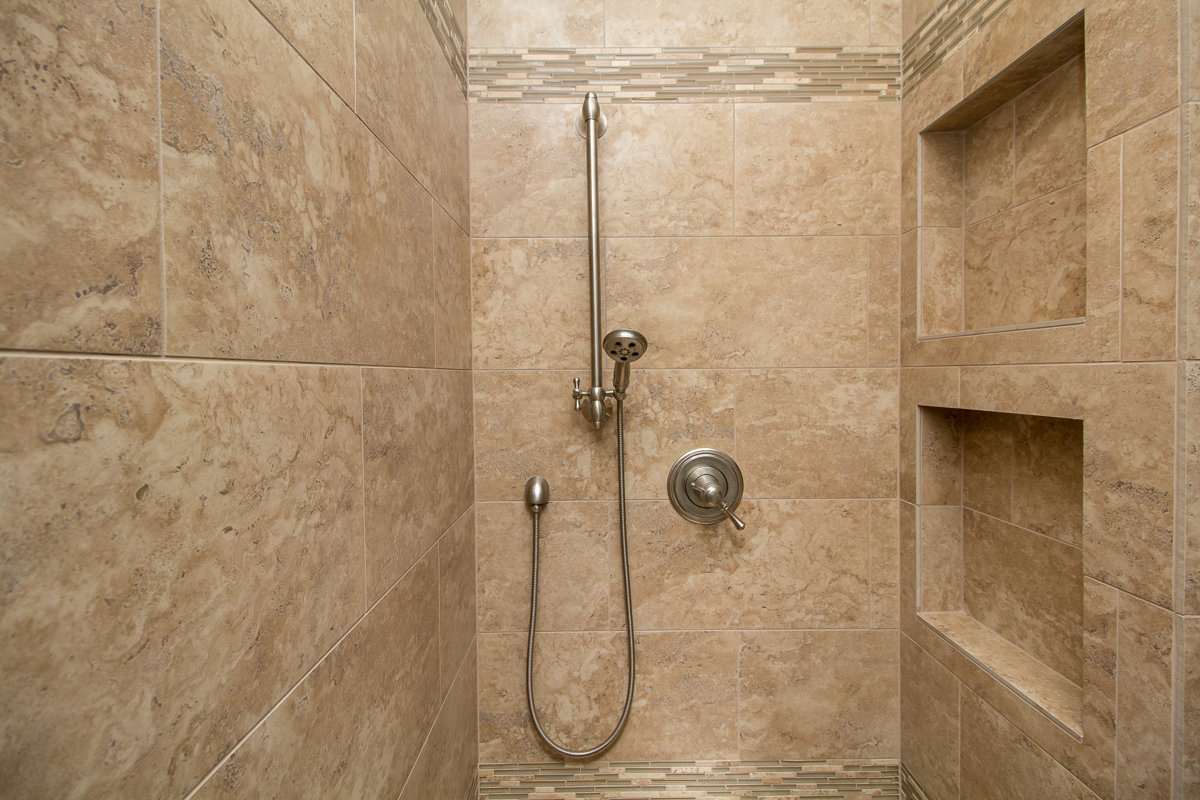 Classic Bianco
Bianco carrara marble tiles are a timeless shower choice. They are known for their grey hues which are very apparent here. It's no wonder that this type of marble in particular was Michelangelo's material of choice for his sculptures.
You'll notice in this and other images of tile showers that mosaics made from both glass and stone work extremely well with both natural and faux stone. Note the matching marble hexagon floor and tile niche as well.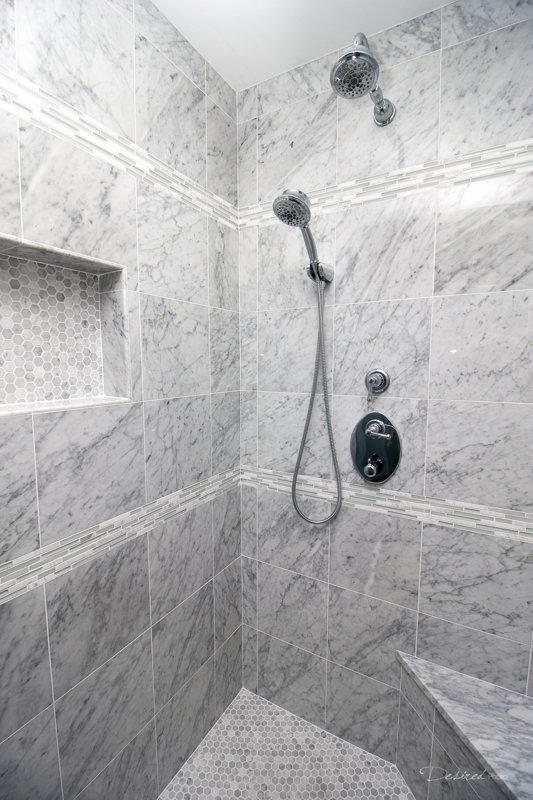 As you can see when looking for ideas for tiled showers pictures can be an enormous help. And with these images you have some fabulous ideas you can use to create a shower space you love and get to enjoy everyday.
Click Here Now to start shopping for Shower Tile!