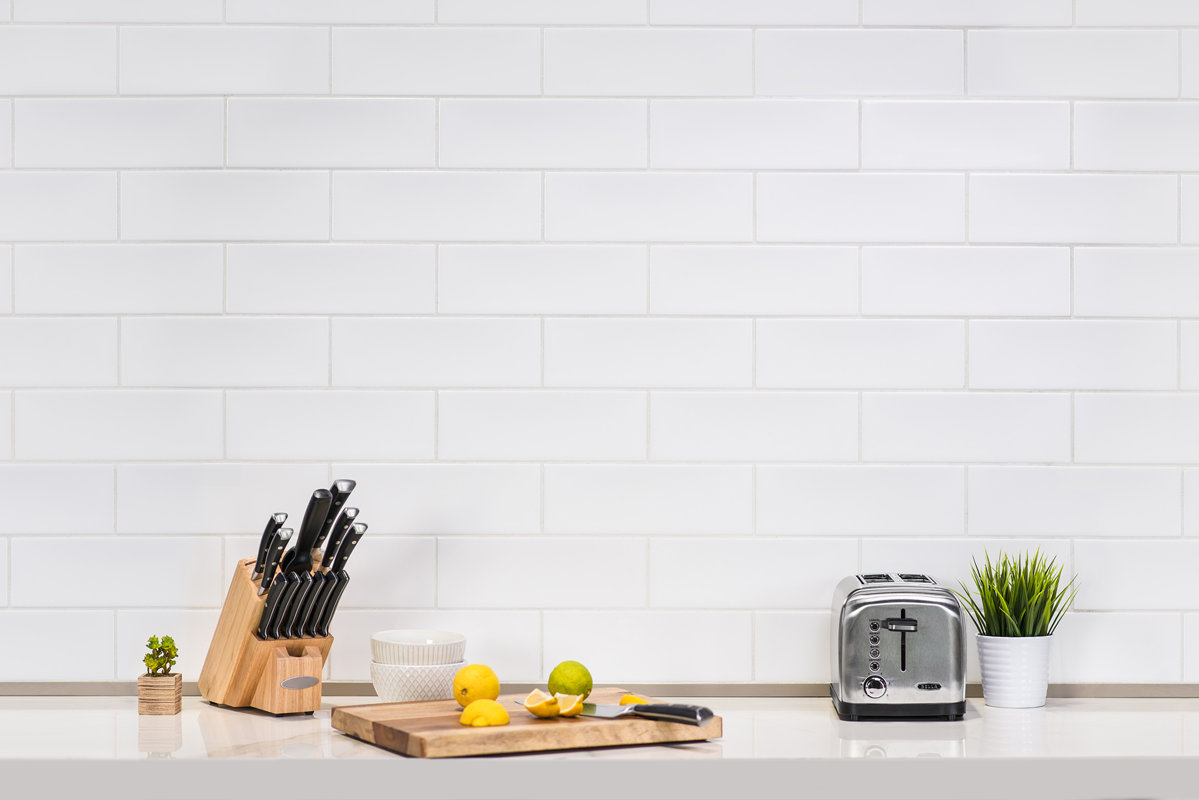 What is a subway tile backsplash? This is something you may find yourself wondering when planning and shopping for your tile upgrade. That's because due to its extreme popularity, you'll be sure to hear this term come up quite often. Here's what you'll need to know.
So What Is A Backsplash Anyway?
A backsplash is the wall area which is directly above the countertop and below the cabinets. This can be in the kitchen or the bathroom.
Because this area is usually close to sinks which can damage walls with water and moisture, or stovetops which can cause heat damage and staining from cooking, it needs to be protected.
Typically tile is used because of its water and heat resistance. (Although just how water and heat resistant tile is will depend on the material it's made from.) Backsplash tiles can also help to add color and style to a kitchen or bathroom space as well.
Subway tile is one of the most famous tile types. Actually it was originally used in the New York City subway system as a wall covering which is where it gots its name. It is rectangular in shape and comes in a range of materials and also sizes. However, the standard subway tile size is 3"x 6".
Meet The Subway Tile Backsplash
Tiling a kitchen or bathroom backsplash with subway tile is a very popular option. And there are many reasons why. One of the most common reasons it's used is for its ability to create an eye-catching space that also has a classic look.
And as any interior decorator will tell you, despite the backsplash usually being limited in size, when properly tiled it can make an enormous impact. Another reason that makes subway tile so popular for backsplash use is the fact that it almost always is installed with thin grout lines.
By using thinner spaces between the tiles than other options do, it offers more protection from water and moisture. Having thin grout lines also makes them easier to clean since there is much less space for grime to hide, which is a big help especially in the kitchen.
The rectangular shape of these tiles allows you to install a subway tile backsplash in a handful of eye-catching patterns. The most common is typically the running bond pattern. However many people choose a stacked layout or the luxurious herringbone pattern instead.
Now that you know what a subway tile backsplash is, you may want to consider installing one for your next kitchen or bathroom upgrade. This versatile choice has been improving the look of homes and businesses since the early nineteen hundreds and won't be stopping any time soon.
Click Here Now to start shopping for Subway Tile!