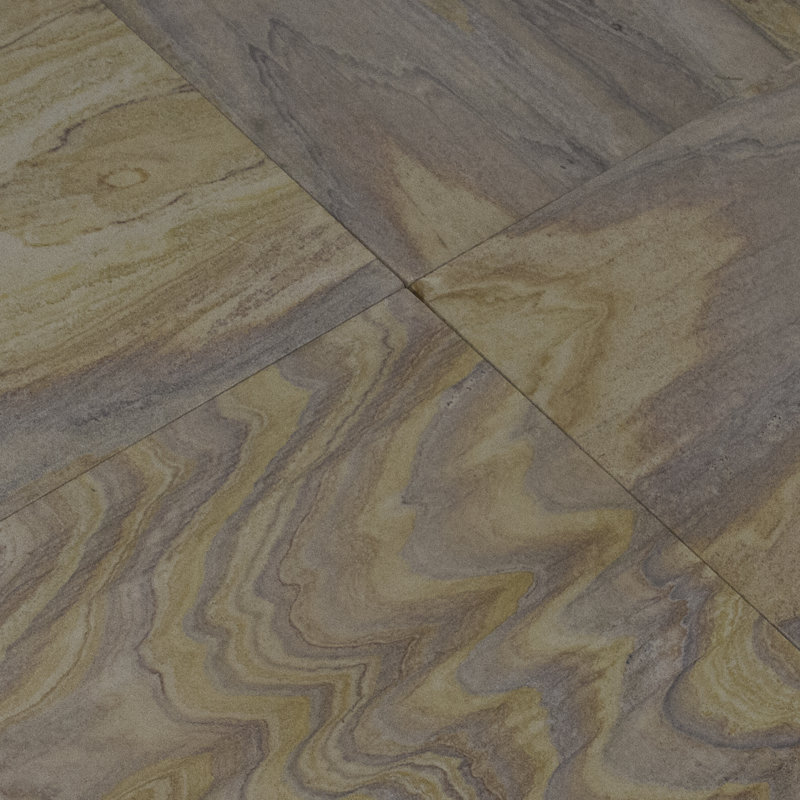 Sandstone is a unique looking natural stone and you may be thinking about it for your bathroom. But before you decide on using sandstone bathroom tiles you'll want to know a few important things first. So here's your fast guide.
Sandstone is made up of tiny sand size particles. It comes in many earth tone colors but is often seen in sandy colored tans and beiges. Its natural look is often complemented by subtle veining.
This stone has been used as a building material since ancient times for its beauty but also the fact that it is strong. However while sandstone is a hard-wearing tile material it is generally used in areas less traffic because its surface can be worn down over time.
The Reality Of Sandstone Tiles in the Bathroom
Installing sandstone bathroom tiles can transform your space into one that is natural and upscale in appearance. However, sandstone is considered to be a porous stone, so it will absorb water. Exactly how porous your tiles are will depend on the quality of the stone they are cut from.
The less absorbent they are the more they will cost. If you find yourself in a situation where you have fallen in love with this stone and want to install in your shower or bathroom floor, you definitely can.
But you will need to purchase high quality stone which can be expensive. Your tiles will also need to be sealed properly to prevent water absorption and staining. Your tiles will need to be sealed periodically as well, which means at least once a year to keep your installation protected. However, you may need to seal them more often.
Bathroom floors can be slippery when wet so when choosing sandstone bathroom floor tiles it would be smart to pick tiles that have a rougher finish. The added grip they provide can help to prevent slips and falls. A cleft finish where the surface of the tiles are left in the same state as they were when cut from the original slab is a one such option.
Skip The Master
Often a much easier way to go if you have your heart set on sandstone bathroom tiles is to simply use them in bathrooms other than the master. Tiles installed in half bathrooms and powder rooms for example will be much less likely to have a problem because they don't have showers.
This means your tiles won't have to deal with all that humidity and moisture. Guest bathrooms are another option that works well with sandstone because even if they do have a shower, they won't be used nearly as much over time.
Sandstone Look Options
Some people only want authentic stone in their home. However if you're happy with something that looks extremely similar there are sandstone look tiles. These are often made from materials like ceramic and porcelain which are better suited for wet areas than authentic sandstone.
Both materials can give you the look of real sandstone and can even have a very realistic sandstone texture as well. Sandstone porcelain tile is more durable and less porous than ceramic. But they both cost less than real stone and won't need any special cleaning or maintenance.
When choosing bathroom tiles sandstone can be a gorgeous option but you'll need to make sure you have high quality stone and seal your tiles regularly. And remember the dryer the better, so skipping the master bathroom is usually the best choice. Don't forget there are always sandstone look options too!
Click Here Now to start shopping for Sandstone Bathroom Tiles!