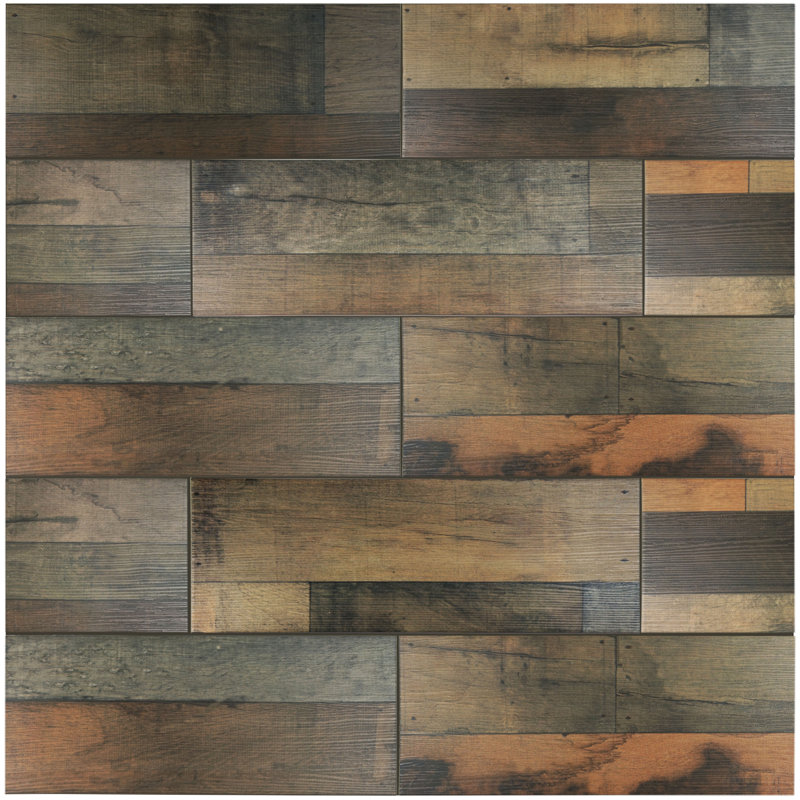 Tile that looks like wood is one of the most popular alternatives to using real hardwood planks. Not only does it typically cost less, but is more resistant to scratches, easier to care for and can be used where real wood can't. So here are some wood tile photos to give you some inspiration for how you can use them for your next project.
Surrounded By Wood
For those who love the look of natural materials, installing tiles on both the wall and floor allows you to be surrounded by the warm appearance of wood. These light gray porcelain tiles have a highly visible grain and even knots which help to make them extremely realistic.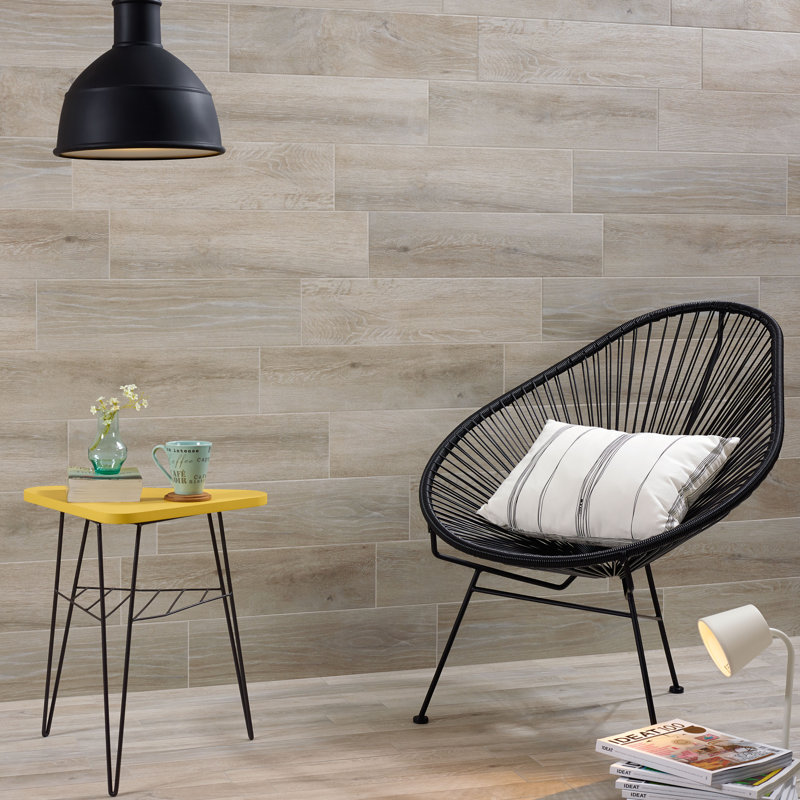 Elegant Herringbone 
Of all the floor tile patterns, the herringbone is easily one of the most elegant. It's often used in narrow spaces such as halls and entryways and is particularly popular for those installing hardwood floors. For that reason it's also an ideal choice when using tile that looks like wood as well. This floor features ash gray ceramic tile.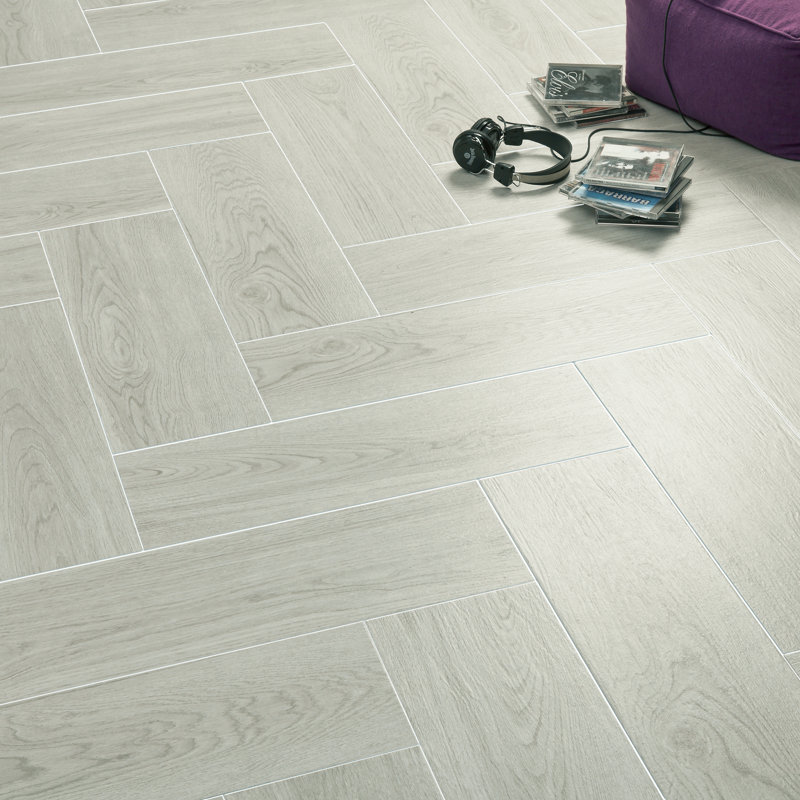 Ceramic In Cream
This wood look ceramic tile floor features lighter colored tiles which offer a bit of a different look than the more common brown and gray options. They help to brighten up this bathroom while adding a rustic feel at the same time. And they are finished to look like just like oak.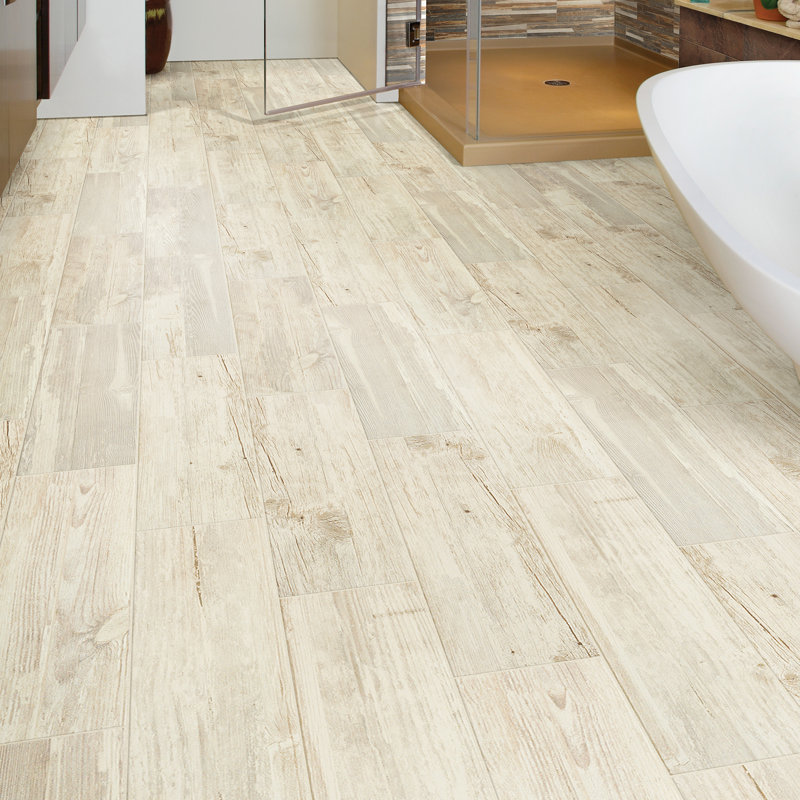 Long Realistic Planks 
To help make this floor as realistic as possible,  6″ x 40″ porcelain wood look tiles are used. Which makes them just as long as those made from actual wood.  These tiles come complete with with details such as knots and are ideal for contemporary spaces.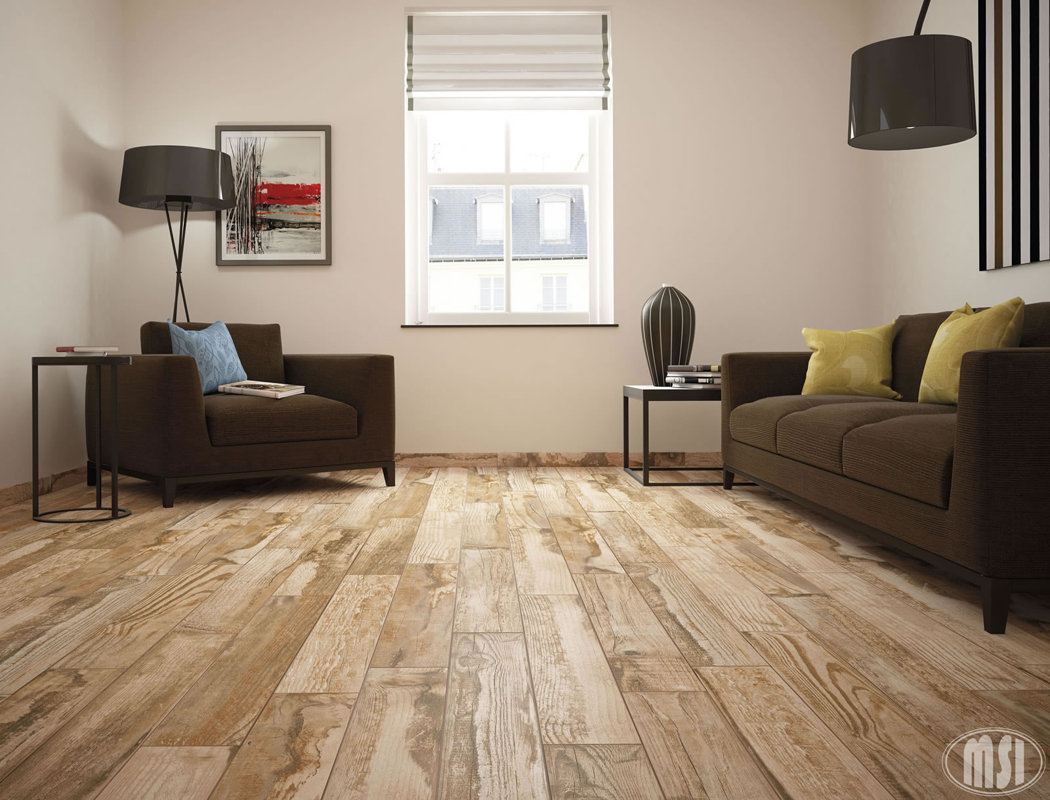 A Shower To Die For
With a wood tile shower there's not rot or water damage to worry about, giving you the opportunity to experience the look of wood in the wettest space in your home. These ceramic tiles have a finish that's similar to wooden oak planks which have been reclaimed and re-used for a special feel and an eye-catching contrast.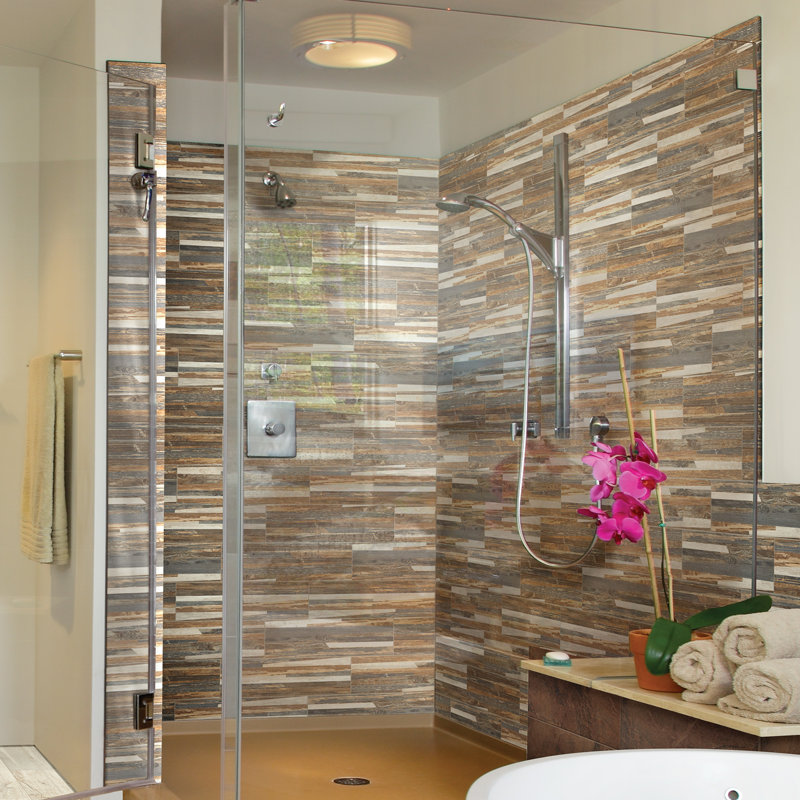 Not Just For Walls And Floors
Don't overlook using wood look tile for spaces other than walls and floors. As you can see from this photo, tiles can be used to create easy to clean and maintain surfaces such as bars but also countertops as well. These tiles are made to look just like re-claimed wood.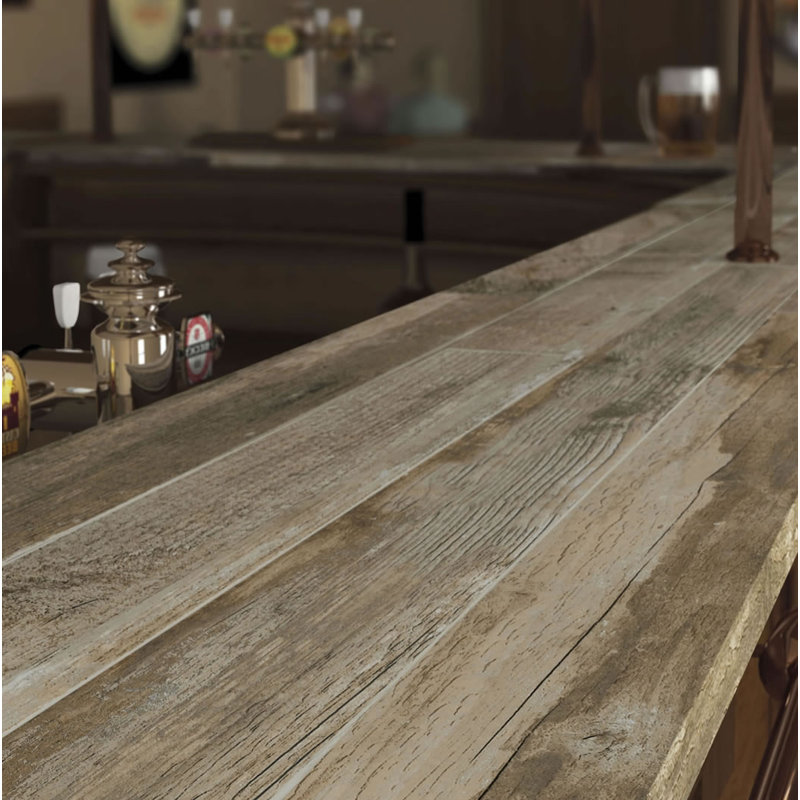 Contrasting Shades Of Gray
Wood tile photos like this one make it very clear why faux wood has become so popular in recent years. These contrasting light and dark gray ceramic tiles look just like reclaimed wood. And their varying shades instantly grab your attention. If you look closely you can even see the images of nail holes on the tiles, just like real reclaimed planks would have.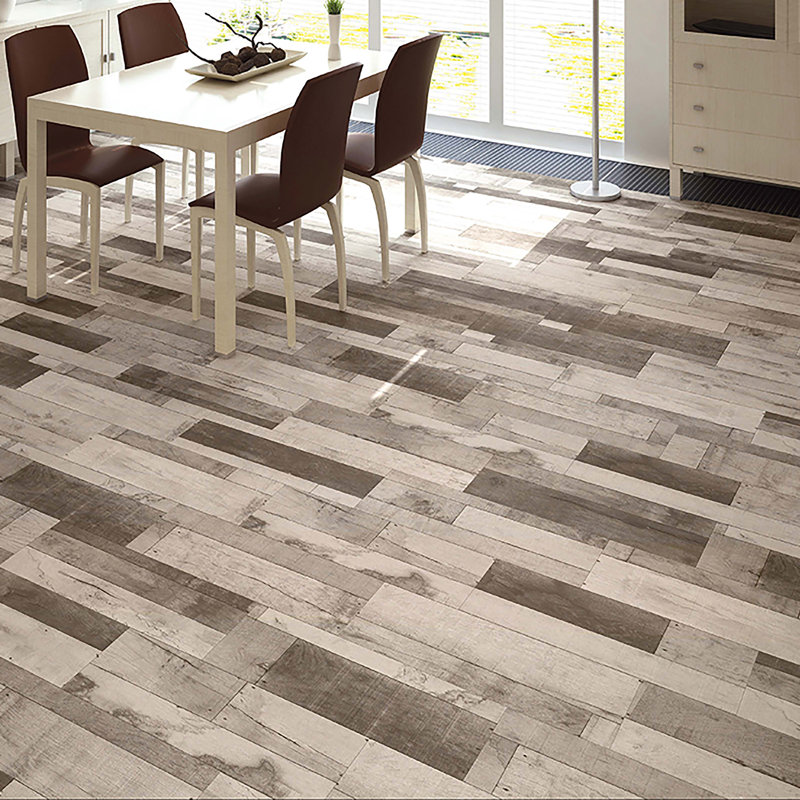 Use Shapes To Your Advantage
One of the biggest benefits of tile that looks like wood is the variety of shapes which are available. And this is an excellent example of how you can use different shapes to keep things interesting when using tile on both your floors and walls. Both the hexagons and rectangular planks are distressed to make them appear much older and more worn than they really are.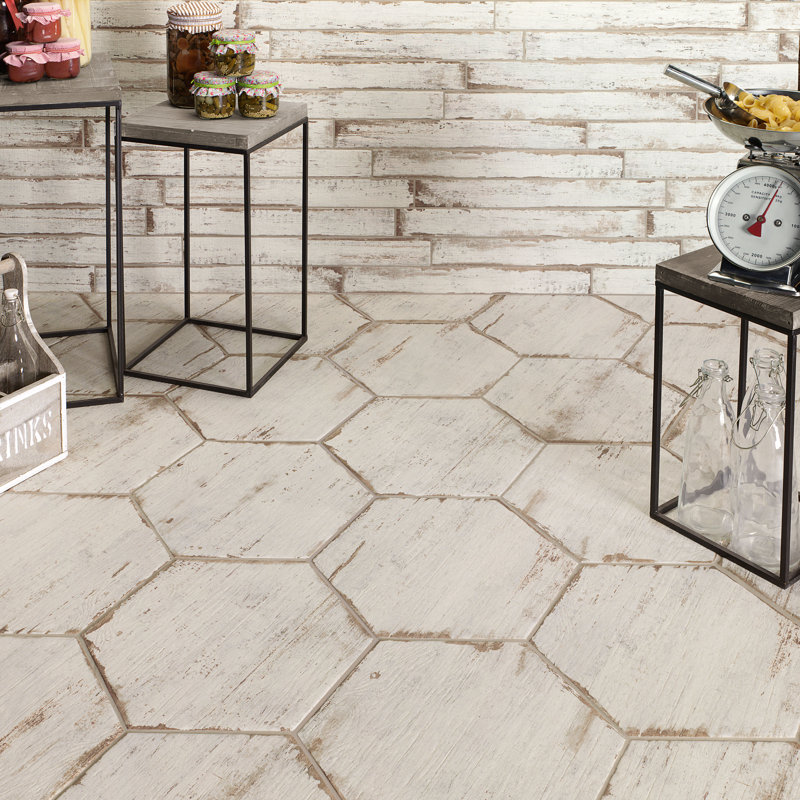 The Warmth Of Wood
The handsome brown of these 6″ x 24″porcelain wood tile planks add a look of warmth to this floor. The wood grain also adds to the natural look and beauty of this space. Tiles like these could easily be used in high traffic areas without having to worry about damage.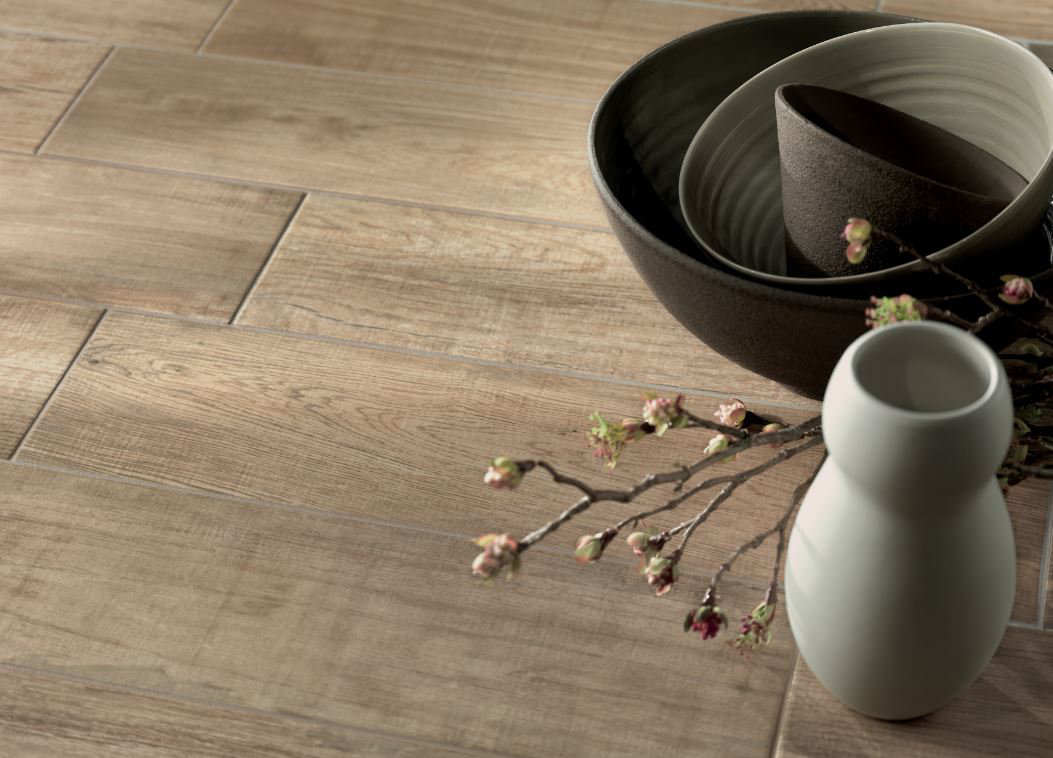 Wide For Clarity
While most wood tiles are made to look like thinner planks of wood, you can see on this living room floor that one of the advantages of choosing wider tiles is how clearly you can see the wood grain. The slightly darker faux grain pattern shows up beautifully on these light colored porcelain tiles.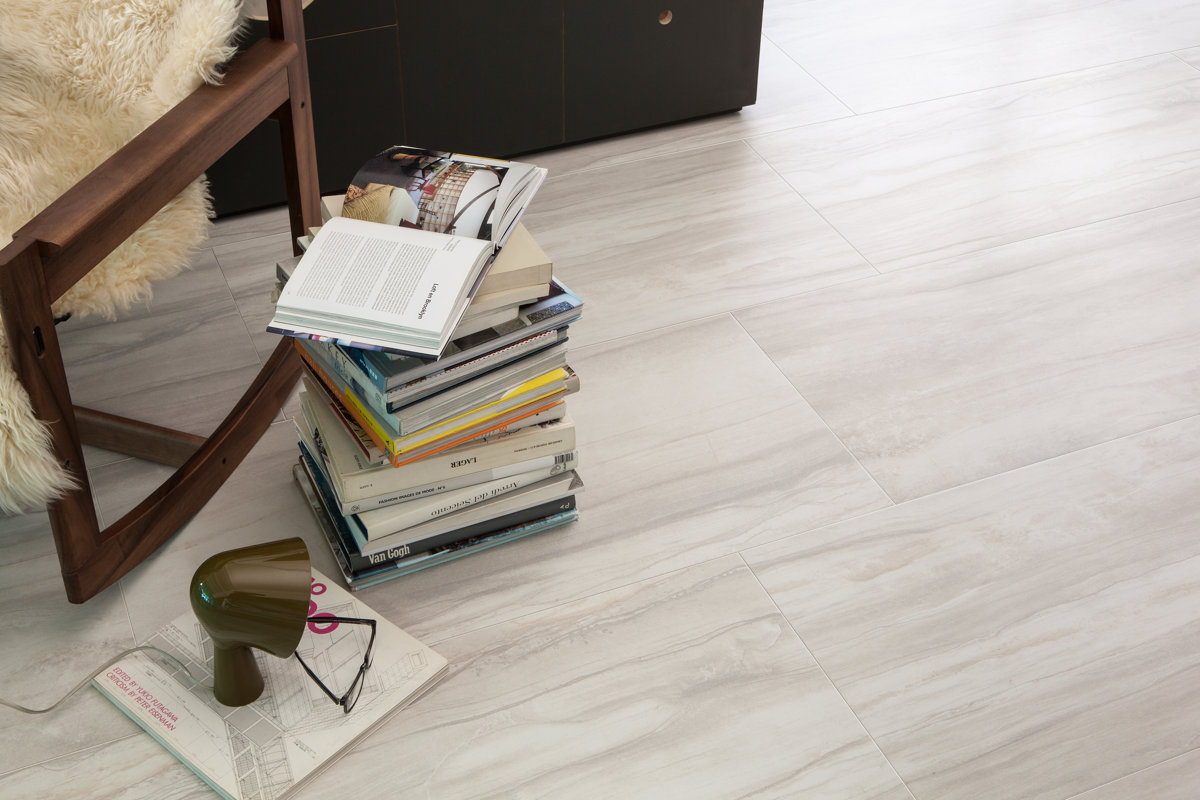 Realistic Details
In this closeup, it's not hard to see just how similar to authentic wood tile can be made to look. This floor uses textured porcelain tile planks that actually both looks and feel like redwood. With such detail it's understandable how wood tile is often confused for the real thing.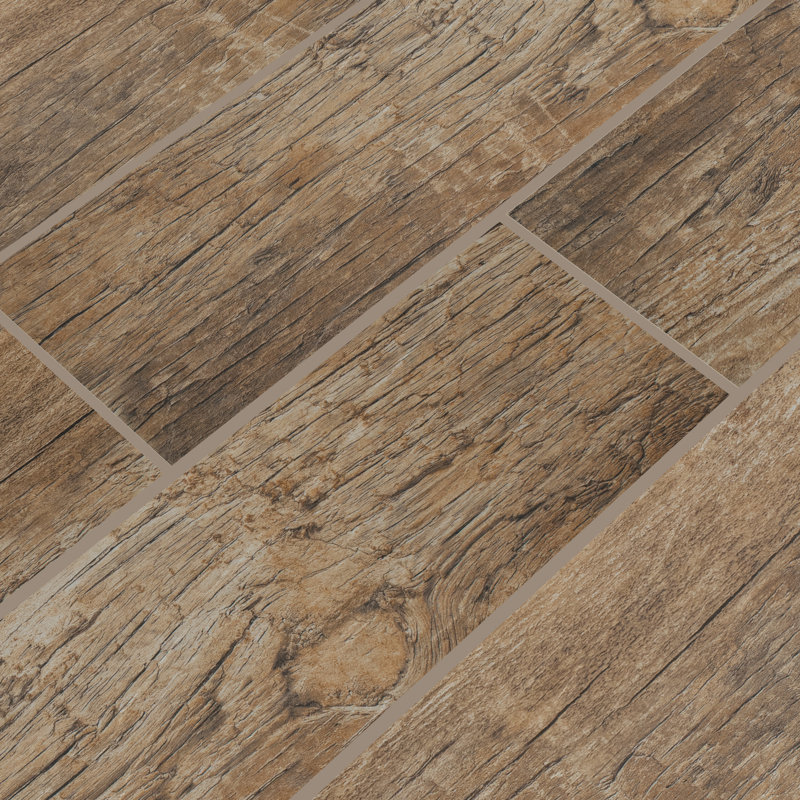 Functional Hardwood Bathroom 
While many of us have dreamed of being able to use wood in the bathroom unfortunately it's simply too damp and wet. However, this wood look tile bathroom proves you can enjoy the beauty of wood but with the water resistance of tile. The tiles shown here are made from porcelain and have an aged appearance.
These wood tile photos will help you to envision how you can use this convenient option in your space. And with a little creativity or simply by copying the ideas shown here, you can get results that look just as fantastic or better!
Click Here Now to start shopping for Wood Tile!