As your tile floor, wall, or counter top ages it's inevitable that at some point its grout will become stained or discolored to the point that no amount of scrubbing or cleaning will help. Light or white colored grout is particularly vulnerable and this type of staining or discoloration can really become an eyesore.
This will not only take away from the look of your tiles but of course from the room as well. At this point many people choose to re-grout their tiles to get back the bright white look its grout once had. However, there is a much easier and better looking option, and that is grout colorant.
What Is It And What Can It Do?
Grout colorant is simply a special water-based paint that is applied to your existing  tile grout. It's very simple to use and is available in a huge variety of colors. Applying grout colorant is an easy and inexpensive way to make your tiles look new again without the hassle and mess of re-grouting. Using a white colorant will do just that.
There is a lot to choose from and by picking a  color which matches or complements your tiles you can really add to the look of your space. Contrasting colors also work well too.  For example black floor tiles with a bright white grout could look fantastic.
You might want to think about choosing a color which can also accent the existing color scheme or feel of the room as well. Whatever you decide on, grout colorant makes for an easy DIY project which can give you some stunning results. 
What You'll Need
Grout colorant can be purchased at almost all home stores, tiles shops, and of course online. Two of the most well-known and top-rated brands are Aqua Mix and Grout Refresh by Mapei which are normally sold in 8 oz. bottles. However, you will need  a few more items for your project other than the colorant itself and those are:
-a rag
-foam brush
-toothbrush
-rubber gloves
How To Use Grout Colorant Step-by-Step
Let's get started:
Clean Up
The first step is to simply give the tile area and grout a good and thorough cleaning so that it is free of dust, oil, dirt, and debris and allow it to dry. This clean surface will allow the colorant to bond properly.
Are They Porous?
*If your tiles are porous like many types of stone tiles you will need to apply painter's or masking tape to the edges of your tiles so it does not absorb the colorant.*
Time To Apply
Using a foam brush slowly and carefully apply the colorant to the grout lines.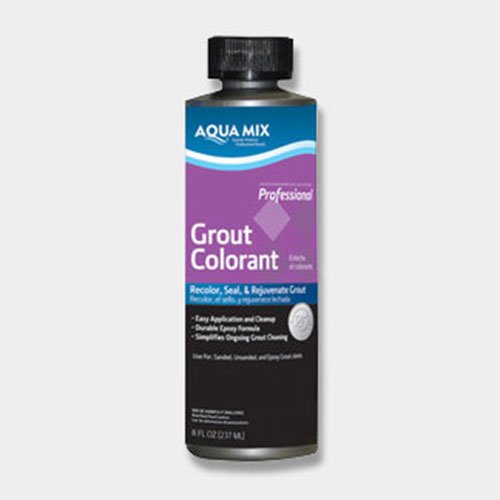 A Little More?
*You may have to apply more than one coat of colorant if your grout is heavily stained.*
Work It In
Using a clean toothbrush work the colorant into the grout so that it is evenly distributed and colored.
Wipe
Take a damp rag and use it to wipe off any excess colorant from the surrounding tiles.
Relax And Wait
Let the colorant dry completely and enjoy your new looking tile floor, counter top, or wall.
There you have it! How to apply grout colorant nice and easy. Who would have thought you'd be able to make your grout look brand new for such little effort and cost. Using grout colorant really is a phenomenal option for keeping your tiles looking their best.
Click Here Now to start shopping for Grout Colorant!