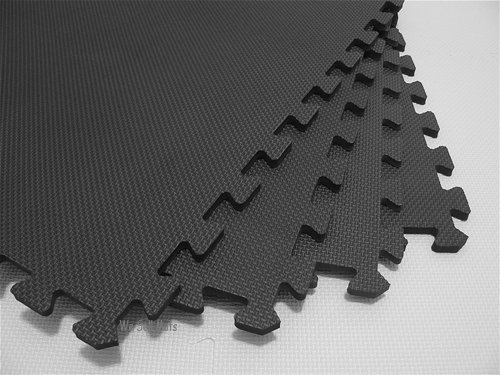 While rubber tiles are not known for their beauty or stunning appearance like glass wall tiles or Mexican tile, let's be serious here, that's not what they're built for. While they are good looking, when talking about rubber tile we really are talking about function. And function they do.
They are such a versatile group of tiles which can be used both indoors as well as out and are easily provide the most value of any tile when it comes to the functions they perform, features they have, and for how relatively inexpensive they are. Homeowners love these tiles because they all are typically designed and manufactured with a things in common such as:
Safety
The first of these features, and the reason most people purchase rubber tiles, being safety. This is something every homeowner and every parent should be concerned about, especially in areas where your family, guests, and of course you, are at risk for slipping and falling on a hard surface. This is even more of  a concern in wet areas.
Rubber tiles are the safest flooring option for two reasons. As Benjamin Franklin once said: "An ounce of prevention is worth a pound of cure." And when it comes to safety nothing is more true, (especially if you live in America with the price of medical care). Rubber tiles are made to be slip-proof and there are available in a  huge array of textured grips.
It is this grip which prevents almost all accidents from occurring in the first place. However, if someone does loose their footing, rubber tiles, being made from rubber, are soft. They can cushion a landing which otherwise would have meant broken bones, stitches, or worse. If they prevent even one serious accident or injury rubber tiles will more than pay for themselves. A little rubber insurance can go a long way!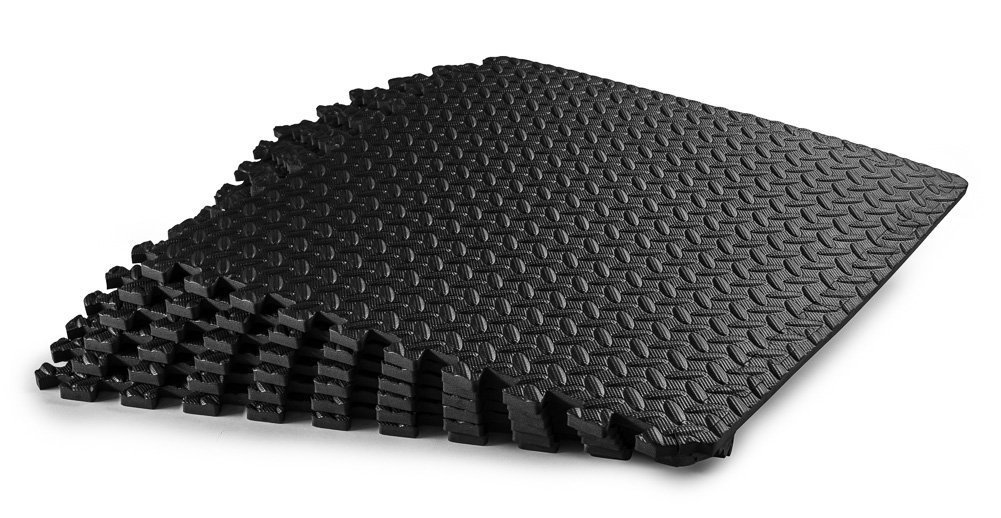 Inexpensive + Free Installation= Happy Homeowner 
Another great feature of rubber tile is the fact that it is much, much less expensive than other types of flooring. This is true whether compared to tile, wood,cement, or any other type of flooring material. To make them even more appealing is that unlike almost all other types of flooring you can install it yourself. Cheap to buy and free to install means even more money saved.
Almost all rubber tiles are interlocking meaning that even a child could put them together. This also means no messy install dealing with tile grout and you on your hands and knees for hours. Another huge plus is that you don't need to rip out your existing flooring to install them, you can just simply place your rubber tiles right on top of it. They will work right on top of any semi-flat surface or material.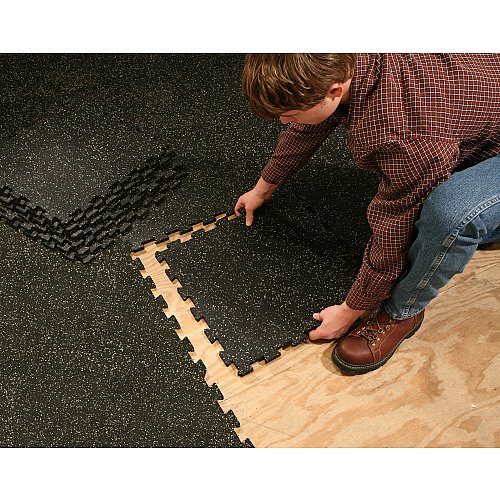 Durability
Rubber tiles are tough. They are a tile that is all about function and to do so they have to be extremely durable. They have to be enough to take heavy impacts as well as the conditions of the environment in which they installed. This could range from blazing hot temperatures, to heavy snow, the pounding of your feet as you do aerobics, or the wet floor of a laundry room.
They can perform in these conditions and more, far outperforming other flooring materials which would crack, break, or have to be replaced.  They are actually so durable that they can last upward of 15-20 years.
Versatility
While all rubber tiles are made with safety, ease of installation, low-cost, and durability in mind there are also a variety of different types designed for a wide array of locations and jobs. With many types to choose from, and each type designed with a specific use in mind, it's important to pick the right tile for the job.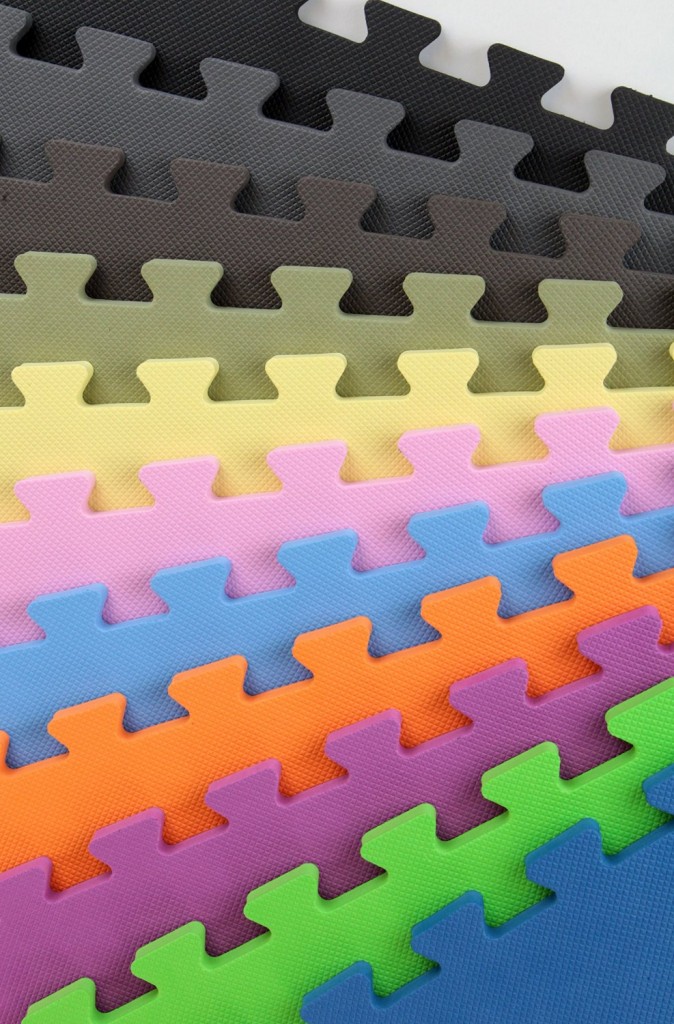 The Top Options:
Rubber Playground Tiles
Made to be strong enough to withstand the elements of the outdoors, yet soft enough to protect your children from a trip to the emergency room, these outdoor tiles are extremely durable. Usually made from recycled rubber and interlocking, playground tiles should be porous so rain and water can drain through them, not pool, allowing them to maintain their non-slip grip even in wet conditions.
These rubber tiles are a parent's first line of defense against broken bones, sprains, and crying kids. Great for the landings of slides and under swing sets where children can be falling from heights, they actually will even tell you based on their thickness how high of a fall they can protect your child against. There's a reason why rubber playground tiles are installed in school yards all over the world!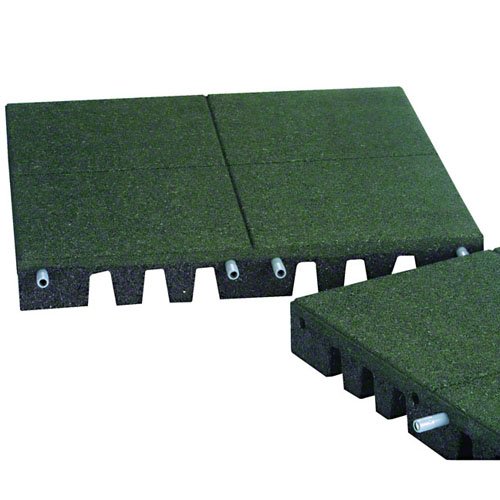 Foam Tiles
These rubber tiles are not as thick and durable as outdoor tiles, but that is because they don't need to be because they are not left outside year round. Usually used in young children's rooms or play areas, these tiles are designed for protecting crawling toddlers and providing young children a safe, soft material to play on.
Because these interlocking rubber tiles are made from foam which is light in weight, they can actually interlock vertically to protect your child from hard walls and sharp corners. This light weight also makes them conveniently portable and easy to put away or assemble.
Many also come with convenient carry cases too so you can bring a safe environment with your wherever you go whether the park, a friends home, or on the patio. Typically sold in packs that make up a mat, they come in a wide range of solid colors as well as with designs that are great for young kids.
Many of these tiles have the alphabet, pictures of animals, or even numbers printed on them. Two more features which parents love, is that they are easy to clean and are non-toxic(very important because young children are always putting things in their mouths). These tiles make a great extra layer of protection on top of a hard wood or tile floor for your young child.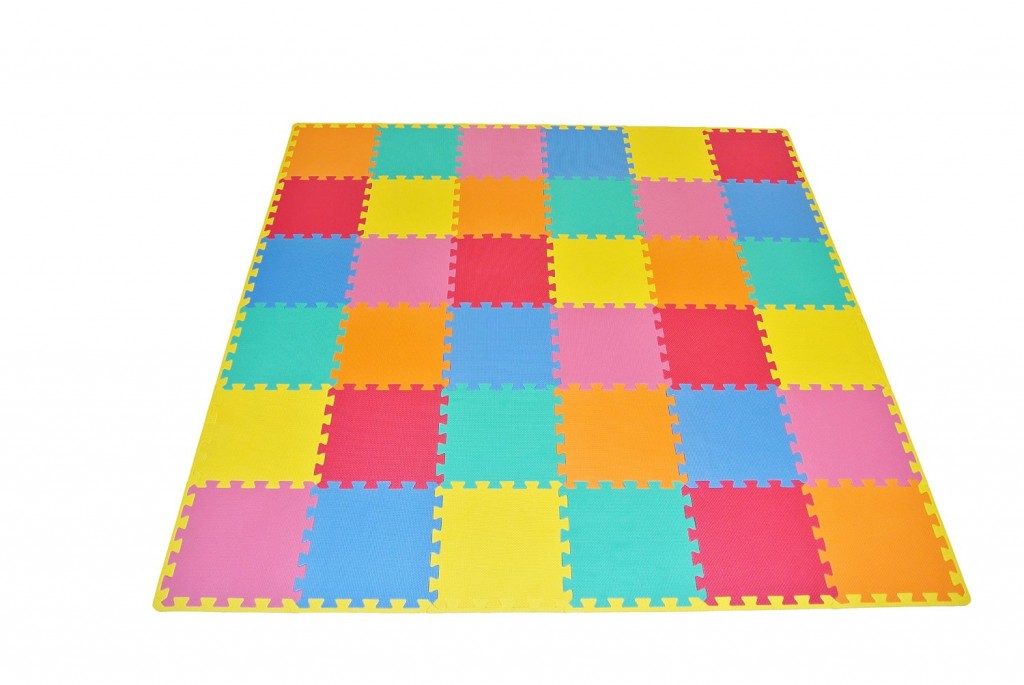 Rubber Gym Tiles
Usually these tiles are made from either foam or recycled rubber, and are the most often purchased rubber tile. They provide a soft, durable, non slip surface which is critical in an area where there is so much potential for injury, not only to yourself but to your floors as well. Using these tiles you won't have to worry about scratched wood or broken tile when you're dropping weights or moving your treadmill.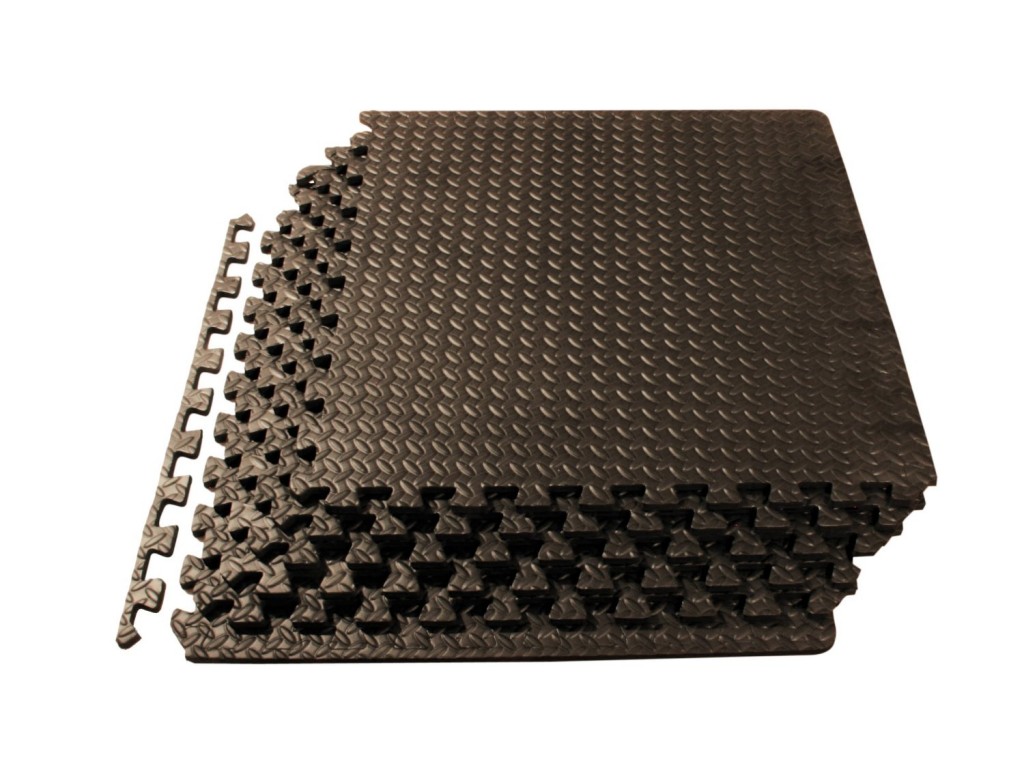 They are also very good at not only absorbing the sounds of a room, but also blocking out sounds as well. This not only can help to keep your exercising noise, or music to minimum, not disturbing the rest of the household but also allow you to workout in a quieter space as well because your floor tiles are blocking out sounds from the floor below at the same time.
As with other rubber tiles, gym tiles are interlocking for easy no hassle installation or replacement. They are easily cleaned with a good mopping.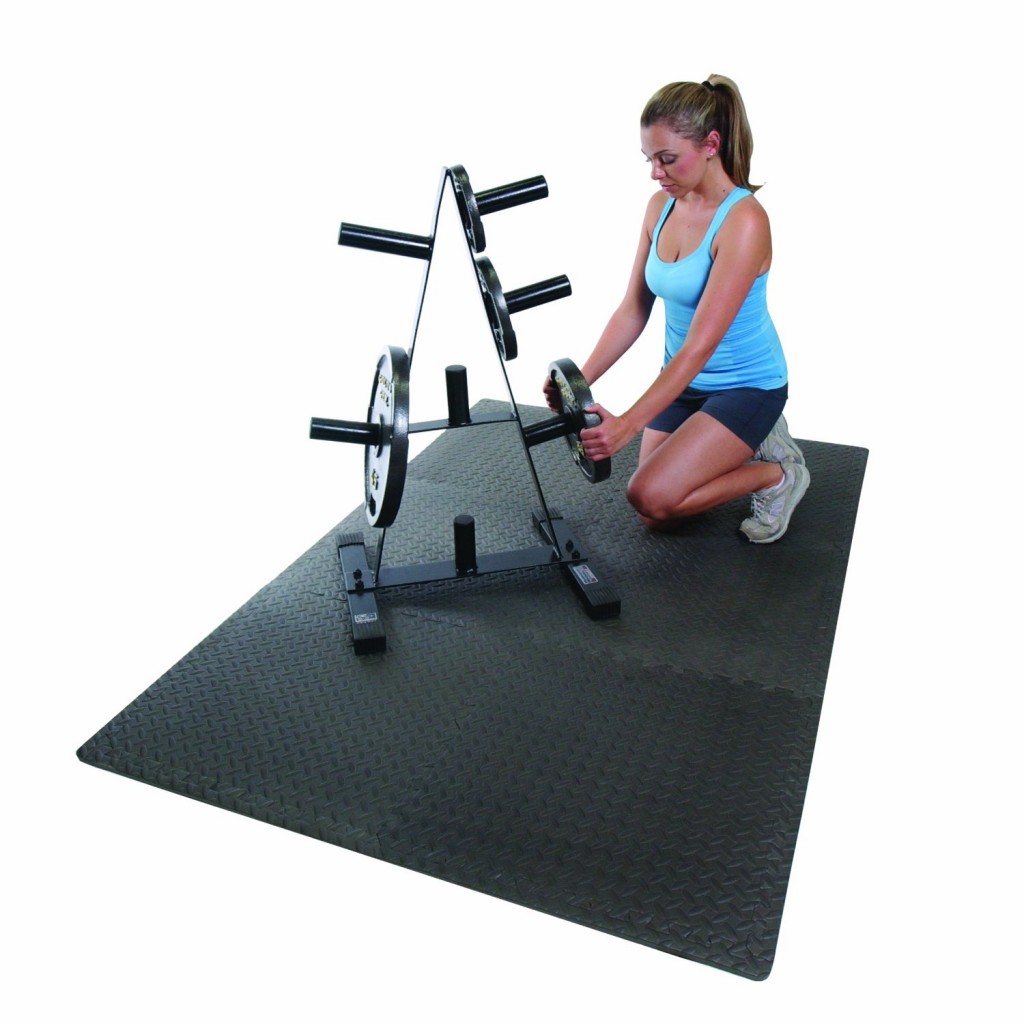 Rubber Patio Tiles
These outdoor rubber tiles are great for wet areas and places where you need grip. Used around a pool, on a patio or deck, these interlocking rubber floor tiles can be placed right on top of any surface, even if it is slightly uneven. Just like other rubber tile because they are interlocking they don't require an adhesive or professional installation.
Made from polypropylene these tiles are extremely tough. They are UV resistant so that they will not fade or become damaged from being out in the hot sun all day. They can easily carry the weight of heavy outdoor furniture, and like all rubber tiles are easy to clean and maintain.
Rubber patio tiles come in a variety of styles and colors and are also perforated which means that like playground tiles they can drain water from the top of the tile leaving the homeowner with a dry and textured non-slippery surface.
Rubber Pavers 
Also known as synthetic paving tiles or  more often rubber patio pavers, these are square or rectangular tiles which mimic the look and texture of real stone pavers such as slate and sandstone. Made from polypropylene they are impervious to the elements and can be laid down in minutes.
However unlike patio tiles they cannot be laid down over a patio, they must be put down over an unpaved surface. This is because they have small spikes which penetrate the ground and keep them in place. These can save the homeowner a lot of money and hassle because they are so inexpensive and easier to install unlike the the real thing.
You can use them to easily create your own garden pathway or even place them together to form a patio space and without the use of any concrete whatsoever. There are also also rubber pavers which mimic the look of brick. These are square tiles which look exactly like brick pavers both in color and texture. They too can be placed down over any surface which is not paved.
Actually rubber pavers are so tough, that they are extensively used in the barns and training areas of horses worldwide, to protect the animals and trainers, while providing a space which is easily cleaned and also looks like real brick.
Cleaning and Maintaining Rubber Tiles
All rubber and foam tiles are easy to clean and maintain. All they need is a good sweeping/vacuuming and mopping with any mild cleaning agent and your done. In fact many homeowners simply just mop them with a bucket of warm water.
The most important thing to remember when cleaning rubber tiles is: never use bleach or harsh chemicals like detergents. This can lead to the degradation of the rubber and discoloration. Outdoor tiles like patio tiles, playground tiles, and rubber pavers simply need a good hose washing.
Purchasing Rubber Tiles
Rubber tiles are available at almost any home store and of course online as well, many sellers on amazon offer free shipping for these tiles as an incentive to buy online. Typically they come in 12″x 12″ , 18″x 18″ , and 36″ x 36″ sizes and usually in packs of 24, 30, or 40 tiles depending on the size and the brand.
If you have an odd shaped room or space it's no problem because rubber tile is easy to cut, no tile saw needed, you can use a utility knife to cut them. Just make sure you measure your space and purchase as many full tiles as you will need as well as to cut.
The Top Places to Use Rubber Tiles:
Child's Room/Play Room
Both of these are an excellent idea, not only for the children's safety and parents' peace of mind, but these tiles actually also will absorb a lot of noise keeping the sound of playing kids to a minimum.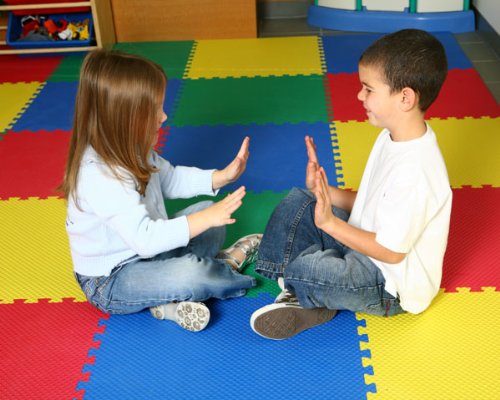 Around a Swimming Pool or Hot Tub
This is one place where it is imperative that any responsible homeowner install a flooring surface which can helps to reduce the risk of an accident in a wet area. A trip to the emergency room can easily run into some very big numbers. And if a guest has an injury around your pool you might end up with a lawsuit on your hands.
In the Laundry Room
Typically laundry rooms have cement floors and are located in the basement. This is a perfect place for rubber tile because you definitely don't want to fall on cement. Furthermore, wherever there is a washing machine there is a chance of having a wet and slippery floor.
The same goes for tile floors which are notoriously slippery when wet and just as hard. Rubber tiles not only will give you grip but won't get cold like normal tile or cement in the winter months keeping your feet much warmer while your doing your laundry as well.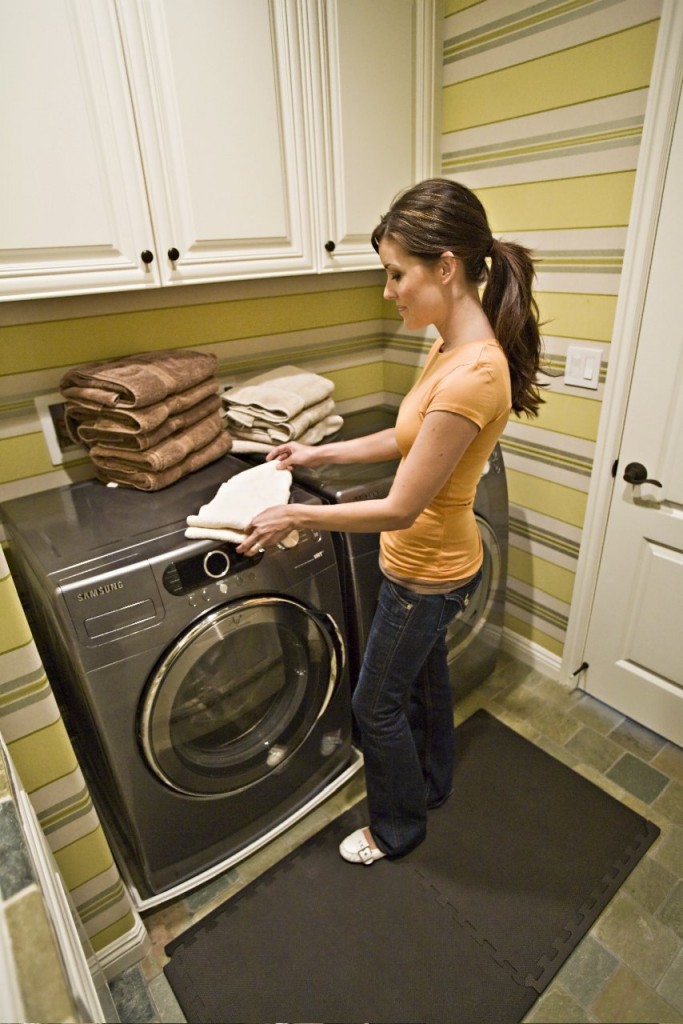 On Top of Your Existing Patio
This is always a smart idea if you have small children who love to play outside because a cement patio is not a forgiving surface.
Garage or Work Room
This is another area where no other type of flooring can compete with rubber tiles. Putting them down over your cement floor anyone who loves to work on any type of project in their garage/workroom will find that rubber tile will not only cause you to be less fatigued after standing on it for a long time but also allow you to lie on your back as you fix your car or motorcycle and even your knees in comfort.
It is also a very smart idea because it helps to protect your valuable tools from damage if they are dropped because there will be a soft rubber buffer between them and the hard floor.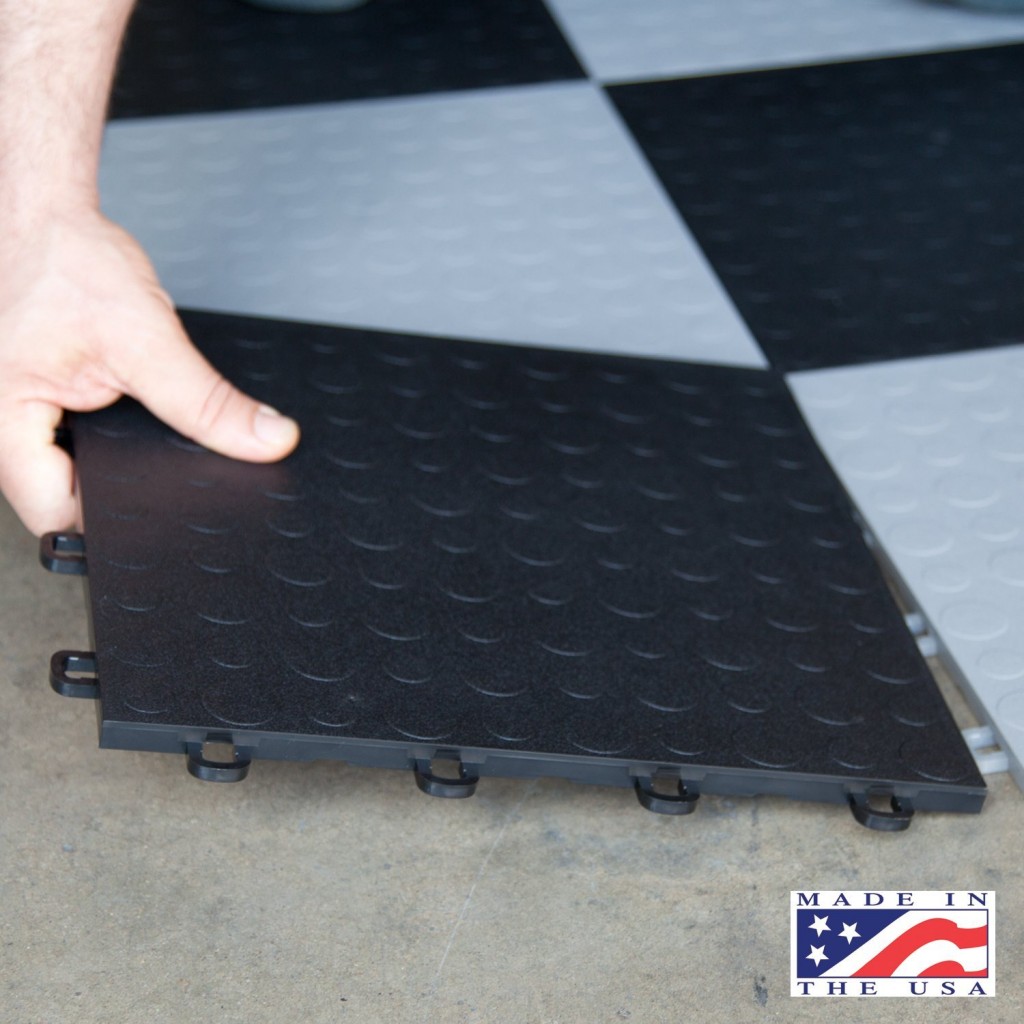 Balcony
Balconies are beautiful but they can also be extremely dangerous. Rubber tiles can provide you with unparalleled grip whether it's the second floor of your home or in your thirtieth floor condo, to keep you safe.
Give Your Deck a Face Lift
Rubber tiles are an easy way to give your deck a quick, easy, and inexpensive face lift. Just put them right on top and you're done, a slip-proof, brand new surface in minutes.
Workout Room/Home Gym
Keep your floor as well as your body free from injury with soft rubber gym tiles.   
Any Apartment/Home You are Renting
These tiles are great for renters because they not only are they very inexpensive but they give you a great safe flooring option that you can take with you when you decide to move.
In a Noisy Apartment Building/Condo 
Rubber tiles are a great and cheap way to block sound from the noisy apartment or condo below you.
Outdoor Dog Kennel
This often overlooked area is another winner because it keeps your dog on a soft comfortable surface which prevents it from developing painful sores as many dogs do from lying on concrete. Rubber will also not become extremely hot or cold like cement does providing your dog with a space that is off the ground and a comfortable temperature too.
Pet owners also love use rubber tiles here because unlike other materials a quick hosing down is all it takes to keep your pooch's space clean and odor free.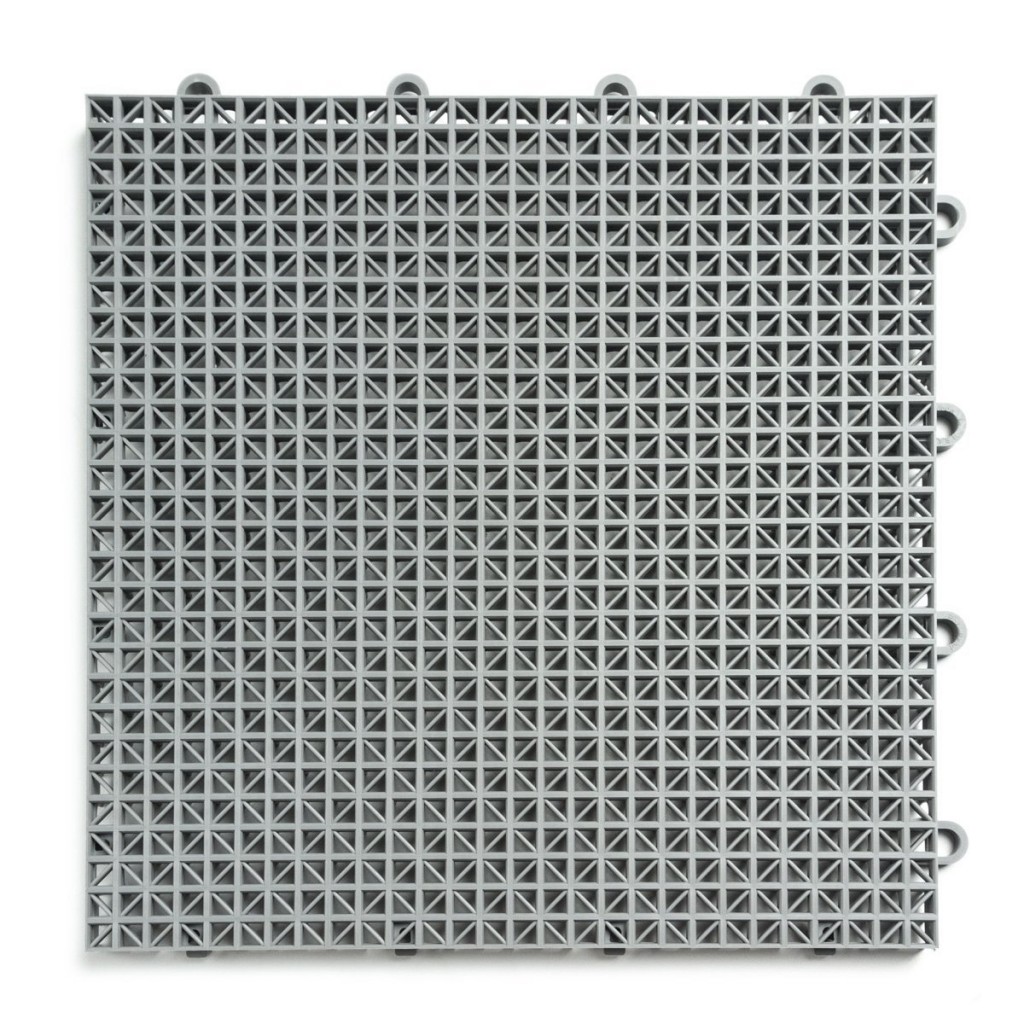 If you're in need of safety and durability, indoors or out, rubber tiles are a great choice. Not only are they easy to clean and maintain, but easy to install or remove as well. No matter which type you choose, rubber tiles are a true workhorse of a tile.
Click Here Now to start shopping for Rubber Tiles!